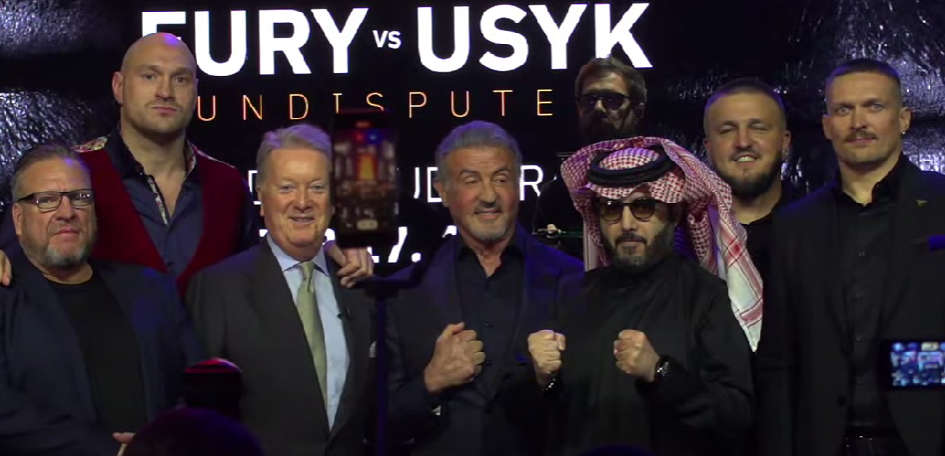 Tyson Fury celebrated being voted 'World's Sexiest Sportsman' as the date of his historic undisputed world heavyweight title fight with Oleksandr Usyk was confirmed - with Sylvester Stallone watching on.
The Morecambe boxer will battle the Ukrainian in Riyadh, Saudi Arabia on Saturday February 17 2024 for all the world heavyweight title belts in the biggest fight in years.
Fury and Usyk were joined by Hollywood actor Stallone, famed for his role in the Rocky boxing movies, as they went nose-to-nose at a press conference in London on Thursday.
Things got heated as the two men had to be separated, and earlier Fury had bombarded Usyk with a torrent of insults.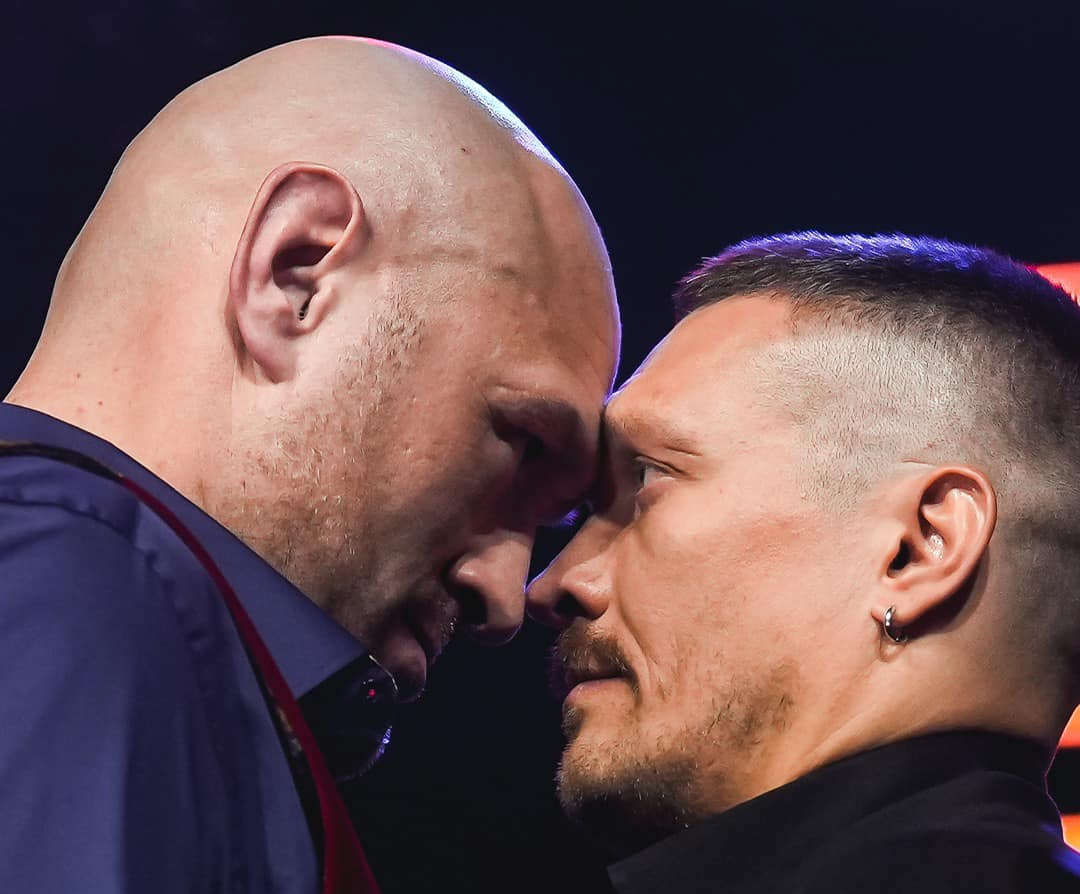 "I'm going to bust him," said 'The Gypsy King'.
"Sausage. Ugly little man. Rabbit.
"When you sleep at night, ugly man, you're going to think of me for the next eight weeks, because I'm going to punch your face in.
"I've been in many many heavyweight title fights before and now is the most important one.
"It's going to be one of the fights for the ages.
"I believe we're both destined to be here and there's only one winner. I'm destined to become the undisputed champion and cement my legacy as the number one fighter of this era.
"He's a tricky man, good boxer, slick, all of that, but I've seen many many people like him before and when they fight the big men, they struggle.
"I will break him, for sure. He ain't the biggest puncher in the world. I can outbox him, I can get on the front foot and slaughter him, there are many ways I can skin this cat."
Usyk likened the fight to 'David versus Goliath'.
"Maybe it's true," he said of Fury's outburst.
"I don't know. For me it doesn't matter. Tyson Fury, every time, a lot of speak.
"I speak more in the ring."
Earlier, Tyson was in buoyant mood as it was revealed that he'd been voted the World's Sexiest Sportsman in a poll.
The website IllicitEncounters asked 2,000 women to rate 30 famous sports stars, and the Morecambe man came out on top over the likes of footballers Cristiano Ronaldo and Jack Grealish, boxing rival Anthony Joshua, and his own brother Tommy Fury.
"Never say never, people, if you're fat and you're bald, you're probably going to get laid!" said Fury, when asked about the accolade.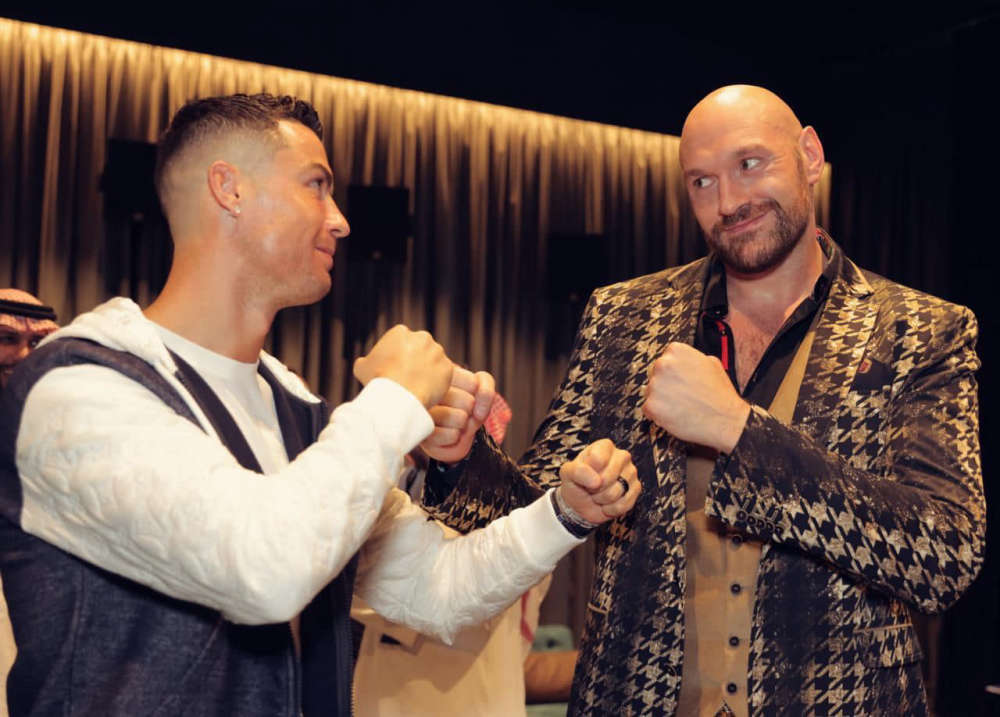 The 6ft9in Fury will start bookies' favourite in the fight against Usyk, who is six inches smaller and more than three stones lighter.
Fury, 35, and Usyk had a staredown in the ring shortly after 'The Gypsy King' defeated Francis Ngannou on October 28.
That night in Saudi, Tyson went through a much harder tussle with the former UFC fighter than expected, winning via split decision on the scorecards after 10 rounds in a non-title fight many observers thought he lost on points.
Read more: Tyson Fury gets off the floor to edge Francis Ngannou by split decision - Beyond Radio
But despite being floored in the third round, Fury - deservedly in the opinion of Beyond Radio - got the judges' nod to remain undefeated in his 35-fight pro career, with 34 wins and one draw.
The charismatic star, who has lived in the Morecambe area for well over a decade, has been lineal world heavyweight champion since defeating Wladimir Klitschko in 2015, and WBC champion since he stopped Deontay Wilder in 2020, making three successful defences of that belt since then, against Wilder, Dillian Whyte and Dereck Chisora.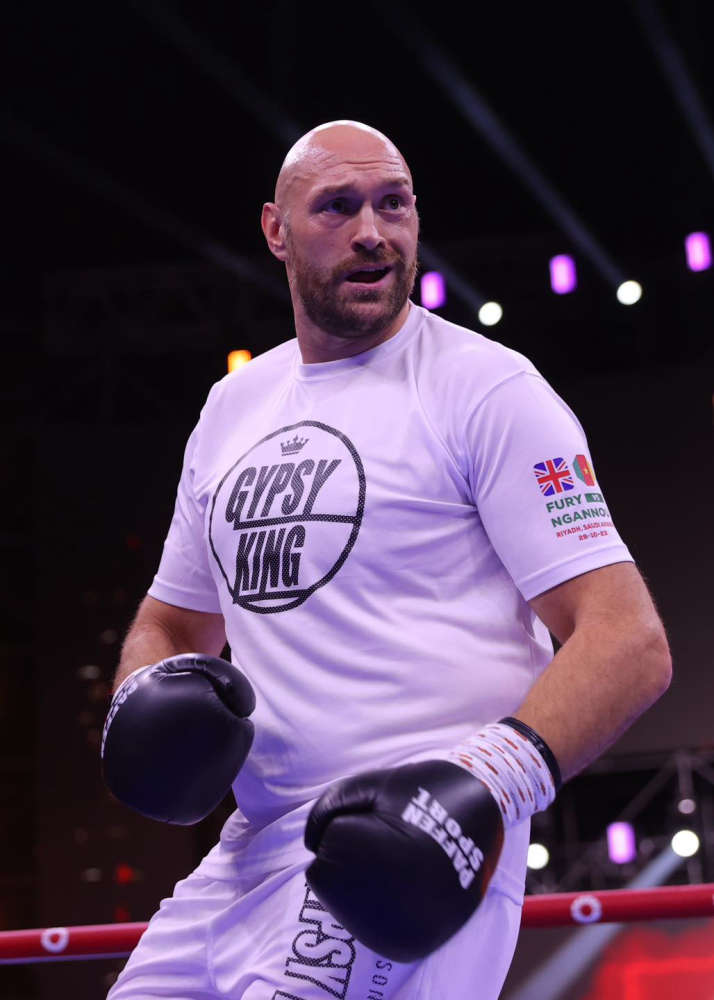 Usyk, 36, is undefeated in his 21-bout professional career.
The Ukrainian is a former Olympic heavyweight champion and undisputed cruiserweight champion, who moved up to the heavyweight division in 2019.
He captured the WBA, IBF and WBO heavyweight titles from Britain's Anthony Joshua in 2021, before beating AJ again in a rematch in 2022.
Usyk most recently defended the belts against Daniel Dubois from Britain in August, winning via ninth round stoppage. But the win was not without controversy, as the champion was given a huge amount of time to recover after being floored in the fourth round by a 'low blow' that many believed to have been a legal punch to the stomach.
The last undisputed world heavyweight boxing champion was Britain's Lennox Lewis, who held the WBC, WBA and IBF belts from 1999-2000.
But nobody has ever held the heavyweight title belts of all four of the main world boxing organisations, which includes the WBO.
This makes the fight in Riyadh a historic occasion in the annals of professional boxing, especially as both combatants are undefeated.