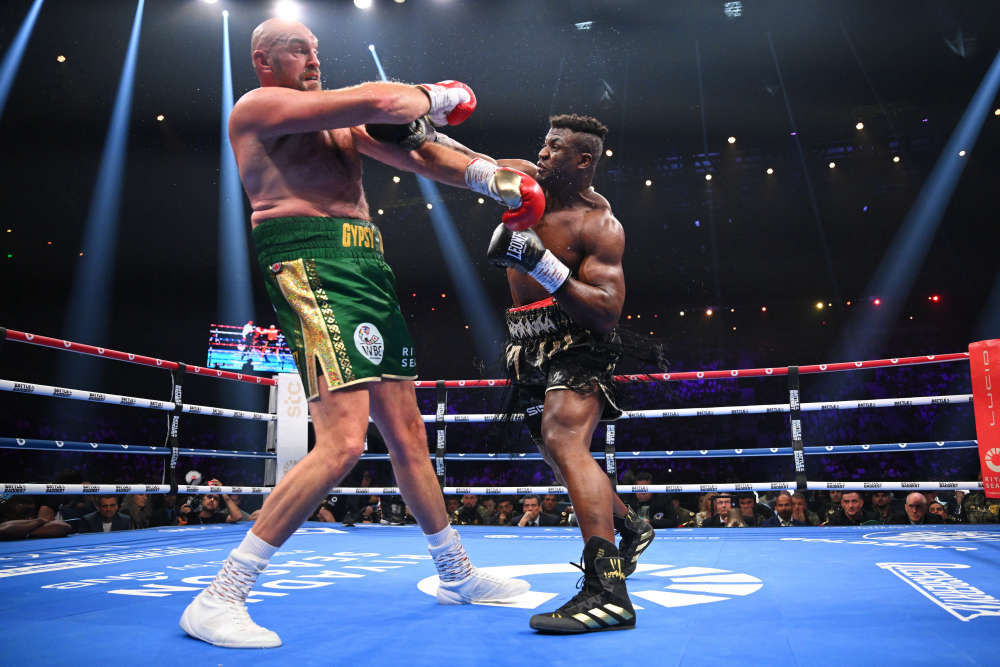 Tyson Fury won a split decision points victory over Francis Ngannou but had to get off the floor to do so.
The judges scored it 95-94 Ngannou, 96-93 Fury, and 95-94 Fury after their 10-round non-title fight in Saudi Arabia on Saturday night incredibly went the distance.
Many ringsiders disagreed with the decision as Ngannou, in his first professional boxing match, had stunned Fury with his patience and power in an assured display almost nobody saw coming.
And Tyson and the crowd were shocked when Ngannou landed a counter left hook in Round 3, putting the WBC Champion from Morecambe on the deck.
Overall, Beyond Radio scored the bout 97-94 to Fury as in reality, he just about landed enough clean punches to win many of the quieter rounds.
But his performance was well below-par against the former UFC Heavyweight Champion who was a much better boxer than most experts had expected.
The glitzy occasion in Riyadh, billed as 'Battle of the Baddest', was predicted by most to be an easy victory for 'The Gypsy King' against the professional boxing novice, who'd made his name as a knockout specialist in Mixed Martial Arts.
With a crowd packed with celebrities and sporting greats watching on, both combatants wore crowns and sat on a throne on a huge stage before entering the ring for battle.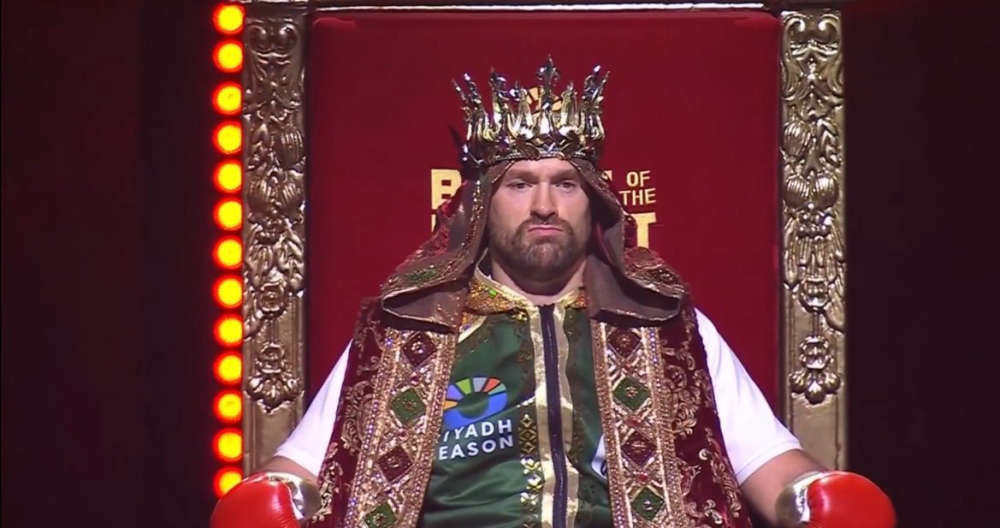 Ngannou was accompanied to the ring by former world heavyweight boxing champion Mike Tyson, who'd helped train him for the mega-money bout.
Meanwhile Fury was given a guard of honour by boxing legends including Lennox Lewis, Evander Holyfield and Riddick Bowe.
After legendary boxing MC Michael Buffer made the introductions, the fight got under way in front of a buzzing Saudi crowd.
Fury landed a right hand straight after the bell rang and spent most of the first round taking a look at Ngannou, before landing another bang-on-the-button right-hander later in Round 1 to clearly boss the opening three minutes.
But there were already danger signs for the Morecambe fighter, as Ngannou looked composed, boxing with surprising technical ability and footwork, and was unruffled any time Tyson connected.
In Round 2 a cut opened on Fury's forehead after a Francis uppercut inside and Ngannou, although not landing many other punches, was certainly making the WBC Champion think, with the menace in his work.
Tyson stayed on the outside and turned southpaw, exercising caution against the hard punching Cameroonian, who also showed he could switch stances. (Photos below from Top Rank Boxing).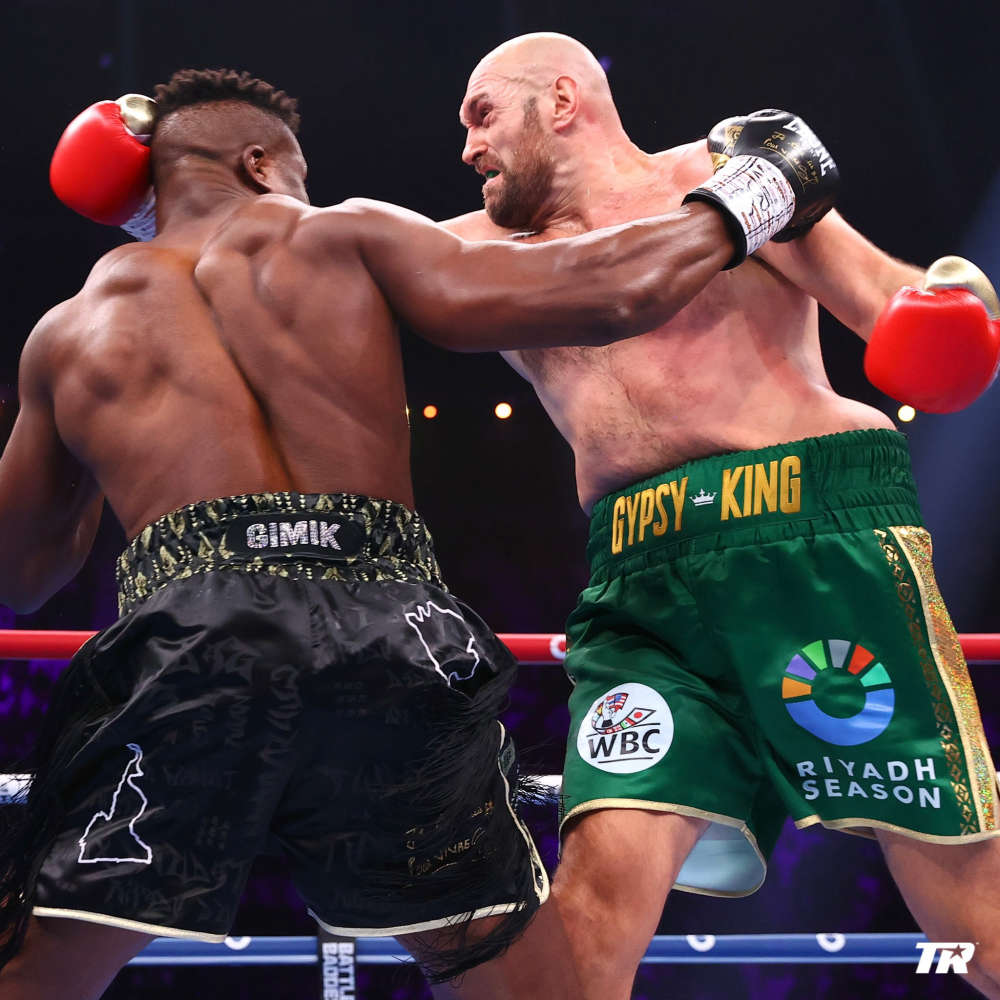 And then in Round 3, the unthinkable happened. After a quiet round, Fury stepped in to land two crisp rights but Ngannou immediately countered with a left hook high on the Morecambe man's head and Fury went down for the seventh time in his career.
Fury was stunned, as was the crowd. But Tyson got up and kept away to survive the round.
Tyson's timing and balance looked all over the place at times in Round 4 as Ngannou went on the attack early on, but he regained control with left-right combinations to Ngannou's head, although the 6ft 9in Fury was unable to hurt the rock-hard African.
There were signs in the fifth that 'The Gypsy King' was at last finding his rhythm as he grinned at Ngannou after landing a right to the chin and jabs, making the African miss.
The sixth was another tense round, and although Ngannou was open mouthed and looked tired, Fury was reluctant to commit, staying on the outside and scoring with a nice lead left hook and jabs to win the session.
Round 7 was quiet with Fury again looking out of sorts but still just about doing enough. 'The Predator' got through with a southpaw left cross to the head before his British opponent got back behind the jab, then advanced on Ngannou landing an agricultural right until falling to his knees when pushed down by the Cameroonian.
The eighth was the most exciting round in some time as a confident Ngannou scored with a huge left to the head, clearly troubling the WBC Champion, and actually teed off on a ragged-looking Fury. Tyson tried to fight back with left-rights in a dramatic exchange but Ngannou defended well and looked the stronger, winning the round.
Fury managed to win the ninth, simply by staying away as any attempts to outmuscle his powerful opponent on the inside had proven ineffective. But Tyson did score with the odd left jab and one rapid-fire right cross which again had no effect on the cage fighter.
The fight ended with hardly any action in the 10th. Francis clipped Fury with a right from distance, Tyson landed some jabs and a neat uppercut inside, then Ngannou tried to leap in off his feet with an unorthodox right. By the final bell, it was Fury who seemed the happier to hear it.
The underdog Ngannou was cheered to the rafters as the fight ended, and while Tyson was marked around the face and dejected at his display, he embraced his opponent in a show of respect.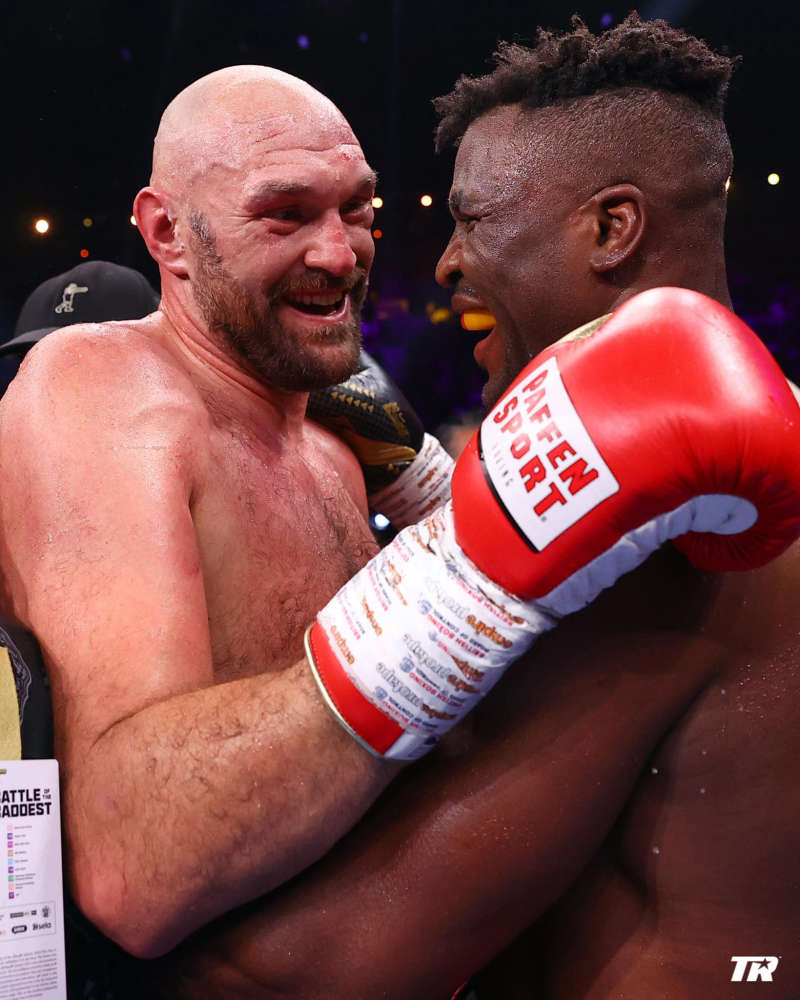 Then came the verdict, and while one judge scored Ngannou the winner, the other two judges gave Fury the deserved nod, extending his career record to 34 wins from 35 fights with one draw.
"He's a good fighter, Francis, he hit me with some good punches and he was a lot better than we thought he'd be," said Tyson afterwards.
"It was just a flash knockdown, a glancing blow, I was all right.
"It's just boxing. No excuses. He's a good boxer. He give me a good fight. Fair play to him. It was surprising."
Fury is next expected to fight Oleksandr Usyk for the undisputed heavyweight championship.