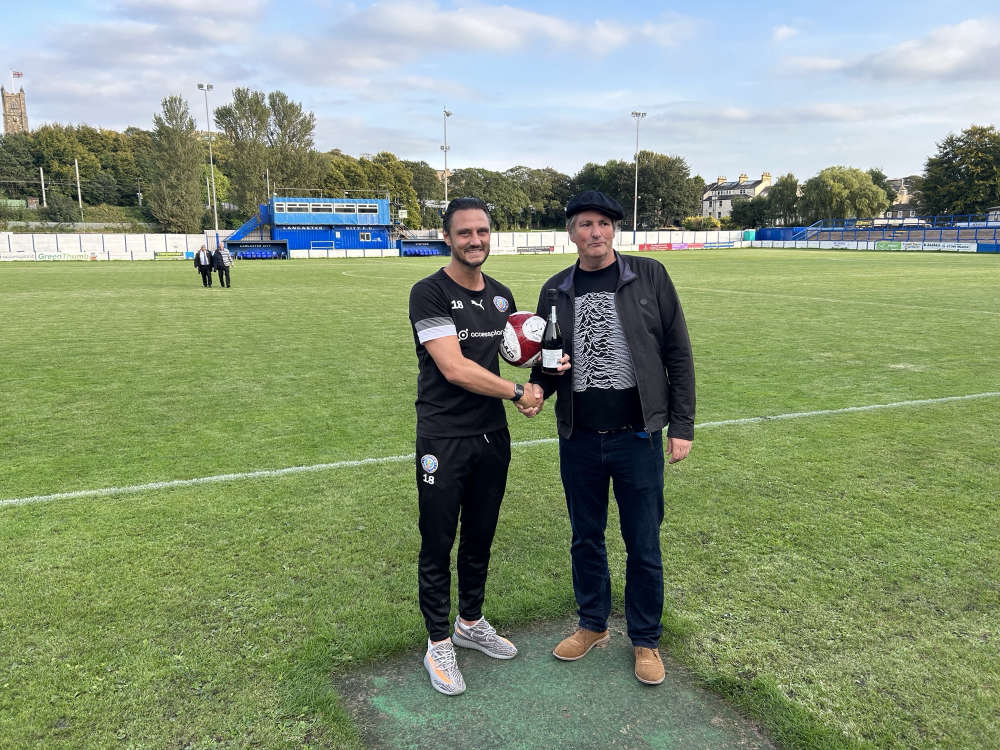 Lancaster City have progressed to the Emirates FA Cup Third Qualifying Round for the first time since 2017.
Centre back Simon Grand scored a hat trick as the Dolly Blues beat Marske United 4-1 in the Second Qualifying Round at The Giant Axe on Saturday.
The win extends their unbeaten run across all competitions to eight matches.
Grand opened the scoring six minutes in with his first, and arguably best, of three.
Sam Bailey sent in one of his trademark long throws which eventually came to Grand, who hit an unbelievable acrobatic effort and added to his already impressive goalscoring tally this season.
Not long after, The Dollies could have made it two. Charlie Bailey launched a fierce effort towards goal from outside the box which Marske 'keeper Nathan Harker did well to parry wide.
However, moments later, City, and Grand, got their second of the afternoon. The veteran defender once again got the last touch in a packed 18-yard box and tapped it in at the far post to get his fourth of the campaign.
Marske had a decent spell of pressure around 20 minutes in, but the Lancaster backline managed it superbly. Once they had cleared it for good, Lancaster were once again threatening down the other end, hungry for a third.
Grand was at it again with the acrobatics but couldn't direct it on target this time.
The centre back got his hat trick two minutes later though. Dan Myers brought down Brad Carroll in the box and the referee pointed to the spot.
Grand stepped up to take the penalty kick and converted it powerfully down the middle.
With just over half an hour gone, captain Andrew Teague got City's fourth, nodding home from a free kick delivery on the left hand side.
Despite their very comfortable lead, Lancaster weren't sitting back after going four up: pressing high, fighting for every challenge and trying to cut out every Seasiders' pass.
Marske had an okay start to the second half but were still struggling to trouble Andre Mendes.
Lancaster's Niall Cowperthwaite tried a shot on from range but it fizzed past the post, as the Dollies searched for a fifth and continued to look comfortable in the game.
Marske did get a consolation goal late on.
Curtis Round re-signed for the visitors last week after just one season away and got his first goal of his second spell at the club with 10 minutes of regulation time remaining, tucking his effort into the bottom right corner.
Unsurprisingly, hat trick hero Simon Grand was named player of the match after a superb display.
He spoke to Beyond Radio post-match.
"(The hat trick) is hard to describe, you can't say you plan for things like that," he said.
"It just seems to fall to you sometimes, I think it fell to me a few more times in the game so, you never know, it could've been more!
"We've done so well, we built pressure, we put balls in areas and it's up to people like me and Teaguey to go and attack it and we've both done it today."
Grand got 12 goals last season at Charnock Richard and said he set himself the target of scoring eight goals this season - he joked he might have to "up that target by one or two more"!
He says he "couldn't have settled in at the club any better".
"It helps when we've got such a fantastic bunch of players and staff. I've said it before, things are done so professionally here, we go about things the right way. I love it, I thrive off it.
"We've started so well. Our one defeat has been away to Radcliffe and look at where they are in the league.
"We're confident, you get that mentality about you. It's not an arrogance, but it's a mentality of 'we can't be beaten', and when we are - hopefully not for a long time yet - it's a case of how do we bounce back? We'll keep going."
Manager Mark Fell also gave his thoughts post-match to Beyond Radio.
On Grand's performance and his impact at the club, Fell said he's "a master of his craft" who is "a pleasure to work with".
"He's been top class, I'm delighted for him that he's got the goals today. He's loving it here, I know he is.
"He's a top player, a top signing and a top pro."
The Lancaster boss said his side were "brilliant" on Saturday.
"We effectively got the job done in the first half, which is a lovely position to be in.
"It makes it a bit weird, if I'm honest, because you've then got to manage the game. You don't want to give away an early goal and let them get their tails up, and you'd feel more uncomfortable if there was only one or two goals in it.
"Their goal comes because we had two players on the pitch who were struggling to run (Barnes and Cowperthwaite).
"We're absolutely flying, in all competitions, aren't we? It's such a positive environment to be in at the moment."
A third qualifying round tie awaits City for the first time in six years, and for the first time ever for Fell.
"It's the first time I've ever made it, I've had 10 goes at this and never got past this round!
"For the club, it's a great competition to be in. The lads have really performed today, full credit to them."
Lancaster City next face Ilkeston Town in the NPL Premier Division on Saturday (September 23).
Lancaster City: Mendes, S Bailey, Brownhill, Barnes, Teague (c, Clarke 45'), Grand, Carroll (Turner 65'), Cowperthwaite, Norris (Lawson 55'), C Bailey, Connelly
Subs not used: Stephenson, Jarvis, Deighan, Butterworth
Marske United: Harker, Macdonald, Myers, Kennedy, Burgess (c), Dale, Cornish (Gbadebo 66'), Hackett (Leech 66'), Boyes, N Thomas (Church 66'), Round
Subs not used: Yaqub, Robertson