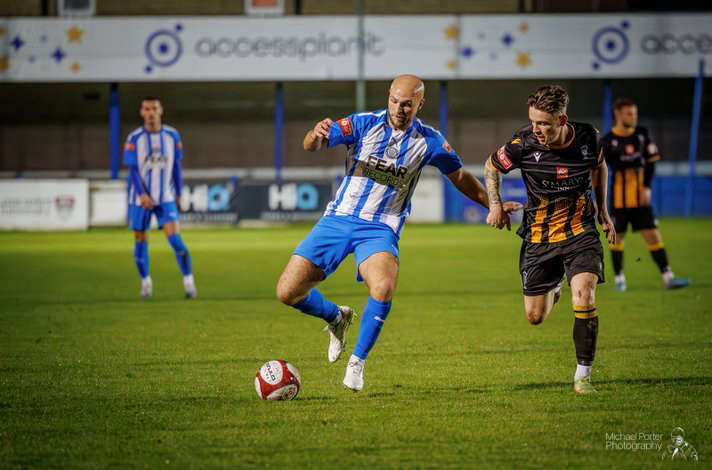 Lancaster City came from 2-1 down to beat Morpeth Town 3-2 at The Giant Axe.
Dom Lawson scored twice and David Norris netted the all-important winning goal to give the Dolly Blues their first win since September 16, on Tuesday night.
The two Lancaster goalscorers both started from the off for Mark Fell's side on Tuesday after coming off the bench in Saturday's 2-1 defeat at Marine AFC.
Lawson, who got Lancaster's goal on Saturday, was on the scoresheet for the second game in a row within the opening five minutes.
The hosts were causing Morpeth's defence all sorts of problems and, after a good ten to fifteen seconds of pinball in the visitors' box, City's number nine found the back of the net.
Just over 10 minutes later, Morpeth equalised in controversial circumstances.
The Lancaster faithful were adamant that goalscorer Andrew Johnson was in an offside position as he was fed the ball through the centre of the park.
However, the officials didn't see it that way and his calm finish past Andre Mendes stood.
Fenton John had a chance to put the away side in front but his effort went just over, although it was dangerous and had Mendes tracking back.
Lancaster came close to retaking the lead just before the break.
A scramble in the box from a corner led to a goal-line clearance by Liam Noble.
Just a couple of minutes later, Charlie Bailey saw his headed effort from a Dom Lawson cross go wide.
Six minutes after the restart, the visitors took the lead.
It was Andrew Johnson once again who was on hand to give the Highwaymen a goal, providing another cool finish following another pacy run into the 18-yard box.
Just like Johnson, Dom Lawson went on to get his second of the game and an equaliser for the Dolly Blues.
The partnership that worked an almost successful move just before half time swapped roles, as Charlie Bailey fed Lawson through and the striker made no mistake in calmly striking it home past Morpeth 'keeper Dan Lowson.
Jake Connelly came on for Kyle Brownhill a couple of minutes later, an attacking-minded substitution that showed Lancaster's clear determination to find a winner rather than settle for a point.
Connelly forced Lowson into a great stop with just under twenty minutes left.
It was a difficult shot to get away as the angle was tight but it would've gone in had Lowson not got a hand to it.
With 10 minutes left, Connelly sent the ball into the box looking for a Dolly Blue shirt.
The cross was beaten away by Lowson but only into the path of the evergreen David Norris, now in his 24th season at senior level, who gave the hosts the lead from close range.
Connelly had the chance to make it 4-2 a few minutes before the full time whistle, but again the shot was at a difficult angle and the ball went wide.
Dom Lawson received the player of the match award after bagging a brace.
Lancaster are now up to 14th in the table.
Manager Mark Fell said his side were "fantastic".
"What Craig [Lynch], their manager said to me at the end was that we were ruthless and relentless," he said.
"If there's a compliment for your team, that's probably one of the best you can get.
"It'd be very easy for us to go under at 2-1 down and feel sorry for ourselves and put our shoulders down.
"But we didn't, we kept going, we kept doing the same things which is what we haven't done of late - we've conceded and either gone into our shells or started doing ridiculous things.
"I thought that today we kept to the game plan."
The Dolly Blues boss heaped praise on Dom Lawson.
"What a difference a goal makes", said Fell.
"Dom earned [his start on Tuesday] by playing really well when he come on."
"Hopefully that's a bit of a catalyst for him now to step on to the next level, to get his season back on track and to be the player we saw glimpses of last year.
"I'm full of belief for him."
Next up for Lancaster is another home game against Warrington Rylands on Saturday (October 28).
Lancaster City: Mendes, S Bailey, Brownhill (Connelly 64'), Barnes, Teague, Grand, Sloan (Carroll 78'), Cowperthwaite, Lawson (Holland-Wilkinson 84'), Norris, C Bailey
Subs not used: Allington, Clarke