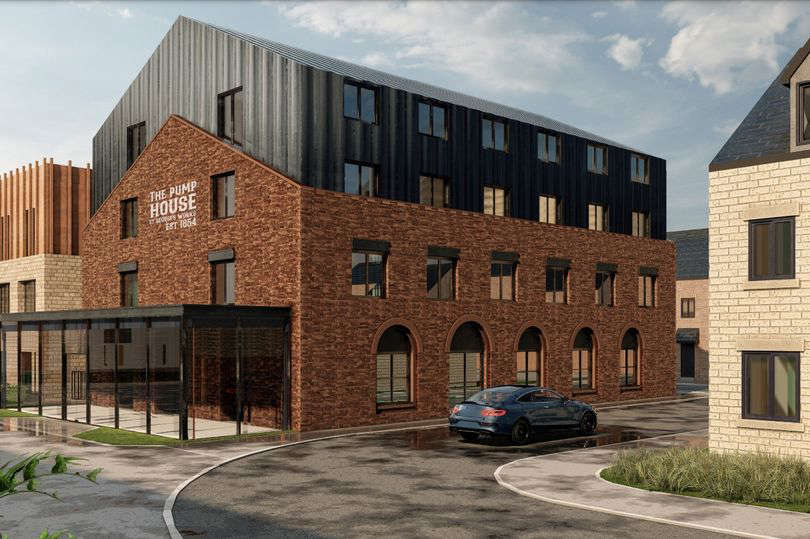 Plans to convert the last remaining part of Lancaster's most famous industrial empire into student flats have been approved.
The St George's Pump House at the former St George's Works complex at Abram Close will be converted into 35 studio apartments, along with communal spaces.
St George's Works, built between 1854 and 1869, produced oilcloth for floor coverings, table cloths and blinds. It was part of Lord Ashton's huge lino industry along St George's Quay which was arguably the largest industrial complex in the world in the late 19th century.
The Works was demolished in 2018 to be replaced by student flats and a housing estate but the Pump House, a tall and dilapdiated single-storey 19th century building, remains.
In 2016 the Pump House failed an assessment for Listed Building status as it was considered to be of local, rather than national, importance.
The plans were for a "single storey glazed front extension and standing seam black metal clad vertical extension above the existing Pump House walls to create a four-storey student accommodation site containing 35 studio apartments with associated ground floor communal area, internal plant room, bin and bike store, and external fenced condenser compound".
Lancaster City Council planning committee, a group of elected councillors, agreed planning permission for the scheme at a meeting on Monday.
Objectors to the scheme included Lancaster & District Heritage Group, Lancaster Civic Society and conservation officers, who said the plans would 'result in the almost total loss of significance' for the old building. There are also 19 objections lodged by members of the public.
Other concerns include the loss of potential recreation space and industrial history, height of the building, and genuine demand for more student accommodation.
Councillors were also concerned about the shortage of car parking spaces for the flats.
Councillor Colin Hartley, from Labour, said at the meeting: "It does annoy me somewhat as there is no increase in car parking spaces on this development. I am concerned about the impact on residents. Parking, for me, leaves a bad taste in the mouth."
Councillor Dave Brookes, from the Greens, said: "The parking situation is disappointing. It's a bit disappointing we've ended up in this situation. The state of the building needs to be addressed, it can't be left as it is. It's Hobson's Choice. There's no obvious other future for the building. Just to leave it as it is, would do nobody any favours."
Councillor Sally Maddocks, also a Green, said: "It's somewhere special but on the other hand, it's going into disrepair. It gets to the point where you want somebody to do something with it, it's gone too far."
All councillors on the committee (Sandra Thornberry, Keith Budden, Alan Greenwell, Roger Dennison, Dave Brookes, Sue Tyldesley, Paul Tynan, Joyce Pritchard, Louise Belcher, Martin Gawith and Sally Maddocks) voted to approve the plans except for Councillor Hartley, who abstained.
Read more: Plans to convert historic Lancaster pump house into student flats recommended for approval - Beyond Radio