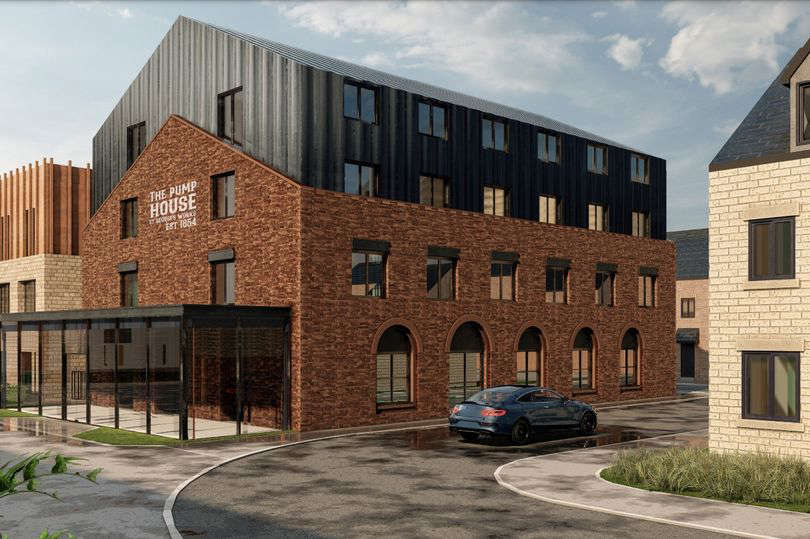 Plans to convert a historic Lancaster pump house into student flats have been recommended for approval.
The St George's Pump House site is one of the last remaining historic buildings of the former St George's Works complex at Abram Close, with a planning application submitted to convert the building into 35 studio apartments, along with communal spaces.
A city council planning report says the building is 'locally important', but does not hold listed building status. The area sits outside of the Lancaster central conservation area.
A report to councillors on the Development Control Committee states: "The 19th Century building comprises a tall, single-storey building, externally utilitarian in design and plainly treated, being a simple brick shell with little ornamentation, and openings being simply round-headed.
"Internally. the walls are of more interest, being faced in white, black and brown glazed brickwork, incorporating various specially-moulded bricks to form the arched heads to the openings and string courses to form the skirting, dado, inpost string course and a dentilated picture rail. Retained engine beds and internal features provide an understanding of internal arrangements and the use of the building."
"The setting of the Pump House as part of the wider St George's Works has significantly altered in the last 15 years, with 149 houses built to the south and west, whilst to the north there is 419-unit student accommodation and ground floor ancillary commercial uses in four buildings, that are three to six storeys in height.
"Whilst the Pump House formed part of the latter consent, the approved conversion was never implemented. The site remains unaltered and in a dilapidated condition. The application site and the surrounding developments described are all within the Luneside East Development, a housing delivery allocation and wider regeneration priority area within the local plan."
Objectors to the scheme include Lancaster & District Heritage Group, Lancaster Civic Society and conservation officers, who say the plans would 'result in the almost total loss of significance' for the old building. There are also 19 objections lodged by members of the public.
Other concerns include the loss of potential recreation space and industrial history, height of the building, and genuine demand for more student accommodation.
The plans are recommended for approval, subject to a number of conditions, when Lancaster City Council meet on Monday, November 6, at Morecambe Town Hall. The meeting begins at 10:30am and the public are free to attend.