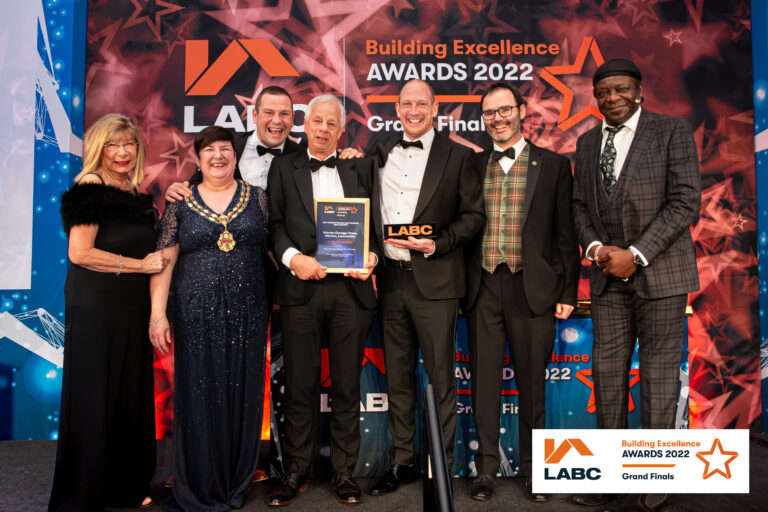 A housing development designed by a Lancaster architect firm has won a prestigious national award.
Lancaster-based HPA Chartered Architects designed the Warton Grange Farm development that won the coveted national title for the 'Best Medium Volume New Housing Development' in the LABC Awards Grand Final.
The residential development came out top against 12 shortlisted projects at the awards ceremony, which took place at the Westminster Bridge Park Plaza in London on Friday 27th January 2023.
Located in the Arnside and Silverdale Area of Outstanding Natural Beauty, Warton Grange Farm is a high-quality development containing a range of 25 open market and affordable properties, from 1-bedroom apartments to 5-bedroom houses.
HPA collaborated with Endmoor-based housing developer Wilson & Co Properties, building to standards above and beyond the current regulations and overcoming various challenges, such as contamination and historical problems with mains draining.
With the houses overlooking a central court, the layout of the site has been designed to reflect its former use as a farmyard, creating a spacious atmosphere and strong community feel. More than 140 trees were planted on site and a new footpath created to allow pedestrian access.
As the largest business awards in the building control sector, the LABC Building Excellence Awards recognise quality in building projects and individual contributions in the construction industry.
Following the award win, Director of Wilson & Co Properties, Byron Wilson, commented: "HPA's contribution to Warton Grange Close was instrumental in its success."
Richard Wooldridge, Architect and Director of HPA, said: "We are delighted that Warton Grange Close has won both the regional and national LABC Award. It is a credit to all involved in the project, especially the team at Wilson & Co Properties who take great pride in their work and produce high-quality houses. This award, which considers the entire design and construction process, is a great honour and a huge achievement for both HPA and Wilson & Co."