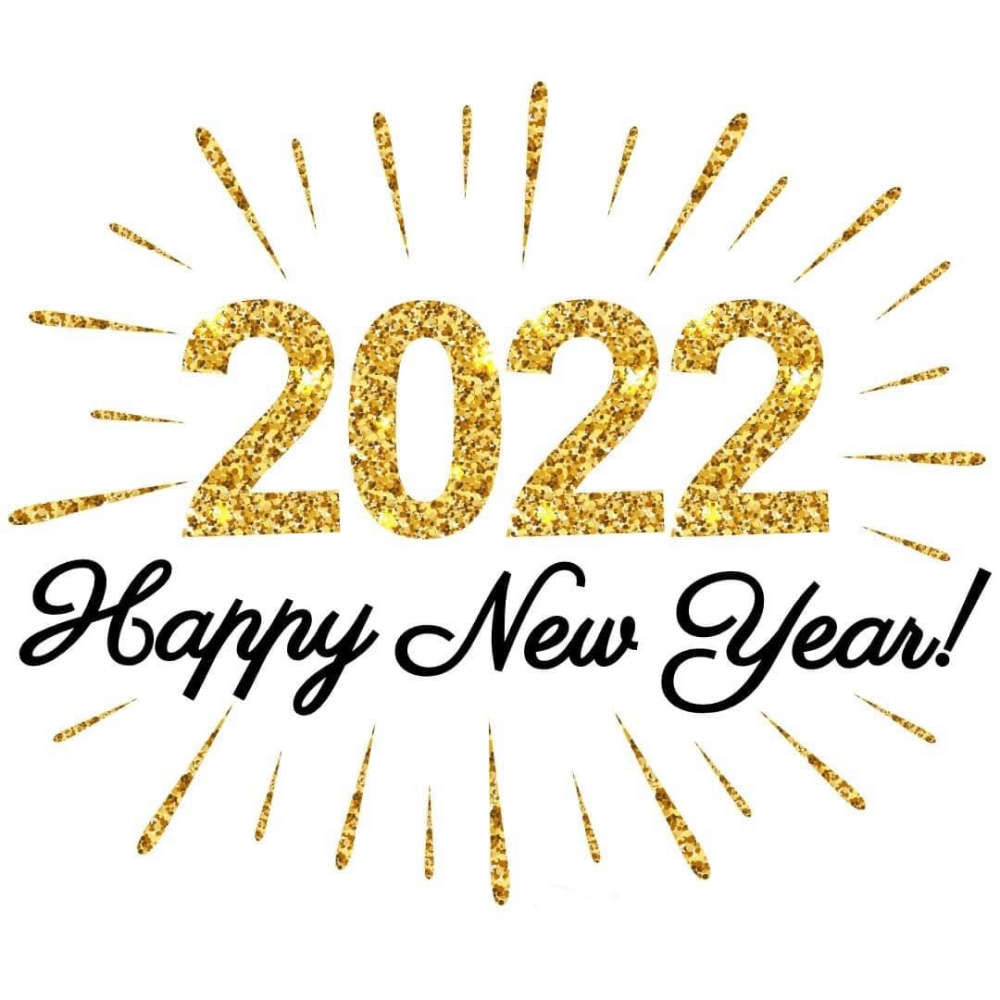 It's a new dawn, it's a new day, it's a new life for me, ohh. And I'm feeling good! Hands up if you sang along as you read those famous lyrics (I actually sang them in my head as I typed them). There's something about the change of date on New Year's Eve that fills many with song, or a sense of hope and freshly renewed faith in possibilities. We make ready to rush headlong into a new year with all the excitement of our inner child ready to search for presents on Christmas morning, or a New Year's Day Morecambe Bay Dipper sporting flippers and a cap, hurtling ourselves into the sea at dawn (more on that news item later). But before we do venture forth into our promising new days, we often process something of a personal audit, don't we? Considering our assets and revisiting our goals are a prerequisite for planning. Only then do we feel confident in setting new resolutions.
This is exactly the type of personal admin I have been doing during the recent 'merryneum'. My first thought about this blog was about it's purpose. 'Where do I fit in?', I thought, as I looked around the website and the mobile app to see the fabulous content we offer at Beyond Radio. This blog is of course part of my 'side hustle'. Anyone familiar with recent Ted Talks or academic theory concerned with the world of work will be familiar with that phrase. It is the term for an aspirational side-line: a passion project intended as a platform for creativity, that has the potential to help develop skills and generate additional income. In my case, the work I do at the radio station is part of my change of career. What this does mean for me is that I can concentrate on my love of music, develop my skills, and be more creative in the ways that make me happy. I am part of the radio station family though, and I do like to contribute or at least keep up with the news. That's where the mobile phone app comes in very handy.
Do you have the mobile phone app, yet? It's really useful. Listening live to the broadcasts or checking the local weather, following Morecambe FC commentary or listening to the latest podcast (Shrimps Verdict), viewing the schedule and listening again to your favourite shows - you can do so much with the app, and it's available for Android and iPhones. I recently installed it onto my new mobile phone because honestly, I really do enjoy all of what's on there - not least our very local news.
We do have in-house news content from our very own local journalist (announcements to follow, no doubt). The news items are listed in an easy to navigate menu, and many aspects of the Lancaster, Morecambe and surrounding area are covered. Want to know about the Tree Warden Scheme? Check the app. What about bus times over the Christmas period, or a snippet about Eden Project North? Check the app. Loud in Libraries, Covid advice, Lancaster District Street Aid ... ? You know what to do.
But by far and away the best use of the app for me, is to listen live. Our schedule has many different shows - specialist music shows such as Indie Rock Heaven with Tim Fernandez (Saturdays at 6pm) or The Folk & Acoustic Show with Chris Denerley (Wednesdays at 7pm), are a screen tap away. Do you like a spoken word led show with a mix of chat and music? We have those, too. Try the Radio Theatre Show (Mondays at 10pm) or The Fishy & Foggy Show (Tuesdays at 9pm).
The app is very easy to use and makes the shows so accessible, even on the move. It's a marvellous addition to our media, and works well alongside the radio station's other outlets - we have a social media presence. Have you seen the Beyond Radio coverage of the New Year's Day Dippers on Facebook yet?
Greg Lambert, you probably know him as our Tuesday night presenter 'The Resident', represented the radio station on New Year's Day morning. Braving the cold weather, microphone in hand, proudly wearing the station colours (a rather fetching purple jacket - logo and all), Greg provided Facebook Live film footage. There are a few short videos on the Beyond Radio Facebook page, see photos of the characters who dressed up for the occasion, but also check out this short film from Greg - see the New Year's Day Dippers and the crowds that gathered to spur them on.
Looking back through my Beyond Radio notebook, I found the details of a really enjoyable weekend. 'This,' I thought as I read through the dog eared and well thumbed pages of my beloved A4 hardback silver notebook, 'this is what I want to do more of.' I had found longhand scribbles about my November Spotlight show interviewee Clint Boon being at Kanteena (I was told I would be on the guest list for the event); a new band called Redeemers looked and sounded quite good in their Instagram post so I'd made a note to check them out on the Friday night; I had a diary appointment with one of the management team from The Pub, because I was going to interview him for my Spotlight show; and I met Roger Moorhouse (of The Cosmic American Music Show) for the first time and he was very friendly; and I had made a note about The Platform: 'Don't forget the arts fair on Sunday.' I have posted about all of these things, in one way or another, on my social media and make no apologies for the gushing enthusiasm with which I name-drop and liberally sprinkle my posts with #hashtags - it's all part of the fun.
I did enjoy myself on New Year's Day, not as a brave Morecambe Bay Dipper (maybe next year), but when I posted music clips and comments on my Instagram account. Mentally ticking off the best musical finds of the later part of 2021, listening again to key moments and songs that made my ears prick up on first hearing them, and checking my diary for past gig details, I collated trios of bands by genre and uploaded the short reels to my Instagram account. Rather than a round up or 'wipe' of the year, I posted about things that excite me and that I will be following up in the coming year. 'Ones to watch' feature quite heavily in my usual posts, as does the phrase, 'a band I want to see live and loud.' Planning ahead and purchasing gig tickets, worrying about the logistics of actual attendance closer to the dates, and checking the tour dates of local bands - in 2022 you can expect more of the same from this music fan.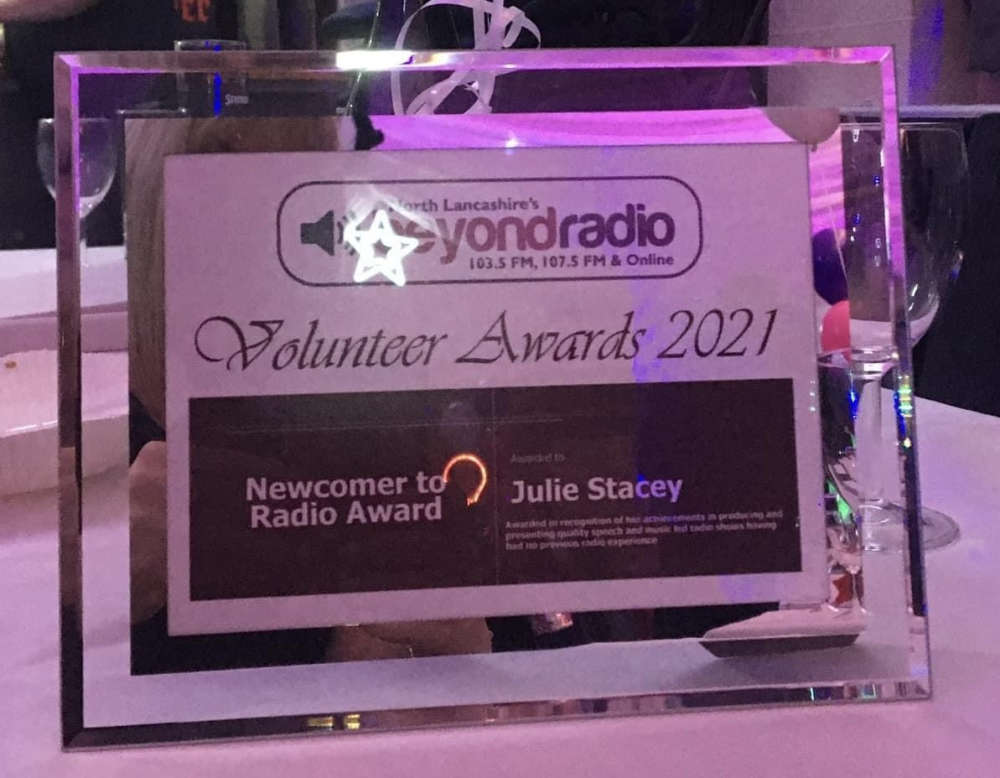 This year my love of music has been taken to a new level - presenting two shows on Beyond Radio. I never dreamed of or aspired to presenting on the radio. I could never have imagined broadcasting to potentially hundreds of thousands of people, listening ears eager to hear my musical choices, listeners who are as in love with music as I am. With a geographic broadcast reach of around 380 000 adults since the DAB expansion, and with the potential for countless more listeners online, I quite honestly can't believe that I'm so lucky to do what I do - presenting two shows. I was asked recently how I overcome any nerves - I imagine that I'm the only one in the room, I replied, and I talk as if nobody is listening. It came as a massive surprise to hear that my show The New Music Brief was voted in the Top 5 shows by our listeners - and I was given a Beyond Radio Award by the Board of Directors. Evidently, new music, in all its styles and genres, is something that people want to hear about. Getting messages from bands in Germany, such as Future Radio, thanking me for playing their records, featured artists like The Clifftones in America commenting on my social media telling me they enjoyed the show, and knowing that my new music show was voted for by so many listeners (who might well be listening all around the world), well it's just overwhelming. I can't thank people enough for their support - thank you, again.
And as I look at my audio files, determined to finally get around to editing the interview I did with William Tucker of The Ruby Tuesdays; knowing that the songs I have listed in my notebook need to be uploaded to the Myriad Playout system that we use for radio broadcasts; and checking my Instagram Direct Messages for a reply from Baz of Massive Wagons (a zoom interview booking for the Spotlight interview), I know exactly where my blogging fits in with the Beyond Radio family: it's an extension of me. This blog might offer some inspiration and encouragement to others - these blogs and this station is for you, whoever you are and wherever you might be reading this. This is part of my side hustle but it's also a unique insight into the passion that drives each and every one of the people who make up the station, people just like you and me, people who work with real local radio - Beyond Radio.
Julie Stacey lives in Morecambe. She is The Beyond Blogger and presents two shows on Beyond Radio: The New Music Brief and Spotlight.