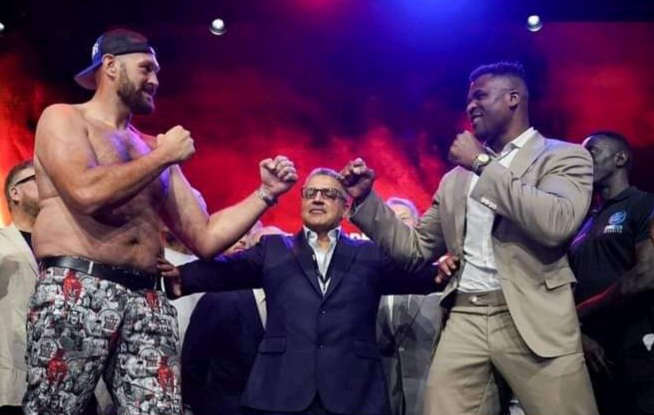 Tyson Fury says that he wants the world to laugh at him should he lose his next fight to Francis Ngannou.
The world heavyweight champion from Morecambe was speaking at a press conference to launch his cross-over bout with Mixed Martial Arts (MMA) fighter Francis Ngannou.
Fury will face the former UFC heavyweight champion in a 10-round non-title boxing match in Riyadh, Saudi Arabia, on October 28.
Many fans and experts have criticised the matchup as Ngannou, while a knockout specialist inside the cage, has never boxed professionally.
But speaking in London on Thursday, the WBC Heavyweight Champion said he was giving the power-punching Cameroonian all the respect in the world.
"He's a big man, very strong, very powerful," said Fury.
"It's in my interests to give it 100 per cent training in camp. We'll do a 12 week camp. This is my fifth week in camp. I trained six weeks for Deontay Wilder. I'm doing 12 weeks for Francis Ngannou. I need to be on my A game.
"There's more on the line now than a boxing fight. if I lose to an MMA guy, I'll never going to be able to show my face in public again. There's going to be ridicule, people are going to chuck it at me forever.
"There's more riding on this than there ever has. Whether the media want to take it as a joke, make no mistake, Tyson Fury will leave zero stones unturned and I will come in at the fittest and strongest and best I've ever been to defeat this man. And if I'm not, and I get knocked out, I want you all to laugh at me, because I'll deserve it."
Ngannou, who at 37 is two years older than his opponent, was his usual calm and relaxed self at the press conference.
"I've watched Tyson fight so many times," said the African.
"He's very very hard to hit. I'm making sure that however it goes, the victory willl be mine. Whether it's knockout or decision, that doesn't matter. If my punch lands, goodnight."
Ngannou has had 20 fights as a mixed martial artist, winning 17, with 12 knockouts.
Fury is undefeated in his 34-fight professional boxing career, and has held the WBC title since he defeated Wilder in 2020. The 6ft 9in superstar, who has lived in the Morecambe area for the best part of 15 years, has been lineal world heavyweight champion since he beat Wladimir Klitschko in 2015.
Speaking to reporters yesterday, Tyson also dismissed his boxing heavyweight rivals Oleksandr Usyk and Anthony Joshua, and said he'd rather face another UFC fighter, Jon Jones.
Fury also said he was willing to fight Jones and Ngannou inside the MMA cage.
The world heavyweight champion bumped into Beyond Radio's Paul Fisher on his way down to the press conference in London on Thursday.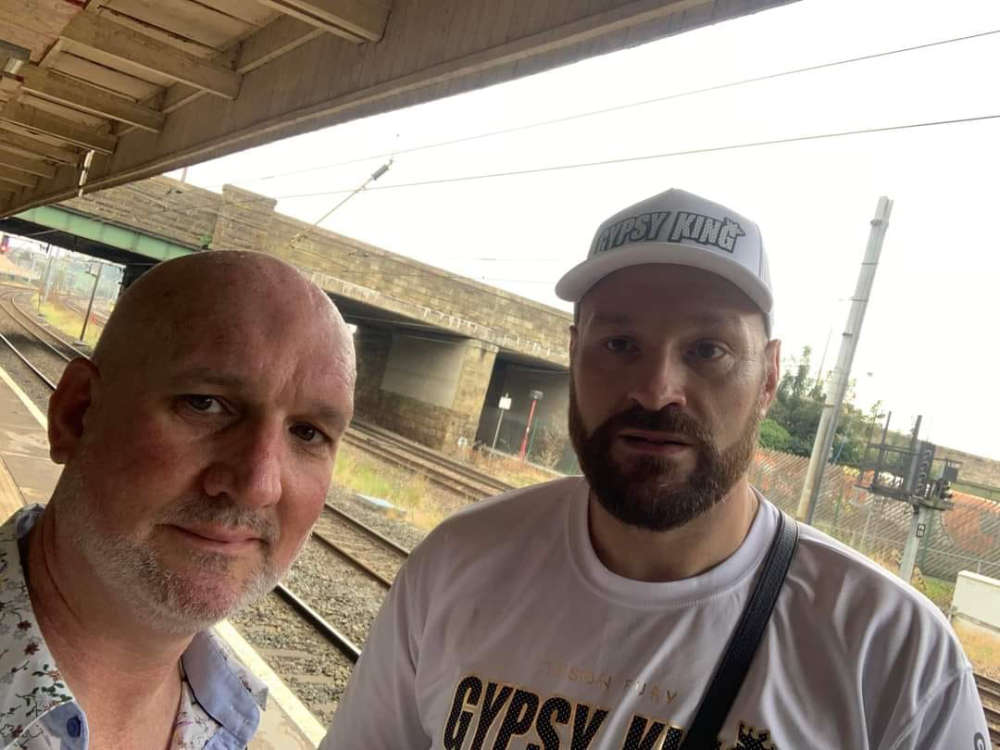 He also celebrated the fact that his reality TV show, 'At Home with the Furys', is now the most watched programme ever on Netflix in the UK.
The fly-on-the-wall documentary, which follows Tyson and his family at home in Morecambe, spent almost two weeks at number one on the streaming channel, and remains in the Top 3 almost a month after release.