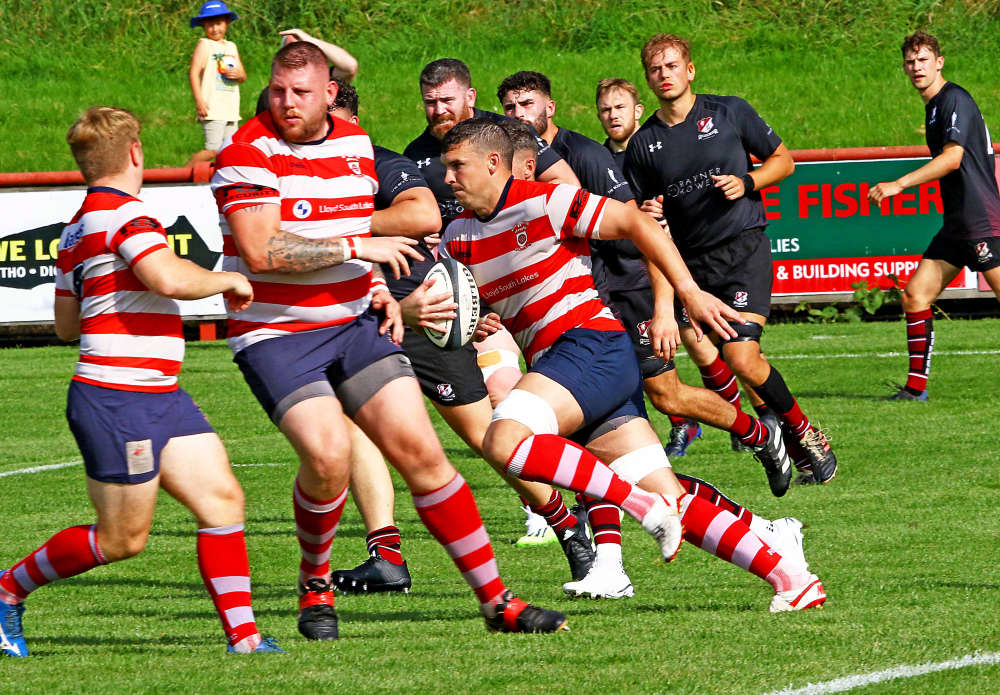 Match Report: Firwood Waterloo  27 - Vale of Lune 3. 
Heartened by a high scoring try bonus victory over Douglas (I.O.M.) last weekend which lifted them off the base of Regional 2 North West the Vale travelled to meet old opponents Firwood Waterloo occupying second place in the league.
The home side are always formidable opponents especially at Blundellsands, although the Vale did manage to lower their colours there last season with a stirring 11-8 victory.
In blustery and wet conditions with a large and appreciative crowd occupying the grandstand it was obvious that expansive running rugby was not to be the order of the day.
Early skirmishes saw both sides put boot to ball with Waterloo opening their account with a cross-field kick for their left winger to touch down for a converted try. Alex Briggs' howitzer like clearance kicks more than once relieved pressure in the Vale's 22 metre area and it was only in the 12th minute after a Chris Ramwell break that they managed to venture into the home side's half.
Ramwell missed a penalty kick but after another Waterloo indiscretion close to their try line and the ensuing lineout the Vale's hard earned efforts came to naught.
The home side's left winger added to his personal tally with another converted try after a rare deft handling move. A third try was followed by the home side's argumentative hooker being yellow carded with Alex Briggs' resultant penalty kick bringing up a half-time score of 19-3.
From the restart Vale prop Joe Stevens left the fray with a blood head injury, to be replaced by the ever reliable Owen Branford.
Vale rallied in the second half holding their own in the scrums and with Jack Ayrton giving his usual lineout commanding performance forced Waterloo to be at their most resilient.
Repeated thrusts by the always hardworking Wallbank brothers and Dom Griffiths into the Waterloo half brought scant reward due to lack of support and understandable handling errors due in no small part to the weather.
Vale's cause was not helped by fullback Connor Kyriakou suffering a dislocated shoulder injury requiring following hospitalisation.
First team newcomers Josh Whyke and Callum Hall acquitted themselves well in a sodden baptism of fire with all credit to the Vale squad who battled to the last against a high scoring Waterloo team who finished off with a penalty and final try for a hard earned but deserved 27-3 win.
Team: R.Pillow, D.Griffiths, J.Stevens, M.Field, S.Wallbank, A.Bolton, S.Walton. J.Ayrton (C), J.Whyke, A.Briggs, H.Dodge, C.Ramwell, J.Silverwood, D.Leighton, C.Kyriakou.
Reps😲.Branford, J.Wallbank, C.Hall.