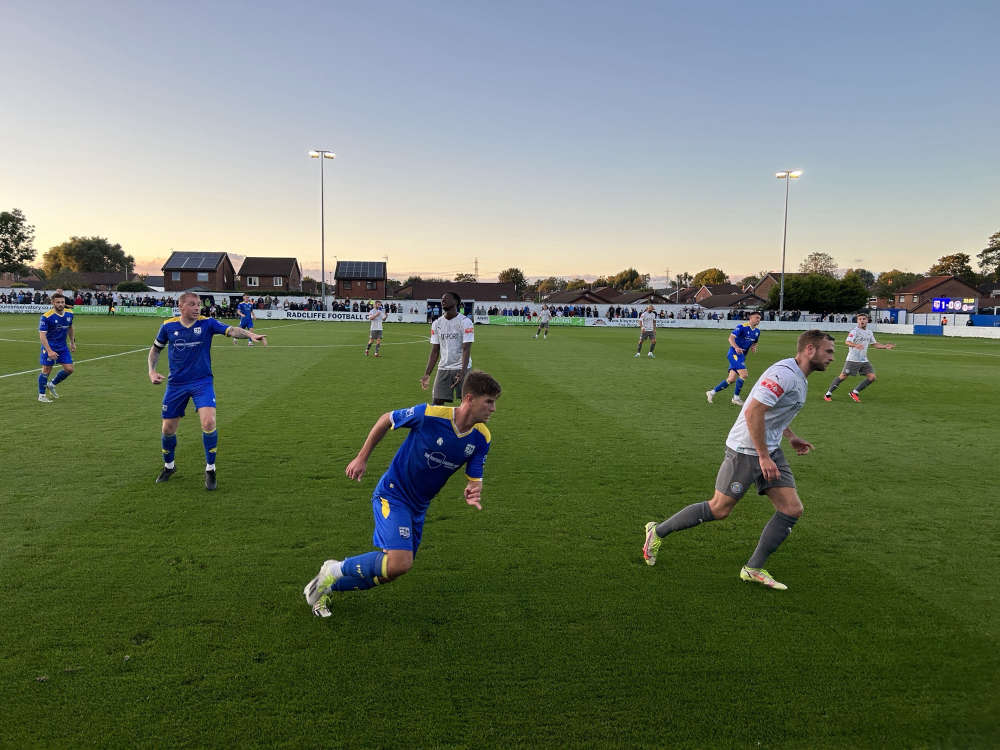 Niall Cowperthwaite was sent off as Lancaster City were beaten by a rampant Radcliffe.
After a disappointing first half display, Lancaster showed great character in the second half as they battled to get something from the game, but it wasn't to be.
The final score in Greater Manchester was 4-2 to the hosts at the Neuven Stadium on Tuesday evening.
Mark Fell made two changes from the side that beat Stafford Rangers 2-0 on Saturday (August 12).
New signings Matty Clarke and Ackeme Francis-Burrell came into the starting line-up to make their full Dolly Blues debuts, with Sam Bailey and Jake Connelly making way.
Simon Grand came on from the bench to make his first competitive Lancaster appearance.
The opening 15 minutes featured some nice build up play from both sides but no noteworthy attempts on goal.
However, Radcliffe took the lead on 18 minutes.
Jordan Hulme latched onto a long ball from captain Nicky Adams that evaded the Lancaster defence and slotted the ball past Lewis Forshaw as he closed in on goal from the right hand side.
Francis-Burrell had a chance to level from range, but his shot went wide.
Radcliffe could have doubled their lead before the half hour mark. Hulme fizzed the ball across the 18 yard area but Matt Sargent just missed the connection.
Niall Cowperthwaite was sent off for Lancaster after a strong tackle on Nicky Adams that led to a heated scuffle near the centre of the pitch involving almost all of the outfield players.
Lewis Forshaw made a superb save to prevent Radcliffe from immediately taking advantage of their extra man by palming away Sargent's powerful strike.
The Dollies decided to make a first half substitution with forward Jake Connelly, who scored City's first goal against Stafford at the weekend, replacing the booked defender Matty Clarke.
However, the Radcliffe attacks just kept on coming. Nicky Adams doubled the Boro's lead with an outstanding effort from long range that went in off the bar and stunned everyone in the ground.
That was the final noteworthy action of the half in which Lancaster failed to test Mateusz Hewelt in the hosts' goal.
Lancaster made their remaining two changes at the break, with Nic Evangelinos and Simon Grand replacing Francis-Burrell and Jamie Mellen.
Radcliffe came flying out of the traps in the second half though. Jordan Hulme was in a perfect position to get his second of the night, but his shot cannoned off the post.
However, Lancaster's second half showing - from an attacking point of view at least - was to be much better than their performance in the first 45.
Brad Carroll halved the deficit against the run of play when he received the ball on the right-hand side after a rapid breakaway and cooly finished past Hewelt.
Lancaster had a solid spell after the goal, pushing for an equaliser, but the Radcliffe defence stood firm.
Charlie Barnes broke free down the right but his cross into the box was scuffed with Duxbury pressing him.
Two minutes later, Radcliffe had a huge chance to reclaim their two-goal advantage but Brad Jackson's shot from the left clipped the crossbar.
Charlie Bailey's floated a ball towards goal from the right which had to be well held by Hewelt to prevent an equaliser.
Not long after that, Radcliffe began to create a long period of pressure through set pieces and balls into the box and they would eventually be rewarded.
They got their third goal when Adams' corner found Olly Thornley, who headed the ball home.
Lancaster pretty much immediately made it 3-2 through substitute Connelly, who got his second goal in as many games with a powerful strike into the top left-hand corner that gave Hewelt no chance.
This enthralling second half was not done yet though.
Forshaw, who was named Lancaster's player of the match, produced a great save from Jordan Hulme's close-range attempt and Lancaster managed to get the ball away before anyone else in the blue of Radcliffe could get to it.
Radcliffe substitute Luca Navarro delivered a killer blow to Lancaster's hopes for a leveller in added time and added a fourth, pouncing on a loose ball after Lancaster struggled to clear from a corner.
Mark Fell said that his side had given Radcliffe "a fright".
"From a character perspective, I'm really, really pleased with the performance," he said.
"There's a lot I didn't like about the first half. We didn't keep to the game plan, I think we showed them too much respect if I'm honest.
"For [Radcliffe's] first goal, we've overplayed it, which we don't ask them to do. We've tried to be clever and smart against a really dangerous side."
However, he went on to say, "I thought we made changes at half time that were brave, and we then went to a shape that was really brave, we kept two men up top and said to them 'let's try and set some traps', which we did.
"It's really disappointing to lose but when I reflect on it tomorrow, I'll be pleased with the second half."
Lancaster's next game is away to Worksop Town on Saturday at 3pm.
Lancaster City: Forshaw, Clarke (Connelly 32') Brownhill, Barnes, Teague (c), Mellen (Grand 45') Sloan, Cowperthwaite, C Bailey, Carroll, Francis-Burrell (Evangelinos 45')
Subs not used: S Bailey, Lawson
Radcliffe: Hewelt, Morgan, Duxbury, Maynard, Smith, Thornley, Hancock (Dudley 45'), Adams (c), Hulme, Sargent (Navarro 72'), Oyibo (Jackson 13')
Subs not used: Joyce, Bange