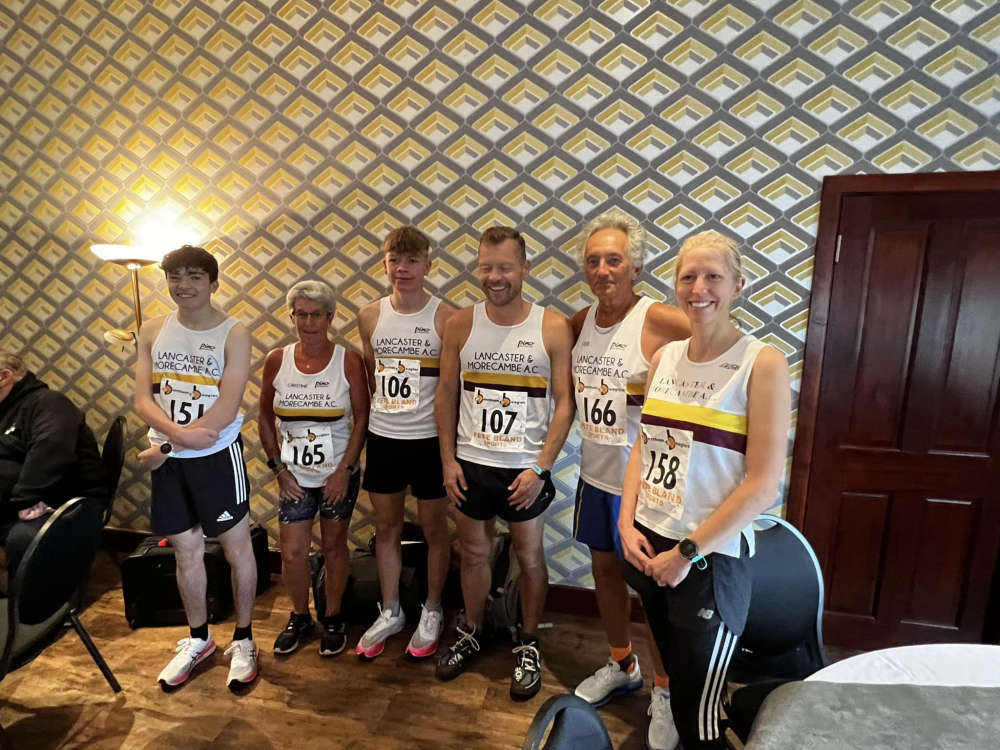 A teenager has enjoyed a double success by winning two races within four days for Lancaster and Morecambe Athletics Club.
James Brassington, 16, won the Bentham Beagles 10K on July 16 and then the Scorton Supper Run on July 20.
His father John also came second in the Bentham Beagles 10K, where all of the top three runners were from Lancaster and Morecambe Athletics Club (LMAC).
Results were:
1st James Brassington 37.47
2nd John Brassington 38.58
3rd Thomas McGrattan 41.14
Steve Perry 49.39
Sally Brassington 51.17
Christine Perry 1.01.52
Then in the Scorton Supper Run, results were:
1st James Brassington 27.22
4th John Brassington 27.48
Mark Holgate 29.18
Graham Dent 31.39
Rob Clayton 33.18
Christina McGuire 35.58
Stephen Perry 36.07
David Wilkinson 36.23
Miriam Maher 38.07
Carole Wilkinson 39.28
Steve Walsh 44.37
Christine Perry 44.49
It was the Lancaster Race Series Celebration of Running, which included a 10k, half marathon and marathon, across the weekend of July 8 and July 9.
On July 8, in the 10k, Matt Guilder recorded a fourth-placed finish. LMAC results were:
4th Matt Guilder 36.53
Peter Lloyd 44.59
Christina McGuire 51.09
Alexandra Mounsey 53.57
John Brassington was the only LMAC member who ran the half marathon, and once again he finished high in the standings in second with a time of 1.22.31.
Three people from the club ran the full marathon. Results were:
Steve Walsh 4.50.04
David Wilkinson 5.02.14
Nicola Barnes 5.24.37
Earlier this summer, on June 28, the Endmoor 10k run took place, with five people representing LMAC:
Lauren Gora 45.17
Mark Simmill 52.22
David Wilkinson 55.23
Carole Wilkinson 57.16
Elaine Simmill 1.06.37
The Calverdale Supper Run on July 4 resulted in some fast times for LMAC's runners too, with Matt Guilder once again finishing high in the standings:
3rd Matt Guilder 23.00
Rob Clayton 26.31
Mark Simmill 29.40
Chris McGuire 29.45
Elaine Simmill 36.38
Lakeland Trails held the Ambleside trail races on July 8 and four LMAC runners completed the 14k:
Andy Firkins 1.25.35
Faith Firkins 2.13.36
Steve Perry 2.13.39
Rob Clayton 2.13.39
Finally, towards the end of the month, Christine Perry ran the Docklands Marine 10k in 59.58 on July 23 while, in Lancaster Race Series' "Run Like a Lune" event on July 30, Graham Dowthwaite ran the 11k in 1.01.33.