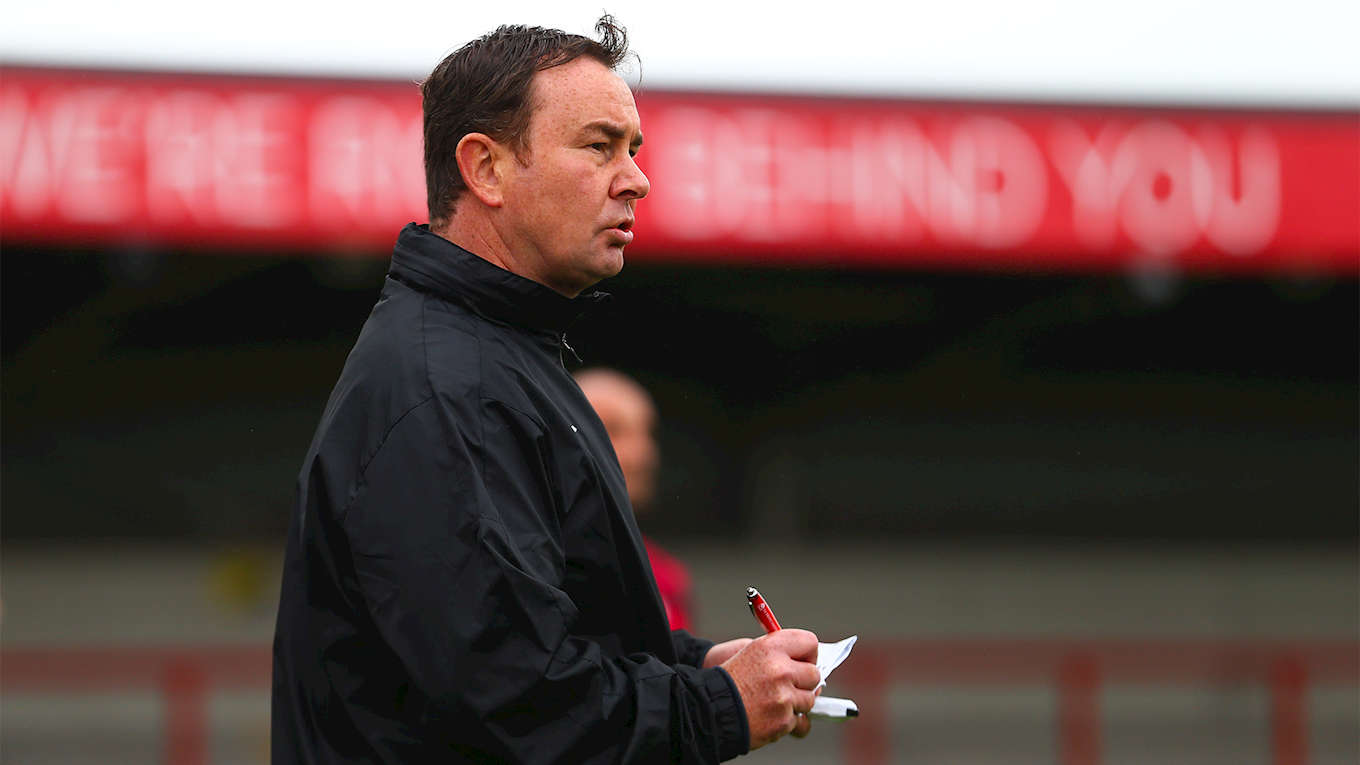 Morecambe manager Derek Adams says the club plans to "overachieve" once again when the League 2 season gets under way.
The Shrimps kick off the new campaign on Saturday at home to Walsall having been relegated for the first time in the club's 103-year history.
Since the heart-breaking final day defeat to Exeter which saw Morecambe drop down from League 1, the club has lost 16 players and had to rebuild the squad almost from scratch.
It was announced that the Shrimps would have their highest ever League 2 budget, but Adams said this was "a play on words" and this would in fact be the lowest budget of all the clubs in League 2,
"We've had a difficult time preseason," he said, speaking at the club's open training session for supporters on Tuesday.
"We started with six players from last season. We've had financial problems. We also have issues at this moment in time we're waiting to be resolved. We've got 19 players with us.
"Financially we'll have the highest budget we'll ever have in League 2 but we have the lowest budget in League 2. A play on words is very good.
"From my point of view we've got to be very creative with the budget we have and we've done really well to get the 19 players in that we have at this moment in time. As a group they're working hard to get themselves fit and ready for the first game against Walsall.
"We will look to take three more players in to make it a 22 man squad before the transfer window closes."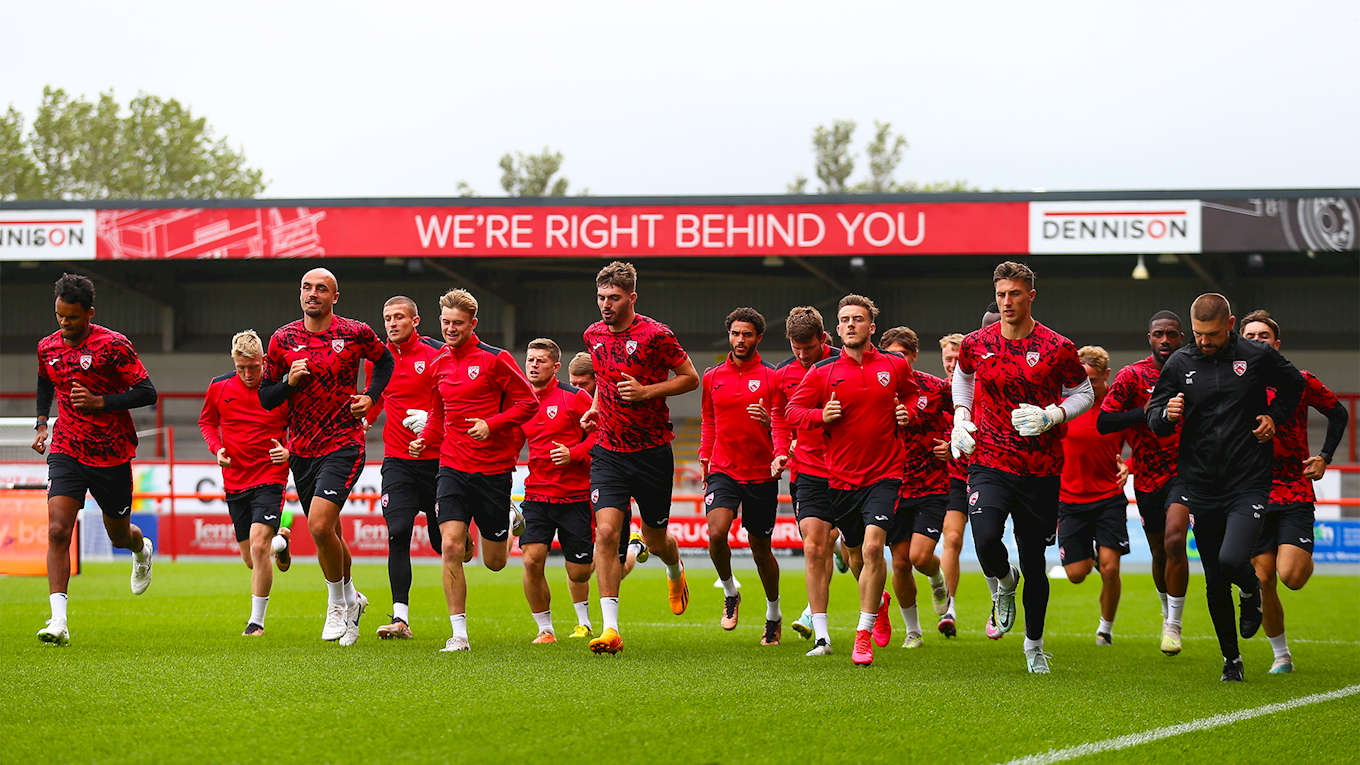 League 2 is expected to be competitive with Wrexham, co-owned by Hollywood actor Ryan Reynolds, and Notts County coming in from the National League with money behind them, and the likes of Stockport County, Mansfield Town, Salford City and Bradford City also expected to pose big challenges.
Adams said that Morecambe would once again be looking to "upset as many teams as we can" like they did when gaining promotion from League 2 in 2020/21.
"It's about overachieving," he said.
"That's what we did, we got promoted out of League 2 into League 1 which was an overachievement."
Adams said he was "really disappointed" to have been relegated despite a late-season run of dramatic wins over Wycombe, Charlton and Lincoln which pushed the Shrimps so close to safety.
"We finished with the highest points total our football club ever had in League One," he said.
"We didn't get backed in the January transfer window, that didn't help us."
Adams will be hoping the ongoing saga surrounding the club's ownership can be resolved as soon as possible, to avoid off-field distractions overshadowing matters on the field.
Players to come into the squad include goalkeepers Stuart Moore and the returning Adam Smith, defenders Joel Senior and Chris Stokes, midfielders Jacob Davenport, JJ McKiernan, Eli King and the returning Yann Songo'o, and strikers Cameron Smith, Charlie Brown, Tom Bloxham and returnees in Michael Mellon and Jordan Slew, joining retained Shrimps in Donald Love, Farrend Rawson, Max Melbourne, Jacob Bedeau, Jake Taylor and Adam Mayor. Shrimps Academy youngsters Cameron Rooney and Lennon Dobson are also part of the official squad.
Davenport (below), who arrived from last season's play-off finalists Stockport County, said he'd enjoyed Tuesday's open training session at the Mazuma Mobile Stadium.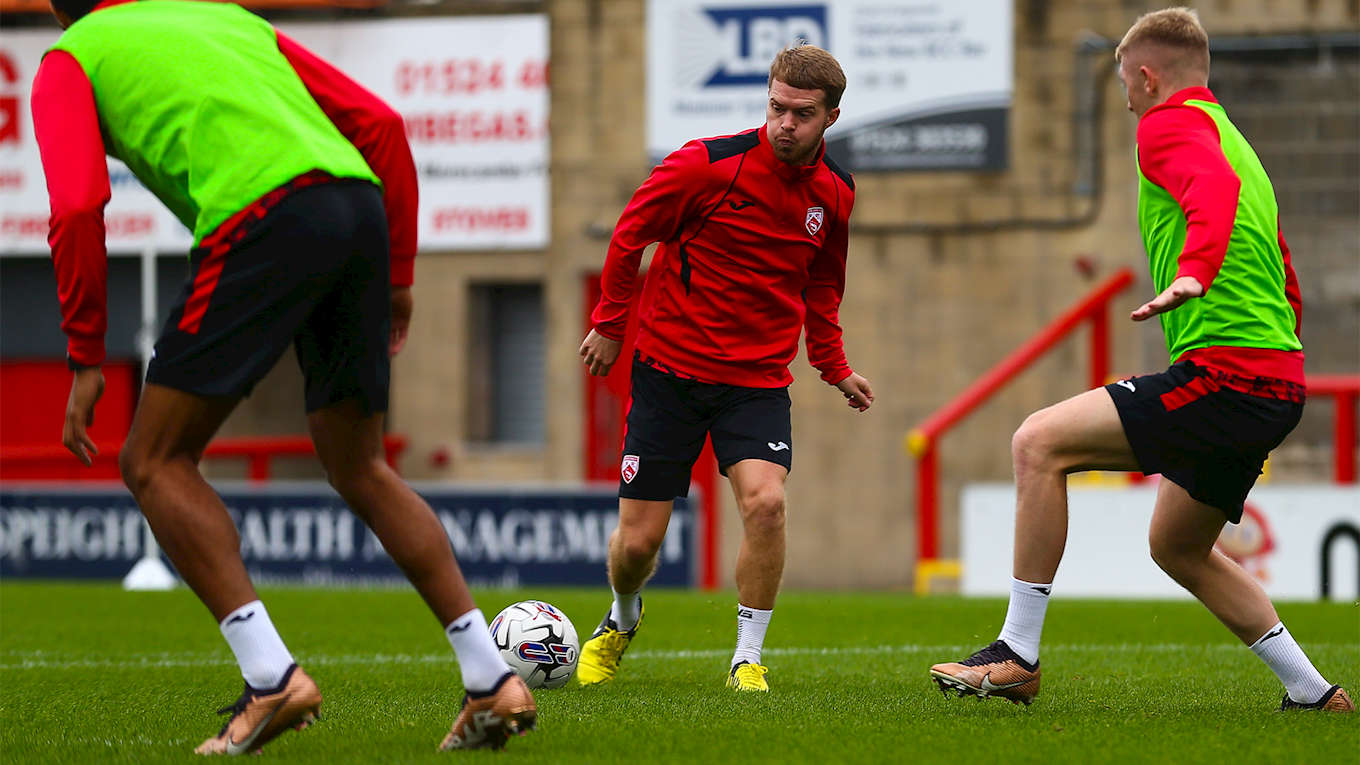 "It's been good to get in front of the fans on a nice surface and show the fans what we can do," he said.
"It's been easy (settling in), the lads and all the staff have been great, it's got a family feel.
"Coming into the club personally I want to play games and finish as high as we can, and I think we can do that with the squad we've got."
The session was watched by Jim Harvey, former manager of the Shrimps, who was there covering the session for the Morecambe FC YouTube channel.
"You've got to start again and you've got to be realistic," he said.
"For Morecambe to even get (to League One) was incredible. Now they've got to regroup. They've lost a lot of players. Hopefully they've recruited well and they can give it a good go this year."
LISTEN to Jim Harvey speaking to Beyond Radio's Greg Lambert ahead of the new season.
Morecambe's opening game against Walsall kicks off at 3pm on Saturday at the Mazuma Mobile Stadium.
You can hear full live match commentary on Shrimps Live on Beyond Radio.