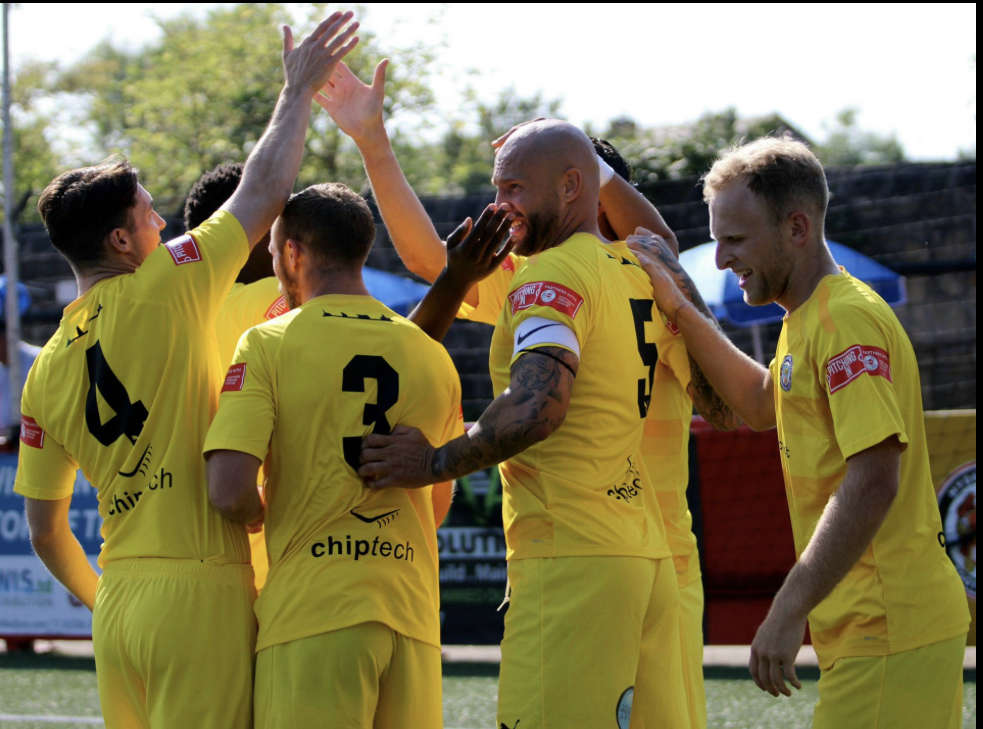 Lancaster City comfortably beat 10-man Hyde United on a boiling hot afternoon in Greater Manchester.
Lancaster, whose fans were in fine voice throughout the game, were 3-0 victors at the Project Solar Stadium in intense conditions - temperatures reaching highs of 28 degrees Celsius.
Goals from Andrew Teague, Sam Bailey and Charlie Bailey got them their win.
Manager Mark Fell said his side's performance "ticked all the boxes".
The Dollies are now second in the NPL Premier Division and unbeaten in six in all competitions.
There were two changes to the Dollies' lineup. Pat Allington and Ackeme Francis-Burrell came in for Charlie Barnes, who was out of the match day squad as a precaution after a tweak in his knee, and Dom Lawson, who came on a sub later in the game.
Kyle Brownhill, ever-present so far this season for Lancaster, started against the side he left in 2022 after nine years.
As for the hosts, Sam Waller was the man in goal against the team he spent last season on loan at from Burnley.
Lancaster had a fast start, scoring three minutes into the game.
Captain Andrew Teague got his first goal of the season, cooly slotting the ball past Waller in the scorching heat after a brilliant assist from Brad Carroll.
Lancaster looked comfortable with their lead until a scare around the fifteen-minute mark. An unmarked Aaron Fleming received the ball at the far post but his effort, which looked impossible to miss, went wide.
The game burst into life again around the midway point of the first half, during a minute-long spell of intense pressure from the home side. Matthew Fearnley struck an effort from an awkward angle but Andre Mendes got to the ball and tipped it onto the bar.
Andrew Teague delivered an inch perfect ball over the top to Jake Connelly, whose undercooked effort was turned behind by Waller.
Waller was called upon again to save the Tigers from going two goals down before half an hour. Charlie Bailey picked out brother Sam inside the box - his effort looked destined for the top right hand corner but Waller got a hand to it just in time.
Another Lancaster effort from a corner was headed towards goal but was blocked by Waller before the Hyde defence got it away.
There was drama and confusion with around five minutes of the first half remaining.
Charlie Bailey was played clean through but was brought down in the box and a red card was brandished to Hyde captain Bradley Roscoe for a second bookable offence, but there was huge confusion as the home side were convinced it actually wasn't number 6 Roscoe who had brought Bailey down, but rather the number 5 Joel Amado.
However, the red card stood and Sam Bailey converted the penalty to make it 2-0.
Hyde began the second half on the front foot. A good save from Andre Mendes was needed to keep our former Shrimps man Lewis Alessandra's effort.
A couple of minutes later, Alessandra was again the main man in a Hyde attack. He found space outside the box and took a shot on in an attempt to halve the deficit, but the ball flashed wide.
Alessandra once again had a great chance to reduce Lancaster's lead, but his header from a Harry Ditchfield cross found the bar rather than the back of the net.
Jake Connelly had a chance to make it three for City around twenty minutes into the second half, one on one against Waller as he bore down on goal from the right, but his shot went just wide.
City did get their third with around 15 minutes left on the clock. Sam Bailey delivered a peach of a cross from the right which found Charlie Bailey, who had no one around him and rifled it in past Waller.
City's third goalscorer came off moments later and was named player of the match.
Jack Redshaw came closest to getting a consolation goal for Hyde after the third goal had gone in, but his header went over the bar.
Mark Fell spoke to Beyond Radio post-match and was pleased with the performance, especially with how quickly Lancaster City took the lead.
"We put a lot of pressure on them from a set play, got an early breakthrough and I don't think we looked back from there, to be honest," he said.
"We were fairly dominant when it was 11 versus 11, yes they galvanise when they go down to 10 but we still held them at arm's length and restricted them.
"It's a tough place to come, it's a tough surface - 3G pitches are all tough surfaces. I don't think many teams will come here and win so positively and with such a resounding performance."
Speaking more broadly about the season so far, Fell praised his side for making "a really solid start" to the campaign.
"I don't think many people had us at the top end [of the table] but we always had a confidence in what we do and how we do it.
"But if somebody had given us second place after seven games I'd have snapped their hand off!"
The Dollies have a short break from league action now.
They take on AFC Fylde next in the first round of the Lancashire FA Challenge Trophy, at The Giant Axe on Tuesday at 7.45pm, before facing Marske United in the FA Cup Second Qualifying Round on Saturday (September 16), also at home.
Lancaster City: Mendes, S Bailey, Brownhill, Allington, Teague (c, Clarke 59') Grand, Francis-Burrell, Cowperthwaite, C Bailey (Lawson 78'), Carroll (Norris 69'), Connelly
Hyde United: Waller, Ditchfield, Amado (White 82'), Spooner, Fleming, Roscoe (c), Bunn, Tse (Redshaw 45'), Alessandra, Fearnley, Makoli
Subs not used: Turner, Dawson, Whittingham
Subs not used: Deighan, Jarvis