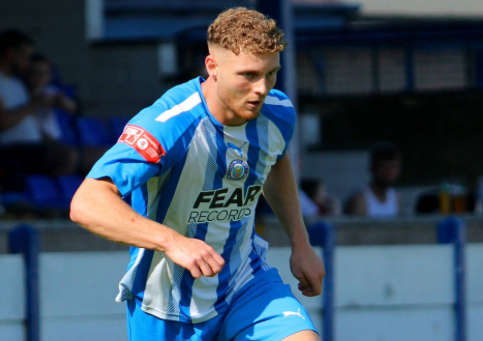 Lancaster City drew 0-0 with in-form Warrington Rylands at The Giant Axe.
The visitors have been on an unbeaten run since mid-August, so the Dolly Blues were prepared for a tough test, but they more than held their own on Saturday.
It was an end-to-end game and Lancaster boss Mark Fell said afterwards that a draw was a "fair result for both sides".
City are now up to 12th in the NPL Premier Division table.
Rylands threatened very early on into the game.
Before even a minute had been played, James Neild had a great opportunity to put the away side in front but couldn't get his effort on target.
Scott Bakkor gave Andre Mendes his first real test of the afternoon with around twenty minutes on the clock, forcing the Dolly Blues goalkeeper into a strong save down low.
Lancaster came close to taking the lead when David Norris' cross found Charlie Bailey.
The number 11 headed the ball towards goal but keeper Luke Pilling managed to keep the ball out with his feet.
Dom Lawson, who had scored three goals in his last two games, was almost there on the follow-up but couldn't quite get his foot on the ball.
Only three minutes later, with around two thirds of the first half played, centre back Simon Grand - Lancaster's top scorer this season with six goals - would have got his seventh had his headed effort from a corner not been cleared off the line.
Bakkor again came close for the visitors not long after.
His effort from a free kick smashed the woodwork.
Charlie Bailey had two good chances, one either side of half time but neither hugely troubled Luke Pilling, one going wide and the other being collected comfortably.
Adama Sidibeh, a player who Mark Fell has revealed Lancaster were interested in over the summer, looked like the away side's most threatening player in the second half but none of his attempts needed saving by Mendes.
Jake Connelly went down in the box halfway through the second 45, just as he was about to get his shot away from close range, and the Lancaster bench were convinced that Luke Pilling made reckless contact with him, but the referee waved away appeals for a penalty kick.
Connelly was at the centre of a couple of other City chances late on in the second half but, just like Sidibeh's, neither caused the 'keeper any real problems.
In the final couple of minutes of the game, Lancaster had another appeal for a penalty turned down as Brad Carroll went down inside the 18-yard box and looked to have been pushed, but nothing was given.
Dolly Blues captain Andrew Teague was awarded player of the match for a commanding defensive performance.
Mark Fell was asked after the game if he would consider the result a good point.
"I think so, they're 12 unbeaten, they're a good side," he said.
"I thought it was two good sides that were really well organised.
"There was flashpoints in the game, there was chances in the game.
"I think we had one better chance than them in the first half.
"In the second half, we've been let off twice where they've got in behind, [Adama Sidibeh] has missed the target twice. but having said that, we've had two great chances with Jake [Connelly]."
Fell was frustrated, however, with the decision not to give Lancaster a penalty for the alleged foul on Connelly, calling it "embarrassingly stonewall".
But all in all, the Lancaster boss said it was a "decent point", and it would be made even better if they can "get something on Tuesday".
That game on Tuesday (October 31) sees The Dollies travel to the side currently rock bottom of the NPL Premier Division: Basford United.
Lancaster City: Mendes, S Bailey, Brownhill (Holland-Wilkinson 77'), Barnes, Teague, Grand, Sloan, Cowperthwaite, Lawson (Connelly 55'), Norris (Carroll 73'), C Bailey