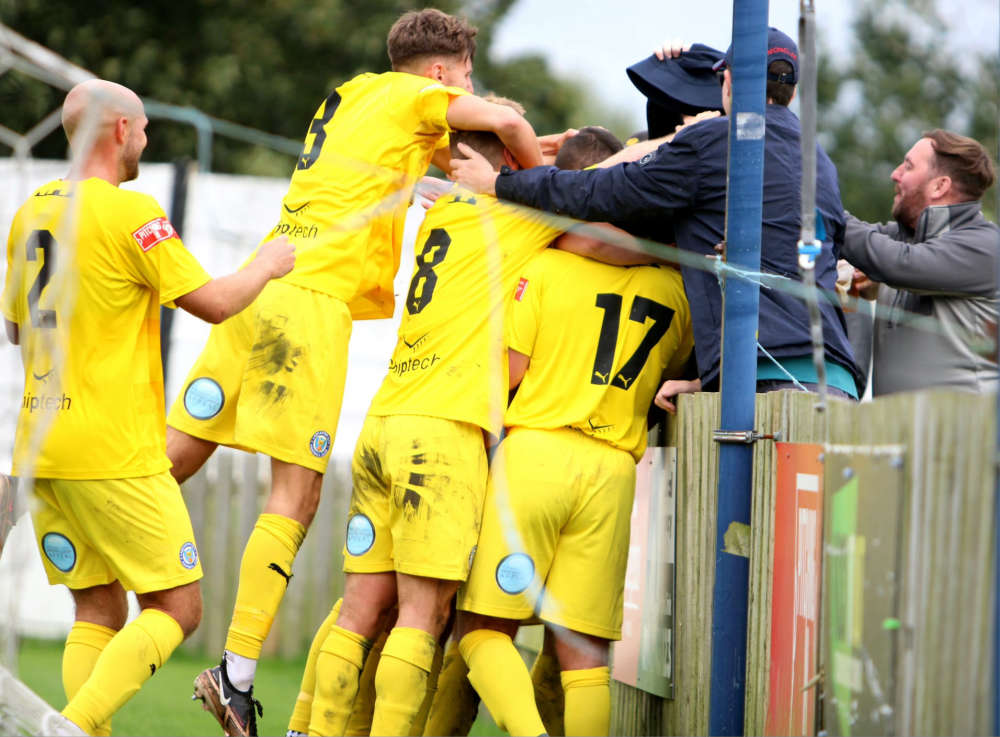 Lancaster City broke into the NPL Premier Division top five after a dominant victory at Atherton Collieries.
The final score on Bank Holiday Monday was 2-0 to Mark Fell's side.
Captain Andrew Teague was an unused substitute so Sam Bailey took the armband for this game.
Matty Clarke, Ackeme Francis-Burrell and Jake Connelly were the other three incomings in the starting lineup.
Charlie Bailey and Jacob Holland-Wilkinson missed out through a prior engagement and injury respectively.
The game began in quick fashion, with the battle between Rio Pemberton and Sam Bailey on Lancaster's right side being a particularly intriguing watch in the opening minutes.
After having to do a fair bit of work at Atherton's end of the pitch in the opening 10 minutes of the game, Lancaster began threatening at the other end and Simon Grand, who has had a terrific start to life in a Dolly Blue shirt, bundled an effort in after Atherton failed to clear a cross from the right to get his second goal this season.
Lancaster continued to play well with little response from the hosts. The Dollies were creating some great moves which often started from some nice passes the backline. Brad Carroll delivered a cross in from the right that Nic Evangelinos just couldn't connect cleanly with.
Sam Bailey crossed the ball low into the box, troubling the Atherton defence, who managed to get it clear before a Lancaster man could pounce.
The visitors had been comfortable for a 20 minute period but had to be called into action defensively around the half hour mark. Simon Grand did well to clear a low-driven cross from Mwiya Malumo away from danger.
A few minutes later, the Dollies were back threatening the Colls' goal again. Sam Bailey cut out a clearance, leaving the ball to Evangelinos to pick up and shoot from a tight angle, forcing a good save from Nico Hansen.
Atherton then had a good yet brief spell of pressure themselves, their best of the game. Jordan Scanlon forced a great save from Andre Mendes and the rebound from Ben Rydel was blocked and bounced over.
City had another good chance on the stroke of half time. Jake Connelly made a terrific run from a long ball, found himself in acres of space and took the shot from distance on but Hansen was equal to it.
Lancaster continued to be the better side in the second half. Christian Sloan picked the ball up in the centre of the pitch, making a good run before slotting it through to Nic Evangelinos, who couldn't keep his effort down.
Dom Lawson came on for Jake Connelly and just moments after entering the fray, he forced Hansen into a difficult position, pressuring him and almost taking the ball from him, but the 'keeper scrambled the ball away.
Josh Askew tried an effort from distance for the hosts which Mendes just about kept out of the goal.
Sam Bailey delivered an inch perfect cross towards Brad Carroll, but the number 10 was deemed to have been fouled as he tried to latch onto the delivery.
The referee pointed to the spot straight away, and Evangelinos made no mistake in converting the penalty, tucking it into the bottom right corner.
It was a goal that Evangelinos deserved after looking lively and troubling the defence all game, but unfortunately his game was over a couple of minutes later after he collided with Hansen and suffered an injury. Paul Jarvis came on to replace him.
The two substitutes David Norris and Lawson worked well together down the middle to try and get a third, but Hansen made a simple save from Lawson's low effort.
City continued to look to extend their lead and Atherton were struggling to make anything happen at the other end to test the Lancaster defence, who have now kept four clean sheets in six games.
Brad Carroll was awarded player of the match after a fine display.
Mark Fell spoke to Beyond Radio post-match.
"I don't think it was a great spectacle, but we certainly had enough in both boxes to get the job done, we held them at arm's length for the majority of the game," he said.
"It's great to have a clean sheet, we're building now – four clean sheets in six, 11 points, 11 goals scored.
"We were fairly wasteful in front of goal in the first half, we could have had a hatful and made it more comfortable, but we dug in and got the job done – this isn't an easy place to come and play your football."
Fell has been pleased with the overall start to the season and hopes it can continue.
"Any team that tracks at around two points per game is going to be up and around the playoffs so that's a decent target for us," he said.
"The games don't get any easier for us, they're going to come thick and fast but from a start perspective we can't ask for much more."
Attention now turns to Saturday afternoon, when Lancaster return to The Giant Axe to take on NPL Division One West side Witton Albion in the FA Cup First Qualifying Round.
'Albion' lost a game for the first time this season on Monday at Runcorn Linnets.
Fell has always said a cup run would be great for Lancaster City, so Saturday's clash is "a great opportunity", though still a "tough game".
Lancaster City v Witton Albion kicks off on Saturday at 3pm at The Giant Axe.
Lancaster City: Mendes, S Bailey (c), Clarke, Barnes, Grand, Brownhill, Francis-Burrell (Norris 62'), Sloan, Evangelinos (Jarvis 72'), Carroll, Connelly (Lawson 55')
Subs not used: Allington, Teague
Atherton Collieries: Hansen, Solomon-Davies (Prifti 65'), Askew, Moonan, Fagbola (c), Evans, Pemberton, Fofana, Malumo, Scanlon, Rydel
Subs not used: Gregson, Mansell, Buckley