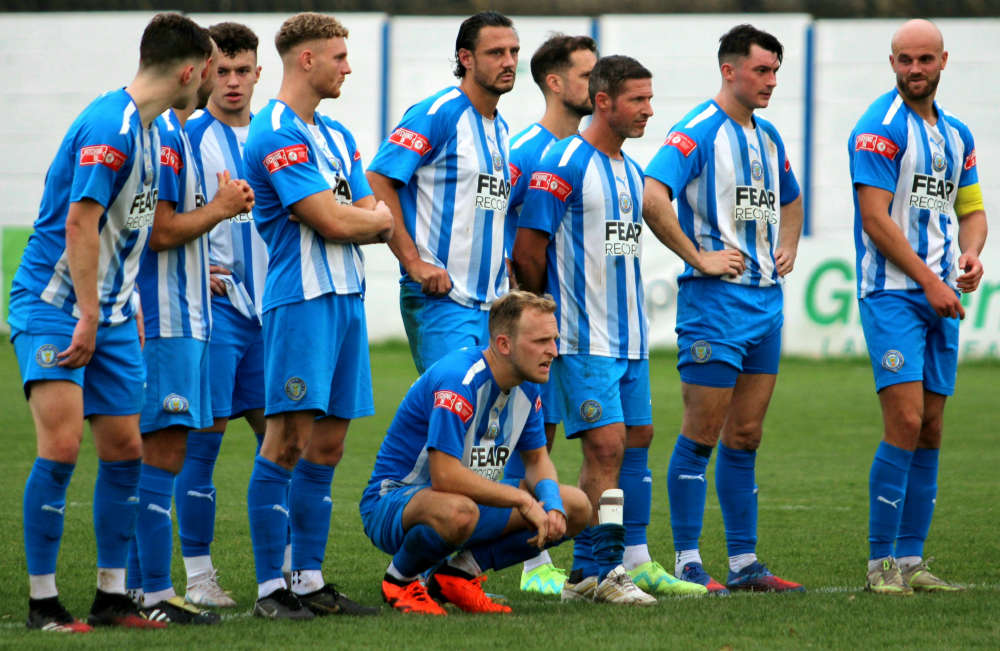 Lancaster City were knocked out of the Isuzu FA Trophy on Saturday.
Following a 0-0 draw, they were beaten 3-1 on penalties by NPL Division One West side City of Liverpool at The Giant Axe.
Lancaster also missed a penalty in regulation time.
It was their first game in this year's edition of the competition - at the third qualifying round stage - so their exit will be of huge disappointment, especially considering that they reached the third round proper and second round proper in the 2021/22 and 2022/23 seasons respectively.
Mark Fell made four changes to the side that lost 2-0 to Ashton United in the FA Cup, with Calen Gallagher-Allison making his first start for the Dolly Blues since re-signing for them last month.
Sam Bailey and Dom Lawson worked up a solid partnership down the right hand side and it was them who were creating several City half-chances early on.
The visitors created some decent openings too in the first half - particularly early on - and looked threatening on the break.
Simon Grand, one of the stars of Lancaster's season thus far, superbly blocked one of their best efforts of the half ten minutes in.
Brad Carroll and Kyle Brownhill both tested City of Liverpool 'keeper Calvin Hare's alertness but he made comfortable catches from their respective headers.
David Norris was unlucky not to get the Dolly Blues in front. His initial effort after being fed through was well blocked by Hare.
He then rounded the goalie but had his second attempt cleared off the line.
With under ten minutes remaining of the first half, Dom Lawson - who was impressive throughout on Saturday - was brought down in the box and the referee pointed to the penalty spot.
After trying to get into goalkeeper Hare's head, Sam Bailey stepped up to take the spot kick but his 12-yard strike was saved by the 'Purps' keeper.
City of Liverpool made a strong start to the second half.
Anthony Miley couldn't direct his header on target from a corner, while Callum Schorah forced a great save from Andre Mendes with a low effort from inside the box.
Mendes once again had to be at his best to deny another City of Liverpool effort from a similar position in the box.
Simon Grand's header straight at Hare and substitute Jake Connelly's blocked drive were the best chances for the Dollies after the restart.
With no winner upon the conclusion of an uneventful second half in which Lancaster really struggled to get going, the game went to a penalty shootout.
City of Liverpool won the shoutout 3-1, partly thanks to fantastic saves from Calvin Hare, who denied Sam Bailey for the second time from the spot, as well as Jake Connelly and Simon Grand.
Substitute Jacob Holland-Wilkinson was the only Dolly Blue to convert his penalty kick.
Max Allen, Michael Grogan and Kenny Strickland scored in the shootout for the away side.
Simon Grand was named player of the match for a commanding defensive display during the 90, which included making several crucial blocks.
Lancaster boss Mark Fell said afterwards: "It's tough to take because in the first half we've created probably six or seven really good chances and missed a penalty.
"We were really disappointed at half time in terms of how we played and we spoke to a few players about the expectation, and we didn't get any better for doing that.
"I think the second half is one of the worst performances I've seen from us. We must've made 10 or 12 unforced errors in terms of kicking the ball out of play.
"That needs an apology from us to the supporters because that's so far from the level and so far from what we expect."
Lancaster now have a sizeable break before their next game, which is at home to Whitby Town in the NPL Premier Division on Tuesday October 17.
Lancaster City: Mendes, S Bailey, Brownhill (Jarvis 87'), Allington, Grand, Gallagher-Allison, Carroll (Holland-Wilkinson 71'), Cowperthwaite (c), Lawson (Connelly 59'), Norris, C Bailey
Subs not used: Clarke, Barnes, Turner, Sloan
City of Liverpool: Hare, Rooney, Hunt, Miley, Grogan, Allen, Schorah, Sonko (Strickland 87'), Jebrin (Cannon-Noren 71'), Quarless (Mitchley 71'), Bahula
Subs not used: Conteh, Jones,