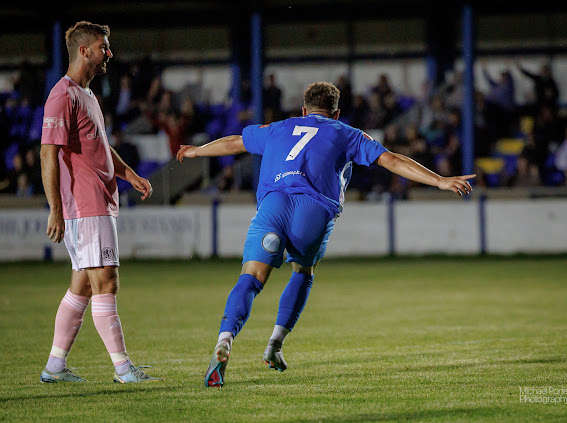 Lancaster City stunned an in-form Macclesfield on Tuesday evening in the Northern Premier League.
Dolly Blues boss Mark Fell said it was the best his side has performed since he joined the club in 2018, as his side ran out 3-0 victors against the Silkmen, a ide who, before the game, had won all three of their matches this season, following on from their promotion last year, and hadn't conceded a goal.
Macclesfield are a full-time club, tipped by many to get promoted straight away to the National League North, but you wouldn't have thought so at all judging by this display.
It's a result that pushes Lancaster up four places to fifth, in this very early stage of the season.
Four changes were made to the XI that started at Worksop.
Former Morecambe keeper Andre Mendes made his first competitive appearance for the club after serving his three-match suspension which he picked up last season, whilst on loan at Ashton United.
Sam Bailey came back into the side after being an unused substitute in the games at Radcliffe and Worksop.
Midfielder Christian Sloan replaced the suspended Niall Cowperthwaite, while Jacob Holland-Wilkinson made his first start in his third spell at the club.
Lancaster were aggressive in their play and on the front foot from the get-go.
Sam Bailey struck a brilliant direct free kick from 25 yards out only moments into the game that brushed the side netting.
Jacob Holland-Wilkinson powerfully volleyed an effort from outside the box, but it was just a little too high.
That would be the first of many chances he would have, and his patience would eventually pay off.
Macclesfield's Hayden Campbell drove a low effort towards goal from just inside the box, and it needed some brave defending to keep it out.
Andre Mendes got his first test in a Lancaster shirt eleven minutes in and pulled off a strong save to deny Neil Kengni.
With fifteen minutes played, Lancaster got the opening goal that they had richly deserved.
Simon Grand continued his fantastic start to life at Lancaster City, connecting with Christian Sloan's inch-perfect free kick delivery and heading home with 'keeper Max Johnstone in no man's land.
Lancaster didn't sit back at all after going a goal up, always looking forward and putting Macclesfield under huge pressure whenever they started an attack.
After their first goal, they looked particularly impressive from dead ball situations which caused problems for the away side's defence.
The Silkmen were shaky at the back, not looking at all like a team who had started the season with three clean sheets.
Charlie Bailey had a great opportunity to double the Dollies' lead, being played clean through, getting on the right side of the goal and one on one with Johnstone, but putting it just wide.
Macclesfield probably had their best spell of the game midway through the first half, but there was nothing too special about their performance, with Lancaster always looking comfortable with their advantage.
Whatever was said at half time in the Macclesfield dressing room proved to be unsuccessful as Lancaster got even better in the second half. A couple of brilliant passes across the face of goal culminated in Holland-Wilkinson taking a shot on from close range, but he rushed his effort.
Holland-Wilkinson had another great chance, bearing down on goal from the right hand side but his effort was straight at Johnstone.
Kyle Brownhill did some lovely work on the left-hand side to get into a crossing position. Charlie Bailey took a touch, and it came back to Holland-Wilkinson, who gave himself a bit more time on this occasion yet couldn't find the back of the net.
However, the young forward would eventually get his well-deserved goal. He got into a great position after some superb work down the right from Charlie Bailey and confidently guided the ball home.
Jake Connelly continued his hot run of goalscoring form, getting his third in four games, making a fantastic run from near the centre and striking it cooly past Johnstone.
He was later named player of the match after another impressive performance up front.
Charlie Barnes has had a great start to his Dolly Blues career and had arguably his best moment in a blue shirt so far in the second half, rapidly tracking back to block an effort from
Luke Duffy who was facing an open net after Mendes was beaten and a consolation goal looked a certainty.
Macclesfield's goalkeeper Johnstone had had a poor game, and nearly handed Lancaster their fourth, spilling the ball after Charlie Bailey whipped it in, but his blushes were spared as it went out of play for a corner.
The last kick of the game was from a Macclesfield player, who thumped the ball well over the bar and into the car park as the referee blew his whistle, which just about summed up the away side's night.
For Lancaster City and Mark Fell though, it was the perfect game.
Fell told Beyond Radio: "That is the best we've had and the best I've had in my four or five years here.
"It was a really complete performance, and that performance started at the weekend in terms of our preparation, our game plan - knowing where we could mitigate some of their strengths and try to apply our strengths onto their game.
"The 14 who have played tonight have executed [the plan] perfectly, I'm really proud of the boys. It was a great atmosphere here, it's fantastic to see The Giant Axe with so many people in it.
''Our support never stopped singing in the second half, they were magnificent, so I'm not sure it does get much better than that."
Fell went on to praise how well his team executed the tactical plan and their quality.
"Where we didn't have that quality as much as we'd have liked on Saturday, we had it tonight,'' he added.
"We've made a full-time team look very average, they didn't have a plan B to deal with what we did.
"That's the satisfaction for me, when the players deliver that sort of tactical performance, it makes it worthwhile for me with the work we do in the week."
Lancaster have another home game on Saturday against Guiseley, another side who were tipped to do well this year yet lost 4-0 to Gainsborough Trinity on Tuesday, leaving them in the bottom four at present.
Lancaster City: Mendes, S Bailey, Brownhill, Barnes, Teague (c) (Mellen 45') Grand, Holland-Wilkinson (Evangelinos 83'), Sloan (Francis-Burrell 72'), C Bailey, Carroll, Connelly
Subs not used: Allington, Lawson
Macclesfield: Johnstone, Fensome, Lee, Heathcote, Mendy, Murphy, Kengni (Hardy 61'), Nolan (Dawson 52'), Peers, Campbell (Curran 45'), Duffy
Subs not used: Thorpe, Grimshaw
Attendance: 649