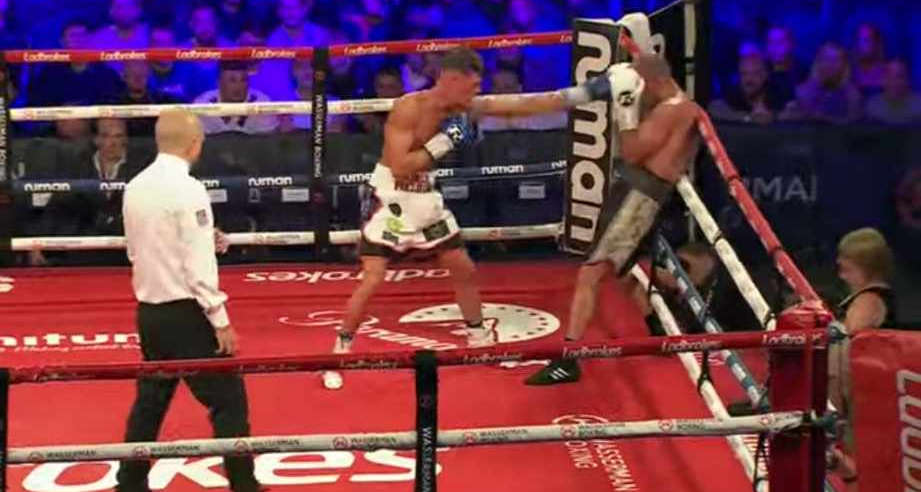 Lancaster's hot boxing prospect Niall 'The Style' Fielding stayed unbeaten after a dominant points win at Bolton Stadium.
The super featherweight looked destined for bigger and better things as he utterly dominated John Spencer in a four-round contest on the undercard of a televised Channel 5 show on Friday.
Former Central Lancaster High school pupil Fielding impressed throughout the fight at the Toughsheet Stadium with his technical skill, hand speed and conditioning.
Cheered on by a travelling contingent of local fans, 'The Style' was tagged with a combination in the first round but in general he was way too quick and busy for the wily Spencer in Round 1, pumping out the jab, landing a good long right to the body and letting his hands go with eye-catching combinations.
An entertaining second round saw Fielding back Spencer up with ripping shots to the body, forcing an unconvincing smile from his clearly troubled opponent. The cagey Spencer beckoned 'The Style' in hoping to lure him onto counters and did unleash a dangerous-looking left hook, but the slick Lancaster man was unworried and continued to force his clowning adversary onto the back foot with lightning flurries behind the jab.
Fielding scored with a good right hand near the start of Round 3, and Spencer could do little more than cover up and throw wild single shots against the torrent of leather coming his way. Niall got through with another right bringing a nod of appreciation from the veteran, and continued to pick his shots to head and body with skill and maturity in a dominant round.
The final round was all Fielding, as Spencer spent most of it in survival mode in a corner, Niall scoring at will without over-committing, in a controlled finish to an impressive display.
Referee Jamie Kirkpatrick scored the contest 40-36 for the Lancaster fighter, whose record is now 3 wins in 3 fights.
"I enjoyed it, it was great to go in and put on a performance, another win and I've still not lost a round," said Niall afterwards.
"He's an experienced guy. He'll try to get you off your game plan. Maybe I wasn't fully fired up straight away but as soon as I got caught I switched on, and got back to the game plan behind the jab.
"The turnout was amazing and the fans were insane. They make the most noise out of every (show) I've been on. I can't thank them enough for the support."
Niall said he is due to fight again in November.
In the main event, Britain's Lyndon Arthur defeated Braian Suarez via 10th round knockout to win the IBO Light Heavyweight Title.