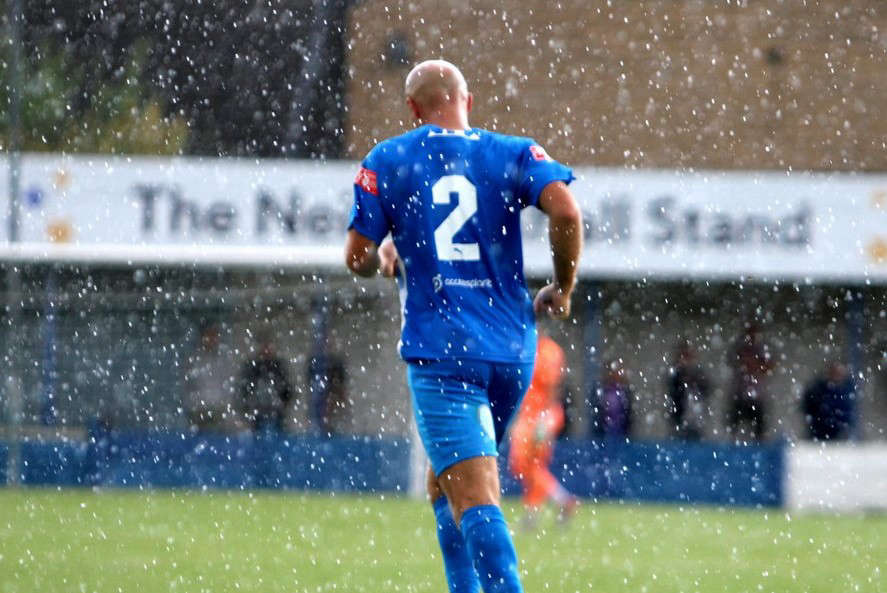 Lancaster City came from two goals down against Guiseley to continue their unbeaten run at home.
City made one change from Tuesday's 3-0 win over Macclesfield, with Nic Evangelinos coming in for Jake Connelly.
Connelly, scorer of three goals in four games for the Dollies, was missing from the squad due to injury.
Prior to Saturday's game, it was announced by Lancaster City that Pat Allington and Paul Jarvis have joined Holker Old Boys and Kendal Town respectively, both on dual registration, to try and get some more game time.
Former Grimsby and Gateshead goalkeeper Ollie Battersby and ex-Bradford City and Carlisle United midfielder Danny Devine were signed by Guiseley this week, they came straight into the visitors' starting lineup.
Jacob Holland-Wilkinson had a great chance to make it 1-0 when he was fed through on the counter attack, but the new man in the Guiseley goal made a good stop.
In the main, the first twenty minutes of the game lacked any real quality and was mainly contested in the centre of the pitch.
In the first chance of the game for the visitors, midfielder Tom Pratt was left with space on the near post but Mendes blocked his low effort.
Guiseley took the lead close to the half hour mark. Some tidy play down the left resulted in a ball being cut back towards Leigh Whelan, who drove his effort low into the bottom right corner.
Lancaster had a chance to level straight away. They were on the attack from kick off, the ball ending up at Sam Bailey's feet just outside the area, but his shot was charged down by the Lions' backline.
Brad Carroll had a great chance to equalise moments later, but couldn't find the target, his point-blank header going wide. His curling effort moments later was also off target.
City would go on to rue those missed chances. Guiseley made it two with seven minutes left until half time. Tom Pratt got space from outside the box and curled it beyond Mendes.
Lancaster had a golden opportunity to halve the deficit on the stroke of half time, but Carroll couldn't keep his effort down.
Sam Bailey received the ball on the left after an unsuccessful set piece, he closed down the angle and took the shot on, but the Guiseley defence continued to hold firm.
Lancaster would prove to be the much better side in the second half and, with just under ten minutes of it gone, Sam Bailey's cross looked like it had ghosted past everyone and found the bottom corner, but City confirmed after the match that Nic Evangelinos got the final touch on the way in.
David Norris came on to make his first appearance of the season for City as the heavens opened. He had a great chance to equalise minutes after coming on, being in a great position to get on the end of an in-swinging cross, but his diving header was wide.
Guiseley employed time management tactics as the second half progressed, most notably Joe Stacey taking his time to tie his shoelaces as the clock ticked by.
Those tactics would prove useless as Lancaster continued to push for an equaliser.
With ten minutes to go, Lancaster would get the goal they'd wanted and deserved all second half.
The leveller came through Charlie Bailey's close-range header following a long spell of pressure from the side.
Player of the match Andrew Teague did brilliantly to slide tackle the ball away from a Guiseley forward as he bore down on goal.
Sam Bailey whipped a great ball in with moments left, which substitute Dom Lawson was unlucky not to cleanly get on the end of, while another sub in Ackeme Francis-Burrell dragged his shot just wide from range.
That was the final noteworthy action in a game that was the definition of a tale of two halves, at least in terms of scoreline.
Lancaster boss Mark Fell spoke to Beyond Radio post-match.
"I thought we played ever so well in the second half,'' Fell said.
''I thought that was a blueprint of how we tend to play: on the front foot, creating chances and I thought we were solid and robust defensively, but we've made lots of errors in the first half and we've just given the ball away too cheaply."
He continued: "If you think that beating Macclesfield 3-0 gives you a god-given right to come and win here, it doesn't. Every game in this league is different and tough, I thought it was a real battle of attrition and a real blood and thunder type of game."
Fell admitted his side could and should have done better with their first half chances, saying that they let Guiseley "off the hook".
Next up, the Dollies take on Atherton Collieries away from home on Monday afternoon (August 28).
Fell is hopeful that Jake Connelly will be back for that game.
"If we risked him today, he certainly wouldn't have played on Monday. There's no question Jake would have had an impact on the game, I think it was his type of game, certainly as it opened up, but I don't want to lose the player who is doing the most damage for us, in terms of hurting oppositions, by making a silly decision when we've got players in reserve."
Charlie Bailey will be absent on Monday due to a prior engagement, while Jacob Holland-Wilkinson is a doubt after picking up an injury on Saturday.
Fell previewed Monday's game, saying that he will look to field a team that matches the physicality of their opponents.
"We've got to be at our best, but if we can win the game, to sit on 11 points from six games potentially, it would be a super start,'' he said.
"The Colls" have won one, drawn two and lost two of their opening five games, but four of their five points have come on home turf.
Atherton Collieries v Lancaster City kicks off at 3pm on Monday (August 28) at the Skuna Stadium.
Lancaster City: Mendes, S Bailey, Brownhill, Barnes, Teague (c), Grand, Holland-Wilkinson (Lawson 88'), Sloan (Francis-Burrell 63'), Evangelinos (Norris 71') Carroll, C Bailey
Subs not used: Clarke, Mellen
Guiseley: Battersby, Walker, Kendall, Brown, Ible (c), Whelan, Pratt (Dyche 76'), Devine (Ashman 64'), Murphy, Chippendale, Stacey (Denton 90')
Subs not used: Essel, Meppen-Walter