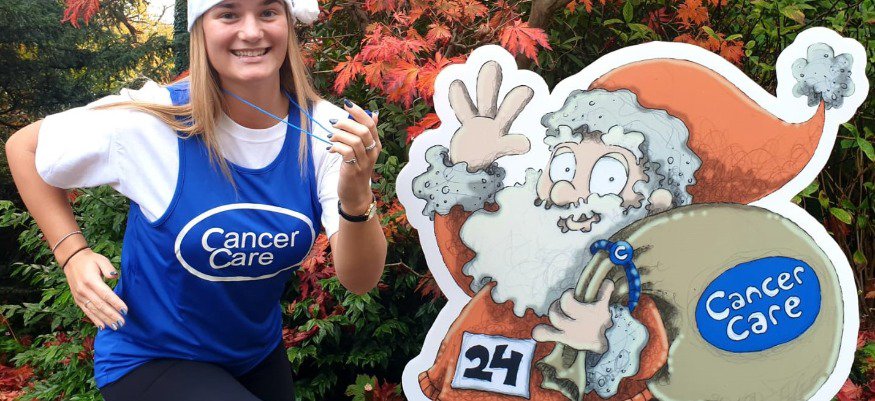 Virtual Santa Dash for CancerCare
CancerCare's annual Santa Dash will this year swap the streets of Lancaster for networks of cyberspace as the event goes "virtual" this Christmas.
The Santa Dash is one of the charity's flagship events which usually sees hundreds of people dressed as Father Christmas enjoy a fun run around the city centre as part of the Christmas light switch-on festivities.
This year, however, the cancellation of mass participation events due to the coronavirus pandemic has seen CancerCare transform the Santa Dash into a virtual event in an attempt to raise the thousands of pounds it usually brings in to provide counselling and therapy for local people affected by cancer and bereavement.
Participants are being invited to pledge to run, walk, cycle, swim or row as many miles as they can between 9 November and 20 December with the aim being to reach a total of 1,342 miles which represents the distance from Santa's home in Rovaniemi, Lapland to Lancaster.
The number of miles also represents the number of counselling and therapy sessions the charity has provided to children affected by cancer and bereavement over the last year.
Organiser Kat Michaels said initial response to the event moving online had been overwhelmingly positive: "One of the big reasons people take part in the dash, whether they are families or more serious runners, is that it's so much fun and we've worked hard to ensure that we've kept that element to it as well as providing a more competitive edge for the athletes."
"We are going to have an interactive "totaliser" on our website where people can see how many miles have been covered in Santa's journey from Lapland and a secure Facebook group where we'll be supporting participants and on which they can share photos and stories about their own experiences of taking part."
Among those taking part are the Wood family from Lancaster who have pledged to walk 10 miles together with their new puppy Tommy.
Mum Emily said: "We decided to take part in this year's Virtual Santa Dash to give us a Christmas challenge as a family. We supported CancerCare on the Cross Bay Walk last year and understand that fundraising is tough at the minute and we wanted to support our local cancer charity again this Christmas."
Last year's Santa Dash raised £5,000 for the charity and this year it is hoping to double that figure.
CancerCare Chief Executive Maria Chambers said: "It has been a tough year for everyone, but even more so for children, many of who, due to the pandemic, have found themselves isolated from support networks at school and extended family and friends.
"We are experiencing a surge in demand for our services but, unfortunately, many of our traditional fundraising events have been curtailed by the situation we are in so we are relying more on virtual events to help fill the gap. The community has always really got behind Santa Dash, and I'm sure they will again this year."
CancerCare's Virtual Santa Dash is sponsored by FGH Security and Fellside Homes.
To find out more visit www.cancercare.org.uk/virtual-santa-dash