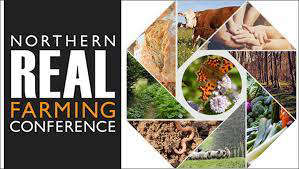 Local sustainability champions (LESS) are coordinating the 2-day Northern Real Farming Gathering in Lancaster, 2-3 December. The event is inspired and supported by the long-running Oxford Real Farming Conference.
'Real Farming' events explore transformative strategies, theories, approaches, and practical and progressive actions for just and sustainable agriculture and food systems.
The Northern Real Farming Conference is a space to dream, to re-think and to share practical experiences of regenerative and socially just ways to farm and bring food to markets and kitchen tables. The event will focus specifically on the North of England and Scotland and the unique landscapes and cultures of these regions. The first Northern Real Farming Conference took place in October 2020 with 500 participants.
Tickets are now available for the in-person gathering in Lancaster (2-3 December) which takes place at Lancaster Town Hall. Anyone with an interest in farming is welcome and the full programme can now be found on the website: www.northernrealfarming.org/tickets/