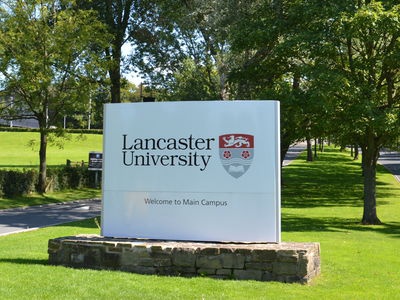 A major new investment will help Lancaster University to further decarbonise its campus and help towards achieving a Net Zero future.
The University, already ranked 24th for sustainability in the 2024 QS World University Ranking and 5th in the UK, is set to virtually eliminate the use of gas for heating on its Bailrigg campus through the creation of a new 'Low Carbon Energy Centre' following more than £21 million of funding from the Government's Green Heat Network Fund (GHNF).
The Centre will use air source heat pumps, thermal storage and electrical infrastructure to create an innovative heat network providing 45 GWh of low carbon heat, which will be sufficient to provide heating and hot water for nearly the entire campus.
Since 2020, Lancaster University has placed carbon neutrality at the centre of its Estates strategy with a number of initiatives including the University's "Heat Pump Ready Buildings" programme. The heat pumps will be powered by renewable electricity from a new solar farm, which already has achieved planning permission at the University's Forest Hills site, and an existing 2.3MW wind turbine, providing a low carbon solution for heat and electricity supply to the whole campus for the next generation.
The investment will also see the development of a 'Living Lab' research hub and a showcase demonstration facility to help share knowledge of how a campus-wide decarbonisation approach can work.
Professor Simon Guy, Pro-Vice-Chancellor Global Digital, International and Sustainability at Lancaster University said: "Lancaster University has a long-established reputation for its world-leading education and research. With this next step, Lancaster aims to be among the best in the world for offering students and staff a sustainable and carbon neutral campus in which to work and study.
"Our students want to go out into the world to make a difference – what better start to that ambition than a world-class university education which is mindful of the planet and places sustainability at the heart of its decision making."
The new investment is a major step towards Lancaster University's ongoing commitments to a low carbon future. The University is aiming to become carbon neutral for electricity and heating by 2030, and from all other emissions by 2035 and has delivered a growing number of initiatives towards reducing carbon and boosting biodiversity on its campus.
The GHNF investment has come from the Department for Energy Security & Net Zero via Triple Point Heat Networks Investment Management and comes as part of a wider investment programme of nearly £65 million in five projects nationwide.
Ken Hunnisett, Programme Director for Triple Point Heat Networks Investment Management, said: "When built and commissioned, the projects subject of this latest announcement will deliver significant volumes of low-carbon, cost-effective heat to more than 14,000 homes in public and private ownership while also decarbonising an entire university campus for Lancaster's 13,000 students."
Lord Callanan, Minister for Energy Efficiency and Green Finance, said: "Keeping homes warm with waste heat from technology is a glimpse into the future - and demonstrates just how innovative this country can be when it comes to reducing our carbon emissions.
"The £65 million we've awarded today will help spread this success across the country, by rolling out innovative low-carbon heating to help to drive down energy bills and deliver our net zero goal."