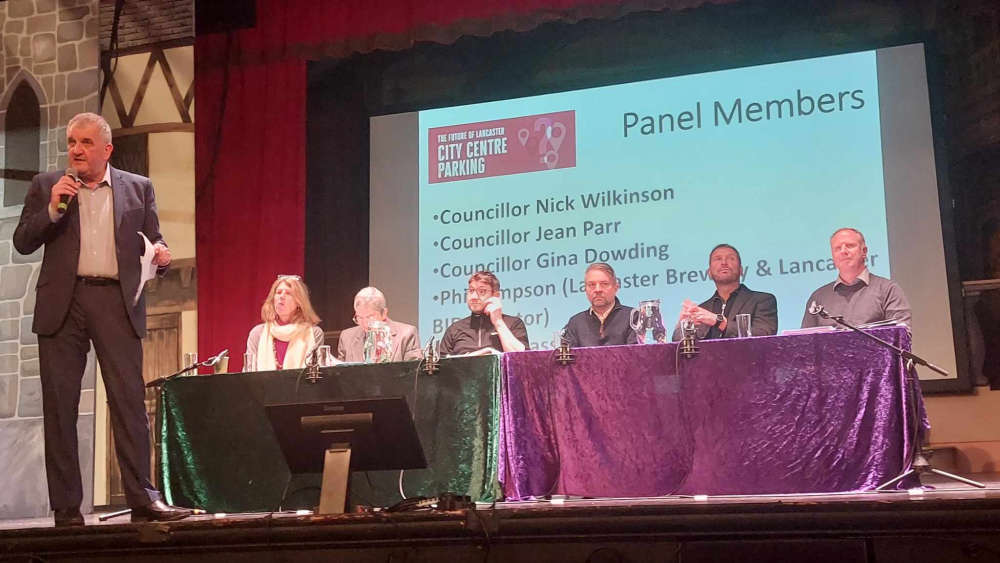 Residents and businesspeople say that plans to cut parking spaces in Lancaster could 'kill the city centre'.
They were speaking out at a meeting held at the Lancaster Grand on Monday night, where more than 100 people packed into the theatre to quiz councillors on plans to build houses on car parks in the city.
Lancaster City Council is planning to build new homes on the Nelson Street car park and the Upper and Lower St Leonard's Gate car parks, which have a total of more than 300 car parking spaces combined.
Graham Cass, who owns Jo & Cass hair salon close by, said: "We have clients coming in with road rage, spending 40 minutes getting into the city centre, and then they can't find a car parking space.
"Don't kill the high street by shutting down the car parking spaces."
Ellie Singleton, manager of the Grand, told councillors: "If you continue down this path, the city centre is going to become a ghost town."
The public meeting, called 'The Future of Lancaster City Centre Car Parking' was hosted by BBC North West Tonight reporter Dave Guest, and organised by Lancaster BID.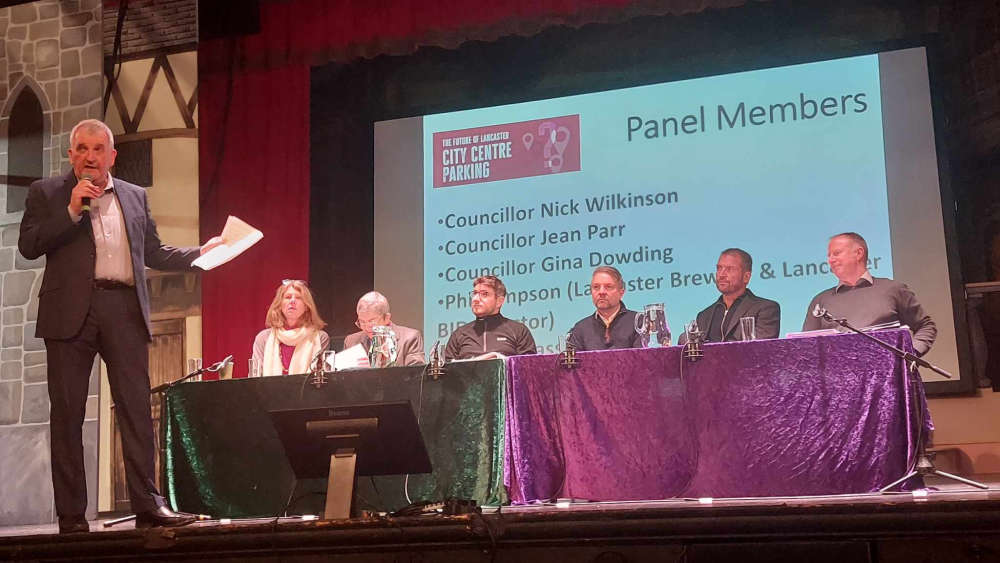 It was called in response to the council's plans to redevelop the Canal Quarter area of the city, which includes building new houses on existing car parks.
A panel of three leading city councillors, Nick Wilkinson, Gina Dowding and Jean Parr, took questions from an audience of residents and representatives of Lancaster businesses and charities.
Phil Simpson, director of Lancaster Brewery, Mark Hutton, chair of trustees at Lancaster Grand, and Mr Cass were also on the panel.
All three spoke of their concerns about any reduction in off-street car parking.
Mr Simpson said: "There are huge problems. The city centre employs around 4,500 people. A lot of these are commuters.
"These businesses are reliant on cars, trains and buses, all the time.
"We're going to suck car parking spaces out of a part of town where there's already a problem.
"St Nicholas Arcades is a horrible car park at the best of times, unless you've got a tiny car.
"I think the Canal Quarter project is long overdue, but it has to come hand in hand with parking as well. We need a solution that satisfies parking demands AND fixes the Canal Quarter."
LISTEN to our interview with Phil Simpson after the meeting
Mr Hutton said the plans could leave "almost no car parking available for the theatre".
"This theatre relies on money from amateur lets and professional shows to survive," he said.
"We very much feel this is being done to us and not with us."
LISTEN to our interview with Mark Hutton after the meeting
Councillor Nick Wilkinson, who is on the Lancaster City Council cabinet, told the audience: "We are listening.
"I understand how important parking is. Nothing is set in stone as yet."
LISTEN to our interview with Councillor Nick Wilkinson after the meeting
Read more: Lancaster will still have 'appropriate number' of car parking spaces says council - Beyond Radio
A 10-year masterplan to transform the Canal Quarter area of the city, and improve the derelict areas within it, was approved by the council in July and will eventually see the building of hundreds of new social, affordable and private housing units.
Read more: Lancaster Canal Quarter revamp is officially backed by council - Beyond Radio
The initial phase wll begin with new homes on Nelson Street car park (pictured below), which has 126 spaces.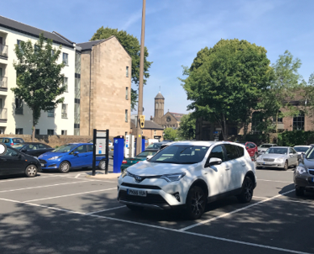 A tender process is under way and a decision on any developer bids is expected in early 2024, said Councillor Wilkinson.
The council is also planning a new social housing development at Cooper's Field, which includes the Upper and Lower St Leonard's Gate car parks.
A planning application is expected towards the end of 2024.
The council is also working with a developer called Maple Grove on plans for Edward Street.
"For all of these projects, there will be a detailed analysis of the car parking situation," said Councillor Wilkinson.
When asked if the council would open another car park somewhere else to replace any spaces lost, Councillor Wilkinson said: "We may well do."
The council runs a total of 18 car parks in the Lancaster city centre. There are 1563 available spaces in council car parks overall, and around 600 of these are located in the Canal Quarter area.
There are also privately-run car parks, including at Marketgate shopping centre, and on-street car parking.
The 270-space Castle Car Park has had to temporarily close down due to structural issues.
Councillor Gina Dowding spoke about the importance of "improving air quality" in the city centre.
She also said the council was "working to speed up licensing" to solve a shortage of taxi drivers, and that "everyone should get behind the electrification of the Lancaster to Morecambe rail route" to improve rail services.
Councillor Dowding also said the government's scheme to cap bus fares at £2, and £1 after 7pm had led to an increase in bus usage in Lancashire.
She also said that "nothing is going to be forced on people".
The meeting ended with a Q&A session where members of the public had chance to ask questions of the panel, and make comments on the car parking issues.
There was further discussion on whether St Nicholas Arcades car park (pictured below) was fit for purpose, disagreement over occupancy levels of car parks in the city, and talks on whether a new multi-storey car park should be built.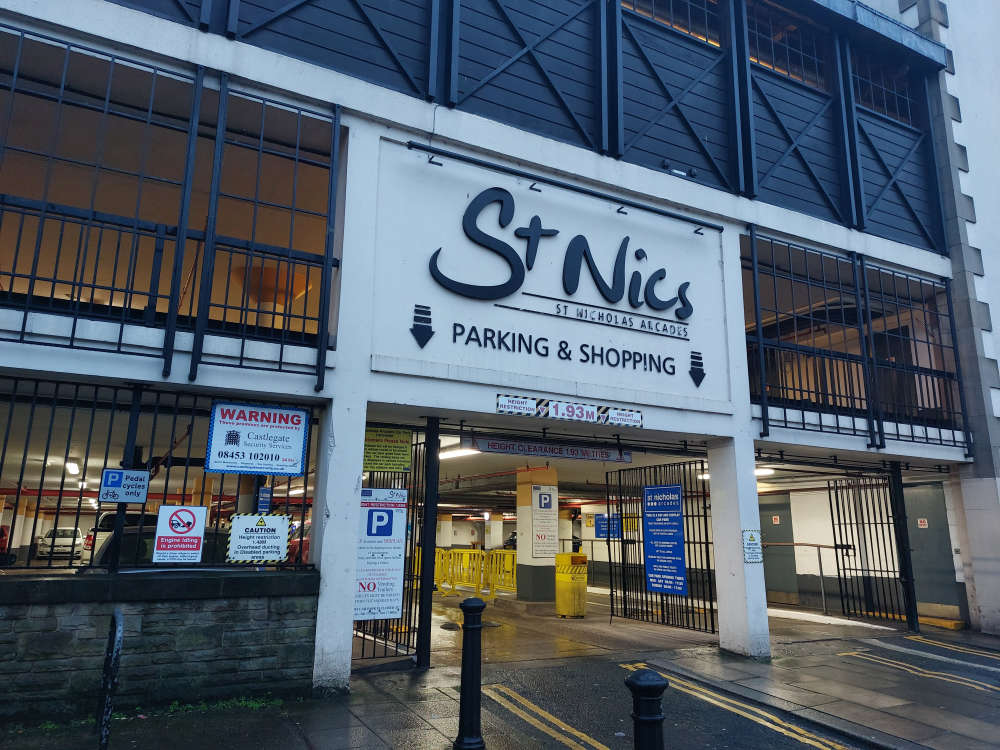 "I don't see how this theatre can survive without these car parking spaces," said a supporter of the Grand.
"Can we live without the loss of the heart of our community? This is what I fear will happen if we take away the parking from the Grand."
Another resident said: "If Nelson Street car park goes, I will have to drive around the one-way system to find another car park, and we know what the one-way system is like. I think that is ridiculous, really."
A business owner said of local public transport, that "buses are filthy and barely run on time".
And another resident called on the council to learn from other cities where pedestrianisation and removing car parking spaces had reduced footfall.