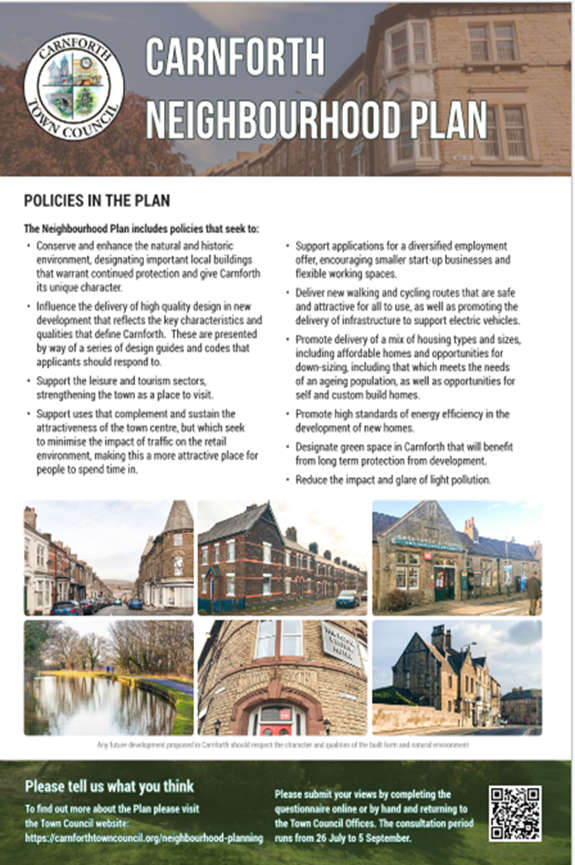 Organisations across the North West were recently encouraged to submit their 'Carbon stories' to inspire other organisations to act in the global fight to tackle the climate emergency, with the best of these to be showcased during the UN Climate Change Conference (COP26) in Glasgow.
Carnforth Town Council are delighted that their submission on the Carnforth Neighbourhood Plan has been put forward.

The plan, which has recently undergone extensive consultation, and is on schedule to be adopted in 2022, is one of the first in the country to include aspirations to be carbon neutral by 2031.

Bob Bailey, Clerk and Proper Officer at Carnforth Town Council explained: 'From the beginning, it was clear that the people of Carnforth are acutely aware of the impact of climate change and were looking for this to be addressed through the life of the plan. The Plan is set out in the context of the 'Climate Emergency' declared by Lancaster City Council in January 2019 but the Neighbourhood Plan Working Group wanted to go further and so they successfully commissioned a report through Manchester University that sets out the case for introducing walking and cycling measures that can contribute towards better health, social and environmental outcomes.

After this report was published, the local community were consulted on the suitability of social and technological innovations to decarbonise transport in Carnforth, and more recently the whole plan has been subject to the statutory consultation, with all its policies, including those aimed at tackling climate change, receiving overwhelming support. Our draft Neighbourhood Plan supports sustainable development that reflects the distinct local character of the town and delivers cohesive, sustainable transport links that will help reduce air pollution and support active and healthy communities.

Together with improvements to pedestrian and cycling links, many more residents, visitors and those working in the town will see suggestions for an efficient alternative to car travel.

The Carnforth Neighbourhood Plan clearly demonstrates the town's commitment to tackling the climate emergency and in supporting our principal authorities to do the same across our district.

There are many aspects of our Neighbourhood Plan that can be duplicated and we hope that our experience, reflected through the Case Study we have submitted to COP26, highlights how neighbourhood plans can support climate adaptation and mitigate its impact.