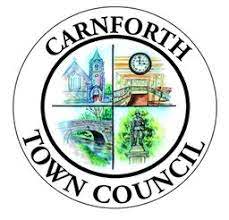 Carnforth Town Council are delighted to have been honoured by the High Sheriff of Lancashire for its work in the community during the coronavirus pandemic.
A Covid19 Certificate of Recognition has been awarded from the High Sheriff of Lancashire and will be presented remotely at a presentation on Thursday 19th November by the Right Worshipful, The Mayor of Lancaster, Councillor Malcolm Thomas
From early March the Town Council has provided information to local communities of a range of COVID19 matters from central / local government advice on how to keep safe to supporting residents experiencing financial hardship as a direct result of Covid19 through Lancaster City Council's Emergency Assistance Grant Scheme. Social distanced and Covid restricted events have continued to keep the town litter free and looking tidy and the Town Council will soon be working in partnership with Lancaster City Council and Carnforth Business Network to light up the town and give some much needed cheer during the Winter months.
The award is also in recognition of all the excellent work carried out by volunteers to help residents with shopping; dog walking; prescription collection or just a friendly voice to talk to! This has been led by the Carnforth Covid19 Local Support Group with the backing of Carnforth Town Council.
Such has been the support in Carnforth and the surrounding areas that the Town Council created the Carnforth Citizen of Merit Award to acknowledge people from all walks of community life who have done their bit to help someone during the pandemic. Such has been the response that in just 10 weeks over 90 people were acknowledged on the Town Council's website and social media. A formal ceremony had been planned to thank all recipients of the award and present a token of the Town's appreciation but sadly this has not been able to happen due to social distancing restrictions – plans are now being made for these to be awarded remotely!
Responding to the High Sheriff's recognition the Town Mayor, Councillor Kath Bromilow said 'Carnforth Town Council are delighted to receive this certificate, which we accept on behalf of the whole community. Throughout Covid19 our residents, groups and businesses have pulled together like never before, looking out for each other and providing support and friendship during these unprecedented and challenging times'.