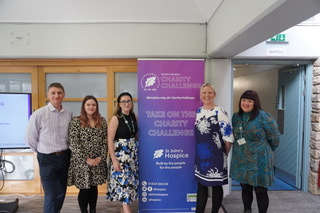 Businesses have signed up for a new charity challenge to raise funds for St John's Hospice in Lancaster
The hospice held a breakfast information morning on Wednesday ahead of the launch of its 50-50-500 challenge on May 1.
The challenge will ask 50 local businesses to raise £500 minimum over a period of 50 days for the Slyne Road hospice.
Companies to sign up so far include EE BT, Scott and Wilkinson Accountants, Simply Baby, Career Ideas and Mighty House.
Tony Johnson, manager of Lancaster BID (Business Improvement District), who are supporting the challenge, said: "When we found out about the 50-50-500 Charity Challenge it was a complete 'no brainer' for Lancaster BID to be involved.
"We see the challenge as a great way for businesses of all sizes to come together to raise money for an organisation doing fantastic work within our local community."
Related Story: Lancaster hospice launches new fundraising challenge for local businesses - Beyond Radio
At Wednesday's meeting, Sean Bolland from Adventure Trails talked about an event to help the businesses who sign up raise some funds - The Triple Wainwright Challenge.
Teams will take on the Three Peaks with a difference, as they will be given a map and will have to work together to complete the course.
"The 50-50-500 challenge is designed to not only raise vital funds for St John's Hospice but to provide a great opportunities for team building, testing out new ideas and engaging in Corporate Social Responsibility with a vital local charity," said a hospice spokesperson.
"It could also help you stand out from the crowd when recruiting!
"It's up to you and your team to come up with ingenious ways to raise funds and showcase your business acumen through fundraising activities. But you won't be on your own – throughout the Charity Challenge you'll be supported by your own personal St John's fundraising team member."
The hospice provides free palliative care to patients with life shortening conditions.
To find out more information about the challenge or to sign up, see here.