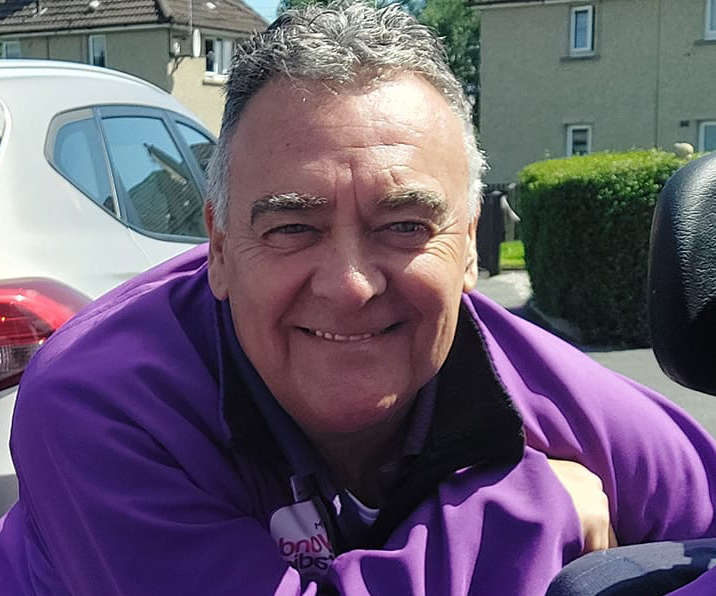 Beyond Radio has appointed Duncan Moore as our new managing director.
Duncan has taken on the role as managing director from Steven Normyle, who has decided to step down after 10 years with the radio station.
Duncan, who is also Beyond Radio's volunteer co-ordinator, has been with the station since its beginnings in 2012.
"I am very honoured to be taking on the managing director's post here at Beyond Radio," said Duncan.
"Steven has done a brilliant job in helping get us to where we are now and I hope I can build on his good work.
"Since 2012 the management team and our wonderful volunteers have worked hard to establish the station and make it a really important part of our local community.
"Local radio is in decline across the country and we have seen a move in recent years to large corporations buying up smaller local radio providers, closing them, and just offering syndicated radio content across locations.
"So what you hear in Carlisle, you hear in Colchester, there's no real local focus. Beyond Radio is bucking that trend and our audience and our community partners seem to like what we do.
"I'm immensely proud that we have such a local focus and are providing a great service to the people of North Lancashire. I'm excited about the future of our district, I think there's a great deal of optimism around at present.
"I'm looking forward to using my role to help further develop what Beyond Radio can offer our community and how we support local initiatives and celebrate what our fabulous area has to offer."
Duncan is pictured below visiting Buckingham Palace with Beyond Radio volunteer Mateo Sanderson in 2022, at an event to celebrate our Queen's Award for Voluntary Service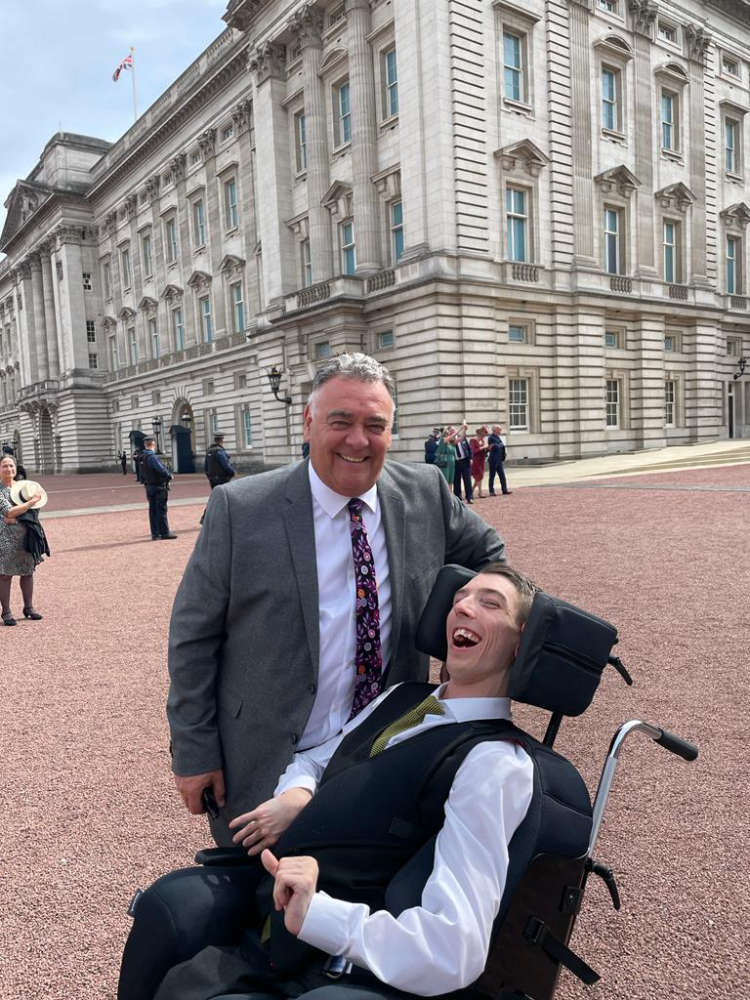 Duncan's first foray into radio came in 1983 when, with very little notice, he guest-presented an afternoon show on a small radio station in the wilds of Connecticut in the USA.
He was working on a summer camp at the time and was visiting a friend at the station. After mentioning he was a DJ in the UK Duncan was thrown in the deep end as 'The English Guy'.
He went on to help set up and manage a series of short-term radio stations in the UK.
A highlight of his career was interviewing the legendary broadcaster John Peel.
He has had stints in TV production working alongside Lenny Henry, Steve Coogan and Ruth Jones, and also worked on the production of BBC's Casualty and two series for Children's BBC, Malory Towers and The Beaker Girls.
Duncan is pictured below interviewing the Lancashire Hotpots at the Lancaster Christmas Lights SwitchOn in 2022.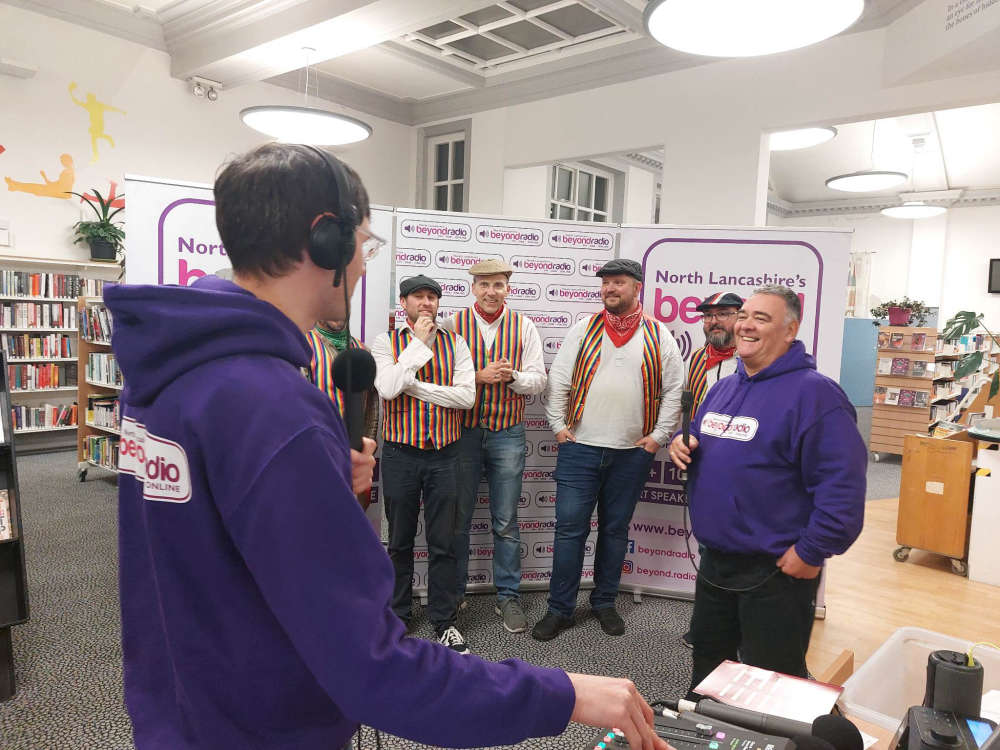 It was in October 2006 when Duncan's first involvement in local community radio began and he joined Lancaster's Diversity FM.
Here he played a major part in the station's preparation for broadcast and its development as a popular community resource, until its closure in 2012.
Duncan shared responsibility for the setting up and running of the station and helped influence in direction the station took in terms of its programme output and community engagement commitments.
The closure of Diversity FM was a personal blow for Duncan and after seeing its positive impact on the community and many of the individuals involved, he had a strong desire to bring community radio back to the district.
Alongside former colleagues from Diversity FM and with the support of Steven, who was then a director of Chorley FM, Duncan formed the not-for-profit community group, Proper Community Media Lancaster Ltd, in May 2012.
They then began the long and complicated process of establishing Beyond Radio as a fully licenced FM radio station with Duncan co-hosting its first live broadcast in July 2016.
Since then, he has acted as the station's volunteer coordinator, overseeing the recruitment and development of the station's volunteer base as well as managing practical day to day operations.
Until his current promotion to managing director, he was also the communities director, helping take responsibility for wider community engagement at the station.
Our outgoing managing director Steven is seen below accepting the Queen's Award for Voluntary Service on behalf of Beyond Radio in 2021.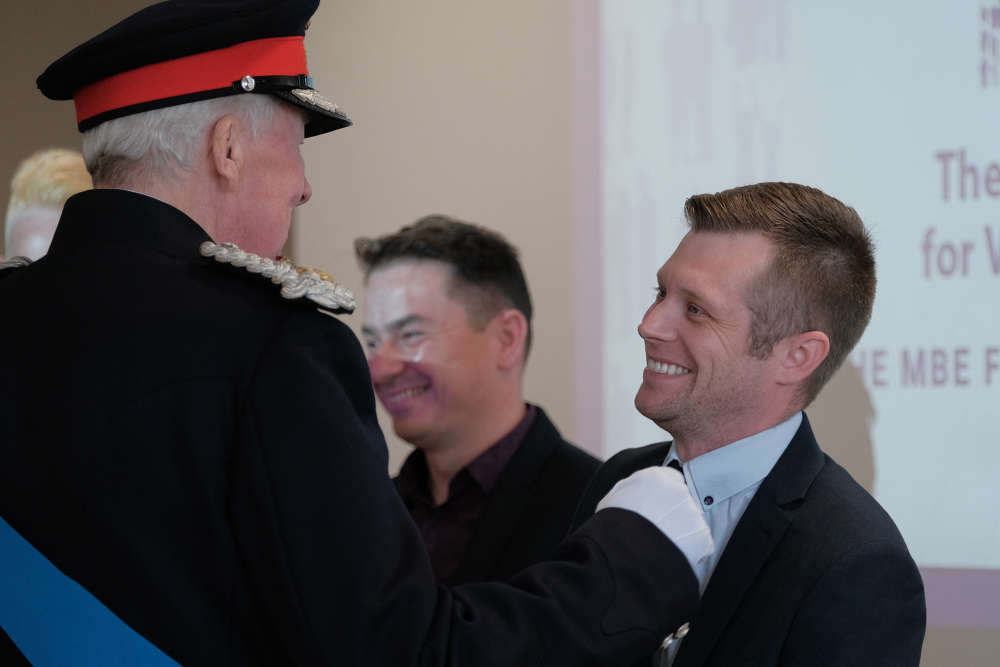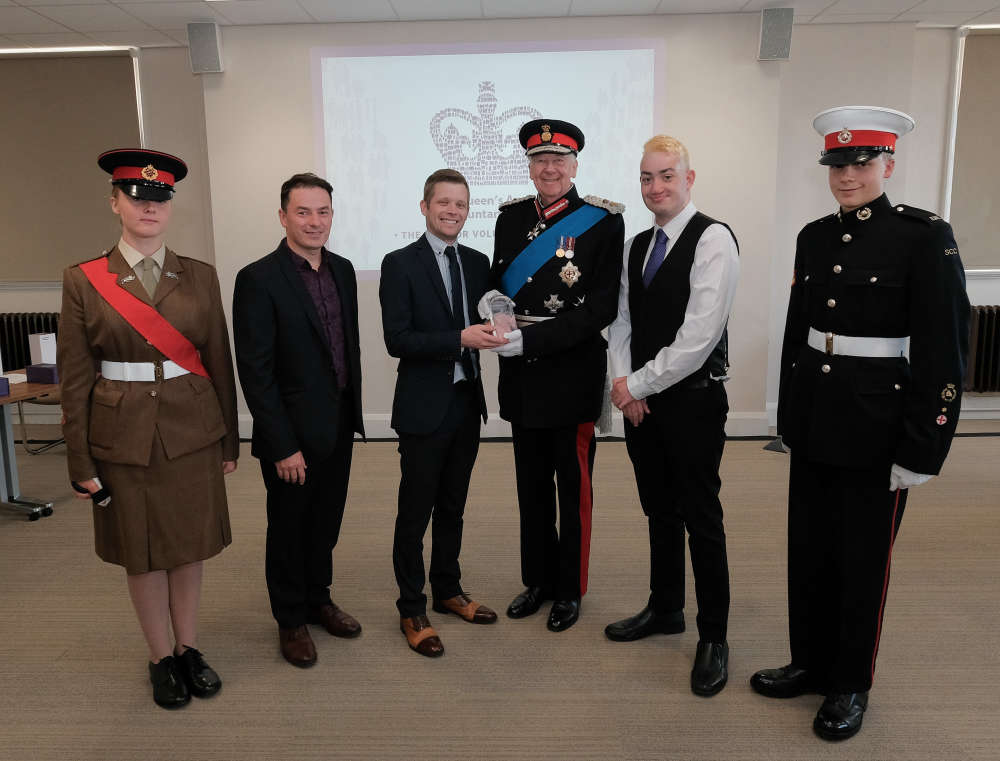 Steven said: "I've had the privilege to be part of Beyond Radio's journey for almost 10 years.
"It began with a simple, but somewhat challenging idea of bringing back community radio to our district. And now for me, ends with what I believe to be one of the strongest examples of self-sustaining community radio in the UK.
"Our vision has always been to provide our local community with a service that represents who we are as a district. A voice of reason, a source of truth and above all, a place where no matter who you are or what you believe, you'll feel more connected to the community that surrounds you and hoping to raise a smile or two along the way.
"With the support of many volunteers over my tenure, and a committed team, we've established more than we ever thought possible. We've overcome many challenges along the way, just like the community we serve, but always with a sense that the opportunity ahead was for us to define.
"From our extension into Carnforth, becoming the broadcast home of Shrimps Live, The Queens Award for Voluntary Service (the MBE for voluntary organisations) and finally our launch across North Lancashire and South Cumbria on DAB - the station has achieved so much in such a short amount of time. But I know, that the future is very much filled with opportunities to do even more. And I'm delighted that we've found a more than capable leader in Duncan. I'm confident that under Duncan's leadership Beyond Radio will continue to thrive and flourish, delivering even more to our local community.
"I want to thank everyone, our wonderful team of volunteers, the station board, our commercial partners and of course above all else, our listeners, for helping to make Beyond Radio what it has become. I'm honoured and privileged to have been able to play my part and I can't wait to see what comes next for the station."