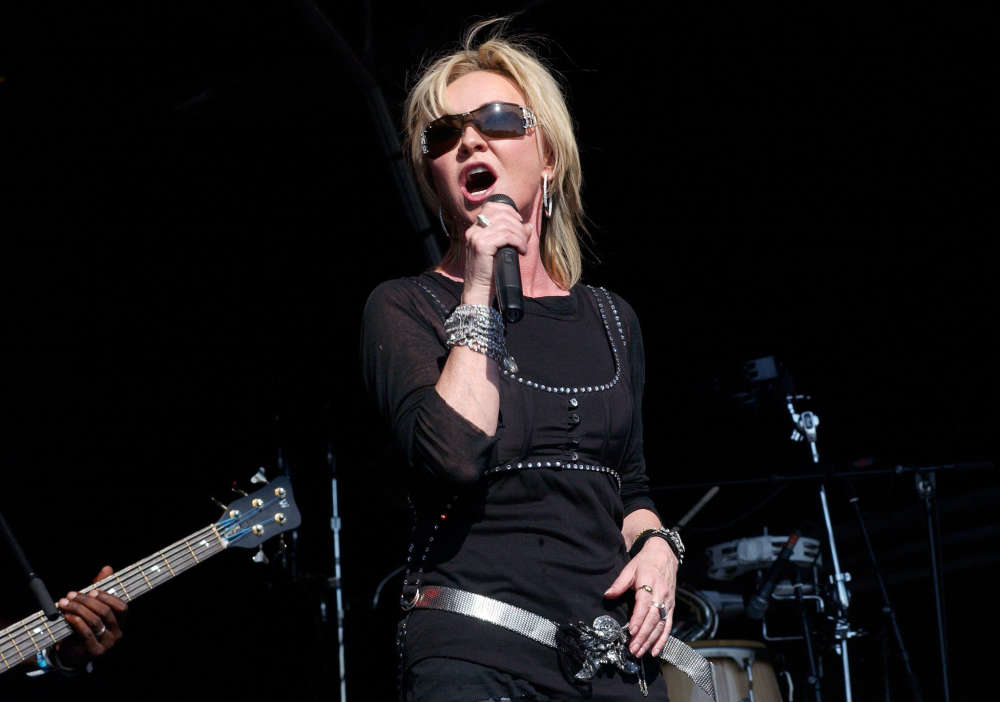 Here is your guide to What's On in the local area over the next seven days including an appearance by singing legend Lulu!
Festa Italia
2023 sees the fifth edition of Lancaster's Festa Italia, a key event in the local calendar, celebrating all things Italian!
The festival showcases Italian food and drink, live music, and culture over nine days, ending with the Gran Finale in the city centre on Sunday May 28, featuring cooking demos, music and dancers, supercars and much more!
Plus, the Lancaster International Film Festival 2023 – May 25-28 at The Storey.
An Audience with Liverpool Legends
The ultimate evening of Liverpool legends with Ronnie Whelan, Steve McMahon and Jan Molby on stage together hosted by Jed Stone.
Wednesday, May 24, 7:30pm, Lancaster Grand
Simon Brodkin: Screwed Up
The world-famous prankster and Lee Nelson creator is back with an outrageous new stand-up show.
Thursday, May 25, 8pm, Lancaster Grand
Nice 'n' Sleazy Punk and Ska Festival
More than 70 live acts across four stages, in the festival's 16th year.
This year's line-up includes The Varukers, Suburban Toys, Geoffrey OiCott, Headstone Horrors, Destination Venus, Ska Face, Wonk Unit, Root System, Hospital Food, and many many more, including legendary Morecambe accordion player and festival mainstay Frank McGregor!
Includes a warm up event on Thursday (May 25) at The Exchange and three days of music at the Trimpell Club in Morecambe.
Thursday-Sunday, May 25-28
STARS OF THE WEST END
Beyond Radio is delighted to announce that we will be your hosts for the 'Stars of the West End' stage shows at Morecambe Football Club.
An Evening of Abba and An Evening of Queen will be held at the Mazuma Stadium on FRIDAY & SATURDAY (May 26/27).
Beyond Radio's Greg Lambert will be your host introducing the artists onto stage both nights.
Both performances will take place on the Mazuma Stadium's pitch, with performers from London's internationally recognised West End on display on both evenings.
Friday May 26 and Saturday May 27, 6pm, Mazuma Stadium, Morecambe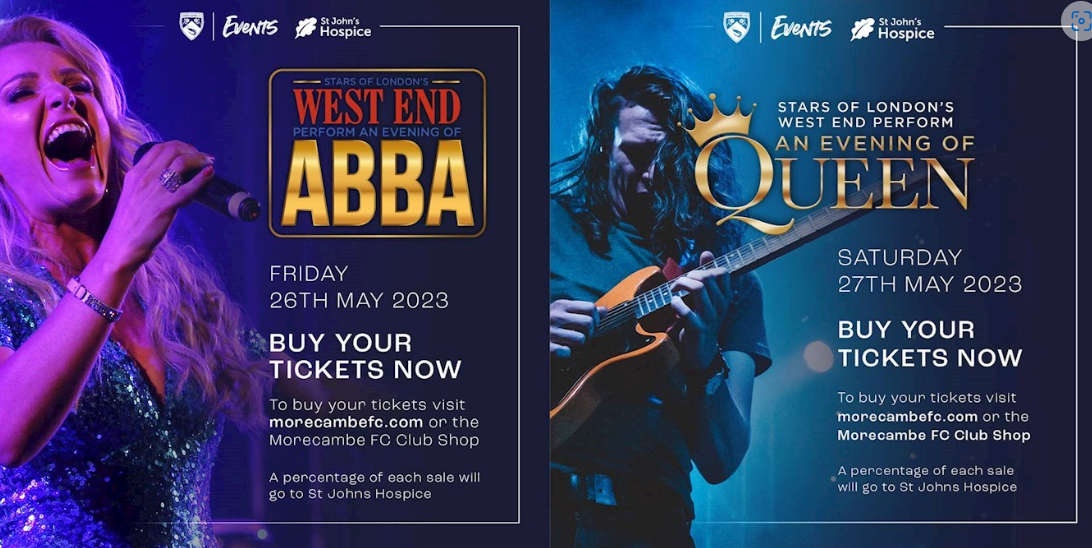 Performance of Bob Dylan's Blonde on Blonde
A performance of the seminal album in full, by some of Lancaster's most highly regarded musicians, including frontman Andy Raven, along with long time music collaborator Matt Canty, Guy Morris and Sam Lawrence on guitar, and Fred Binley and Pete French on keys and Rob Daniels is on drums.
Friday May 26, 7:30pm, Gregson Centre, Lancaster
Lulu – For the Record
Join the singer as she shares, for the first time, many untold stories, her memories and experiences - along with some classic songs.
Friday, May 26, 7:30pm, Lancaster Grand
The Beach Boyz Tribute Show
The UK's premier tribute to the music of the Beach Boys.
Friday May 26, 7:30pm, The Platform, Morecambe
Fagin's Last Hour
Charles Dickens' dark tale of crime and punishment is stunningly reimagined by James Hyland in his award winning adaptation.
Friday May 26, 7:30pm, Heron Theatre, Beetham
The Tim Kliphuis Trio
Join guitarist Nigel Clark and bassist Roy Percy for an evening of gypsy jazz and much more.
Friday May 26, 7:30pm, Hornby Institute
West End Festival
West End Festival takes place this May Bank Holiday,
Saturday May 27 - Regent Park
Explore a variety of crafts & clothing stalls clothes, workshops, live performances from West End Players previewing their summer short shows, a community marketplace, plus live entertainment from local bands and artists.
Sunday & Monday 28/29 - The Boardwalk and Ruby's of Morecambe café
Numerous live singers and bands.
Showstopper! The Improvised Musical
A brand new musical comedy is created from scratch at each performance, as audience suggestions are transformed on the spot into all-singing, all dancing productions with hilarious results.
Saturday May 27, 3:30pm & 7:30pm, The Dukes, Lancaster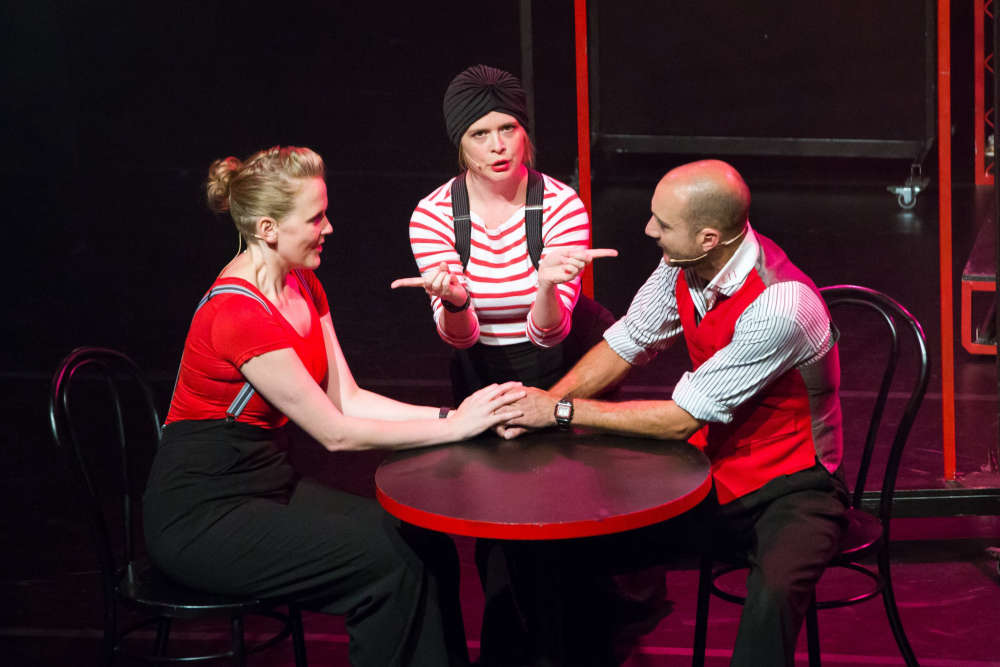 One Night of Elvis
Lee Memphis King, Europe's most successful Elvis Presley tribute artist.
Saturday, May 27, 7:30pm, Lancaster Grand
Lancaster Comedy Club
The monthly comedy night features sets from Louis Burgess, Eddy Brimson, and MC Bethany Black.
Saturday May 27, 7:30pm, The Borough, Lancaster
An Evening of Jazz & Blues
Acclaimed jazz and blues guitarist Remi Harris and virtuoso double bassist Tom Moore present an evening of music ranging from the acoustic jazz of the 30s and 40s to the electric blues of the 60s and 70s.
Saturday May 27, 7:30pm, Heron Theatre, Beetham
Martin Taylor 50th Anniversary
The award-winning guitarist celebrates 50 years as a touring artist with a concert, featuring solo jazz and fingerstyle guitar.
Saturday May 27, 7:30pm, The Platform, Morecambe
I'm Every Whitney
Join Kieshia for an evening of fun, laughter and nostalgia with all the hits to remember the Queen of the Divas.
Saturday May 27, doors 6pm, Johnny's Warehouse Bar, Morecambe
Sunday Brass Band Concert
Sundays at Happy Mount Park are brought to life with free brass band concerts by many of the area's finest musicians.
Sunday, May 28, 2:30pm, Happy Mount Park, Morecambe
Lancaster Jazz Scene presents...The Paul Palmer Quartet
The first of a series of gigs by Lancaster Jazz Scene, this one The Paul Palmer Quartet, playing jazz numbers from the swing mainstream era through to latin and Blue note classics.
Sunday May 28, 6:30pm, Gregson Centre, Lancaster
UK Pink Floyd Experience
Tribute band celebrates 50 years since the release of iconic album The Dark Side of The Moon.
Sunday, May 28, 7:30pm, Lancaster Grand