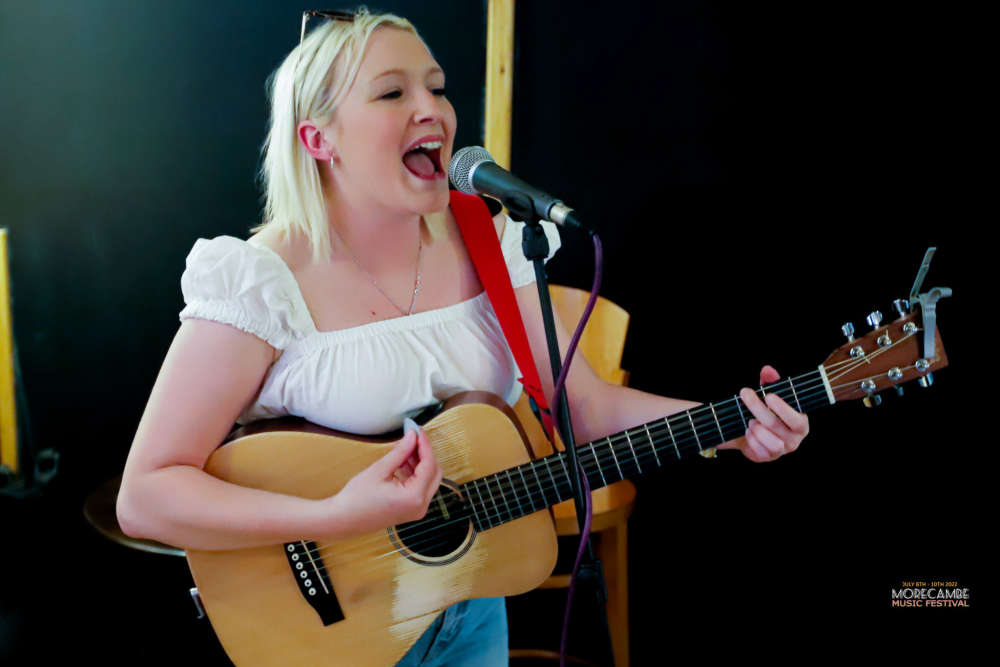 Here is your What's On Guide for the coming week.
Morecambe Music Festival
Around 175 acts will perform across 38 venues as part of the sixth annual Morecambe Music Festival. The live music extravaganza will take place in pubs, cafes, hotels and other venues across the town, starting with an 'introducing' night on Thursday at the Exchange..
Beyond Radio is proud to be the media partner of Morecambe Music Festival.
Thursday to Sunday, July 6 to 9, various venues, Morecambe
Elkie Brooks
The popular singer will be performing her biggest hits including 'Pearl's A Singer', 'Lilac Wine' and 'Fool (If You think It's Over), as well as many more featured on her recent greatest hits album.
Thursday July 6, 7:30pm, Lancaster Grand
Morecambe Fringe
Events daily - a celebration of performing arts, theatre, spoken word, poetry and comedy! Tickets from Skiddle.com or the Morecambe Fringe website for ticket details.
Friday July 7 to Sunday July 30, West End Playhouse, Yorkshire Street, Morecambe
Rebel Rebel
Dancing tunes from the 70s.
Friday July 7, 7pm, Kanteena, Lancaster
Thank ABBA for the Music
A two-hour theatre ABBA-fest that captures all of the magic and excitement of one of pop history's most successful and entertaining live bands.
Friday, July 7, 7:30pm, Lancaster Grand
The Simon & Garfunkel Story
Direct from a weeklong run in London's West End, this show uses huge projection photos, original film footage and a full live band performing all the hits including 'Mrs Robinson', 'Cecilia', 'Homeward Bound' and many more.
Friday July 7, 7:30pm, The Platform, Morecambe
Bay Health Festival
A celebration of health and wellbeing with a full programme of entertainment including Samba Espirito, Lancaster BIDs Summer Sundays, a Jujitsu demonstration, food and drink, as well as a host of health and wellbeing organisations in attendance across the weekend, and a Celebration of Cycling on the Sunday.
Saturday July 8 and Sunday July 9, 10am to 4pm, Dalton Square, Lancaster
The Syd Lawrence Orchestra
The finest big band musicians in the country play a concerto of the music of Glenn Miller, Count Basie, Tommy Dorsey, Neal Hefti, Billy May, Frank Sinatra, and Ella Fitzgerald.
Saturday July 8, 7:30pm, The Platform, Morecambe
Dino Fest
Dinosaurs, dino workshops, a mobile museum, dino trail, school workshops and more!
Saturday July 8 and Sunday July 9, 10am to 5pm, Lancaster city centre
Includes:
Dinomania – familiar to many as semi-finalists in Britain's Got Talent 2022, join Ranger Chris and his dinosaurs and learn all about these amazing creatures.
Saturday July 8, 10:30am and 3pm, The Dukes, Lancaster
Dr Dean Lomax, Adventures of a Palaeontologist – Dr Lomax will deliver an illustrated talk taking the audience on a journey recounting his adventures and sharing stories of his amazing dinosaur discoveries through his work close to home and across the world.
Saturday July 8, 1pm, The Dukes, Lancaster
Propaganda
The UK's biggest indie/alternative night comes to Lancaster.
Saturday July 8, from 11pm, Kanteena, Lancaster
Dean McPhee / Joe Hollick / The Universal Veil
An eclectic night of dub influenced cosmic folk guitar, a solo set from ex Wolf People guitarist, and 'Ritual Instruments'.
Saturday July 8, 8pm, Gregson Centre, Lancaster