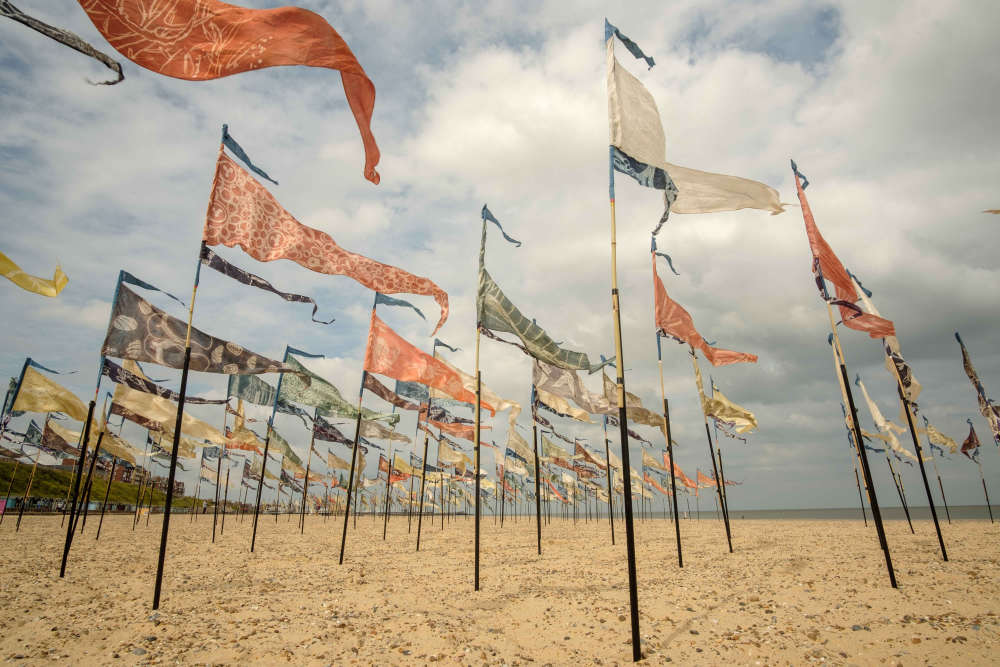 A spectacular array of 600 flags inspired by stories of the Morecambe Bay coast will fly proudly as part of an August bank holiday arts festival.
The silk wax-dyed pennants, each representing community stories inspired by the coastline, will be temporarily installed in four locations around Morecambe Bay.
They will be placed for one day only in Morecambe, Arnside, Grange-over-Sands and Walney Island, and there will be free family-friendly music, performance and dance at the Bay Lines event, part of a nationwide project called Beach of Dreams.
The Morecambe event will be on Bank Holiday Monday, August 28, by the Clock Tower.
Everyone is invited to take part as the pennants are walked in on accessible routes to the installation sites or just turn up to experience the spectacle and enjoy music and stories.
Participants submitted photos, words and drawings used to inspire the design of 120 wax-dyed silk pennants – one to represent each mile of the Bay's coastline, with members of the community involved in waxing and dyeing the silks with local flora such as willow and bracken.
The unique creations will be joined by 500 more from around the country.
The programme, commissioned by local charity Morecambe Bay Partnership, worked with internationally renowned arts organisation Kinetika in partnership with Kendal-based Rosa Productions, and brought together artists, writers, scientists and the Bay's communities. Participants chose a mile of the Bay's coastline to walk, consider its personal meaning and then shared their hopes and dreams for that part of the coast.
"The natural dye process to create the Morecambe Bay silks has been an experimental process for the artistic team – so it's really satisfying to see the colours produced which are such a lovely representation of the Morecambe Bay landscape," said Michelle Cooper, the charity's Engagement and Fundraising Team Leader.
"We now have a unique collection of Morecambe Bay silks to accompany a fascinating archive of local stories that will be shared at the final installations and into the future."
The flags will be located as follows:
Friday 25 August, 11am to 4pm, Walney Island
Grass area below Round House Hub & Café, Walney, Barrow-in-Furness LA14 3YE
Saturday 26 August, 11am to 4pm, Grange-over-Sands
Grange Promenade LA11 7DS
Sunday 27 August, 11am to 4pm, Arnside
By Arnside Pier LA5 0HA
Enjoy sea shanties at this event.
Monday 28 August, 11am to 4pm, Morecambe
By Promenade and Clock Tower LA4 5BX
With performances by the Bicycle Ballet Company and More Music.
Schedule of activity at each site:
10.45 to 11am – Meeting time for those who wish to accompany the participants with 120 newly created Morecambe Bay pennants to be 'walked in' along the sea front at each location to the temporary installation sites. All welcome to join these short easy walks. Walk details found on the website.
12.30pm - Live music to accompany the arrival of the pennants being added to the 500 existing UK Beach of Dreams pennants
1.15pm - Morecambe Bay audio stories and music from the Boom Bikes and Boom Bike Boureé to accompany people's enjoyment of the installation. Photo below by Jonathan Bean.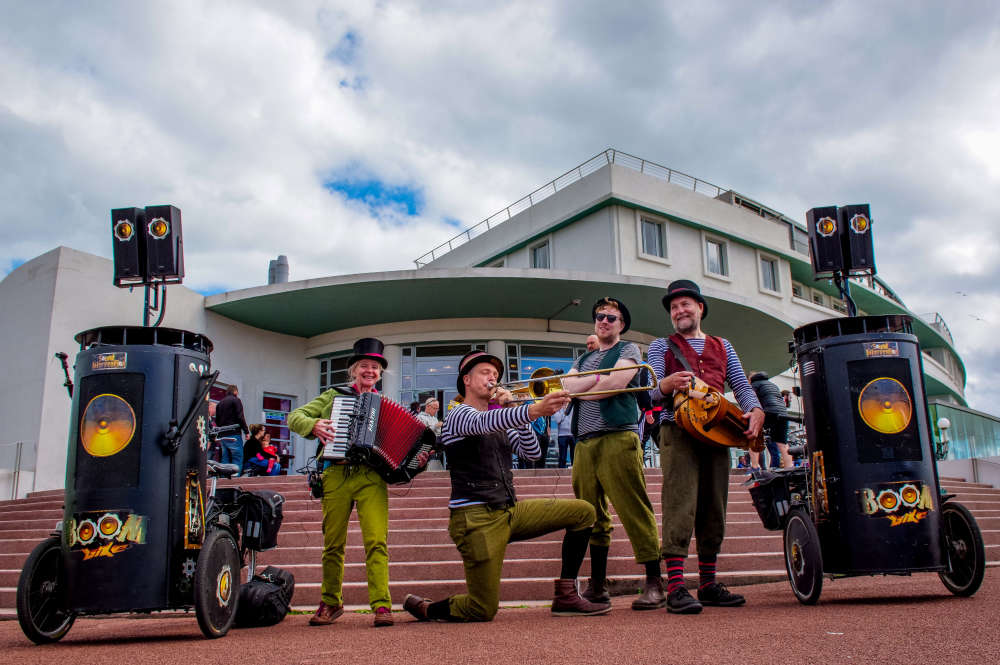 3.15pm to 4pm Live music with different artists at different locations and finish. All pennants will be removed at the end of each day.
Depending on the weather, the temporary installation may remain in place till the early evening/sunset - a great photography opportunity.
The team would like to encourage people to arrive at the event locations by public transport or walk or cycle if they can, to help reduce congestion, pollution and our collective carbon footprint.
These events form part of the Ways Around The Bay programme which aims to establish Morecambe Bay as a centre for walking, cycling and exploring the Bay in low carbon ways.
Morecambe Bay Partnership is a charity which exists to help keep Morecambe Bay special. The charity offers everyone the opportunity to connect with the inspirational nature, heritage and culture of Morecambe Bay.
Read more: INTERVIEW: Journalist to embark on 120 mile storytelling trip around coast of Morecambe Bay - Beyond Radio