A brand new international film festival will get under way in Morecambe this weekend showing more than 50 films and featuring movie industry guests.
The Bay International Film Festival kicks off tomorrow (Saturday October 7) starting with a series of feature films by legendary filmmaker Stanley Kubrick at Reel Cinema in Morecambe.
These include classics such as A Clockwork Orange, 2001: A Space Odyssey and Full Metal Jacket.
The festival gets under way at 5pm at the West End Playhouse on Yorkshire Street with a festival opening including A Clockwork Orange party!
Over the next three weeks there will also be networking events, an awards ceremony, and three screenings of the best short films of this year. The festival also includes photo exhibitions at the Midland Hotel from October 22-25, and October 27-29.
Jan Harland, right-hand man of legendary film director Stanley Kubrick, will be guest of honour at the event.
Jan worked as producer alongside his brother-in-law Kubrick on classic films Full Metal Jacket, A Clockwork Orange, Eyes Wide Shut, Barry Lyndon and The Shining. He will take part in a panel Q&A on Saturday October 28 at Reel Cinema and also give a talk at the Midland on Friday October 27.
Here is the full line-up for the festival.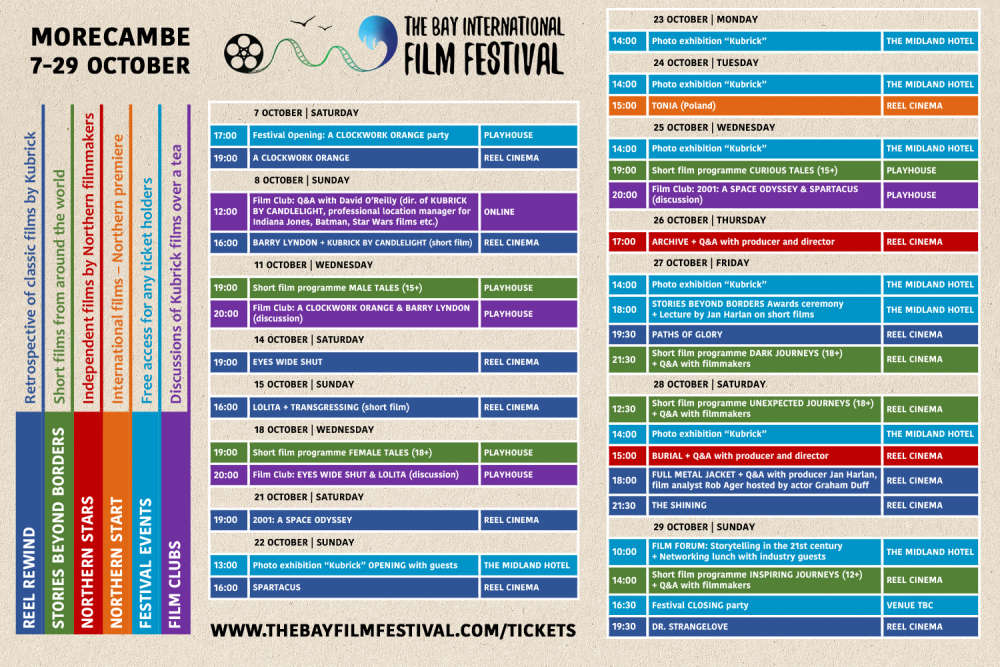 Read more and listen to our interview with Anna Kumacheva, festival producer and coordinator, earlier this year.
INTERVIEW: First ever Bay International Film Festival in Morecambe recruits big name in cinema - Beyond Radio