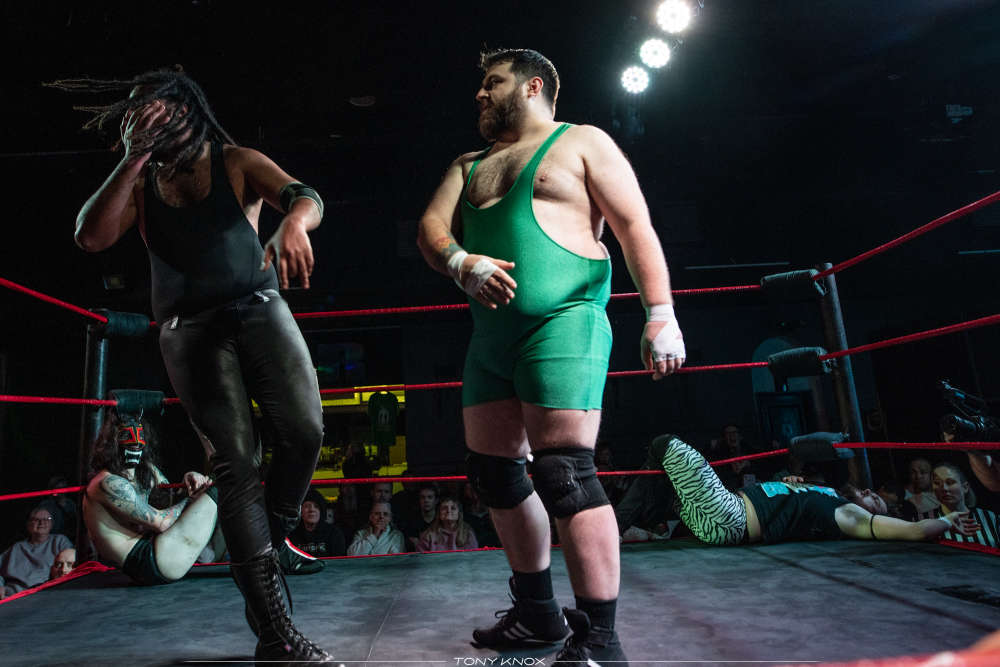 Going from starring in musical theatre shows to battling in the professional wrestling ring in Morecambe has been quite a transition for Ethan Oakeshott.
Ethan once trod the boards for local musical theatre groups including the Morecambe Amateurs, Morecambe Warblers and LADOS.
Now as his wrestling alter-ego Ethan Edwards, he's about to tread onto entirely different boards, as well as ropes and canvas, as he enters the ring for a sports entertainment fight!
Ethan is the co-general manager of Odyssey Pro Wrestling and a popular figure with local fans.
On Saturday April 22 at 'War on the Shore' he will battle his arch-rival Andre Dekker in a no holds barred streetfight at the Alhambra in Morecambe.
Long-time grapple fan Ethan (pictured) has come a long way since he messaged a promoter five years ago, asking if he could be involved.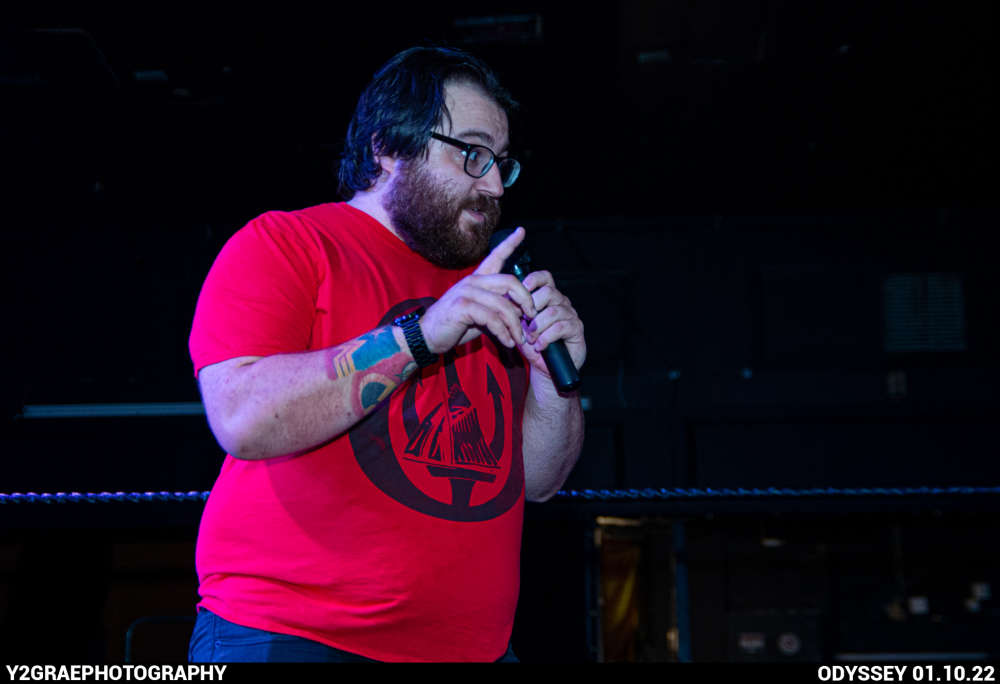 LISTEN to our interview with Ethan Edwards
"I used to do lots of the local theatre in Morecambe and Lancaster," he said.
"I used to perform for LADOS, Morecambe Amateurs, Morecambe Warblers, Dare to Go...quite a few of the different ones.
"I kind of got to the point that I was quite worn out with theatre and everything that went along with it, but I still wanted to perform in some way.
"So I started looking into wrestling a little bit more. I'd always loved it and watched it every week."
Ethan went to his first wrestling show in Morecambe in 2018, after volunteering to help out as a steward showing fans to their seats.
Then a few years later, he was part of a group who set up their own company Odyssey Pro Wrestling (OPW).
OPW now runs regular wrestling shows in front of loud and rowdy crowds at the Alhambra.

"The thing about Morecambe is the fans are absolutely incredible," said Ethan.
"They are passionate and they invest."
Behind-the-scenes, Ethan is the main storyline writer who 'scripts' the ongoing battles between good and evil to keep crowds gripped.
Now he will actually step into the ring himself for a one-on-one match against the villainous Andre Dekker.
The two have engaged in a long-term rivalry as Dekker has goaded the mild-mannered co-general manager into getting physically involved.
"He started bringing my family into things, which was a step too far for me," said Ethan.
"He's making it personal now.
"We're going to have a streetfight, which means there are no rules.
"I've been training, ready for this match. I know how to protect myself in there. I'm going to bring a different style to wrestle him, maybe something he might not be ready for. All I can do it just be as prepared as possible for him."
Andre Dekker is pictured below, right, with stand-up comedian and professional wrestling manager Chris Brooker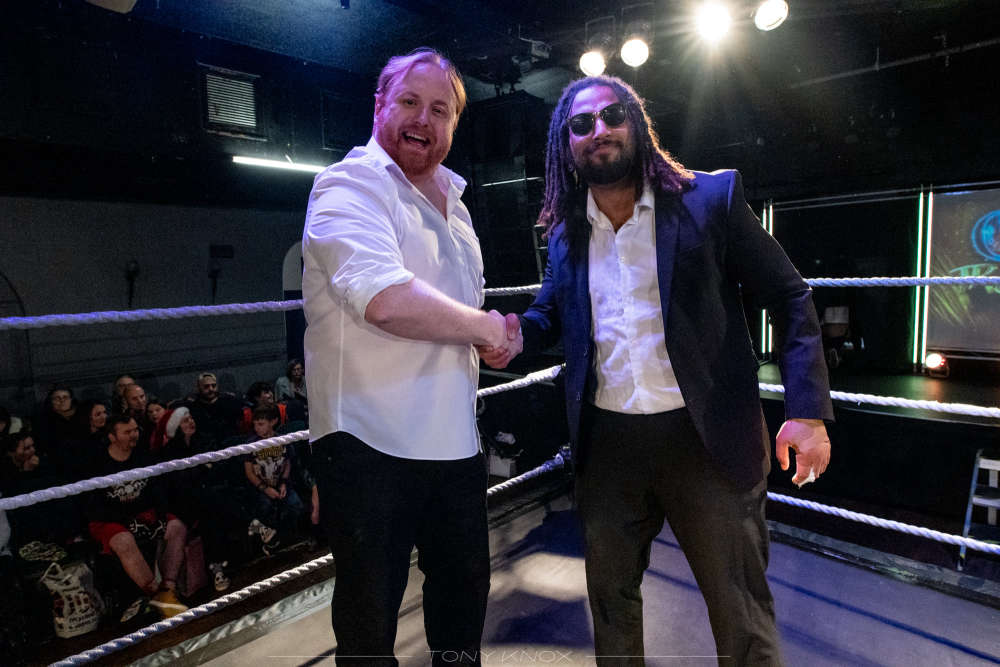 Pro wrestling has been a popular form of entertainment in Morecambe dating back to the 1930s, with regular shows over the years at venues including the now demolished Central Pier and The Dome, as well as the Winter Gardens, Morecambe Football Club, Lancaster and Morecambe College, and the Carleton (now the Alhambra).
Major stars of pro wrestling including Big Daddy, Giant Haystacks, Andre the Giant, Fit Finlay, Bomber Pat Roach, Bryan Danielson/Daniel Bryan, Paige/Saraya, Piper Niven and Nikki Cross have all wrestled in the town.
War on the Shore is the biggest wrestling show of the year in Morecambe and dates back to an inaugural sold-out event held at The Dome in Morecambe in March 2005.
The first War on the Shore was headlined by American wrestling superstar Raven and was broadcast in full on Sky TV's The Wrestling Channel.
As for pro wrestling itself, it has a massive global following and is big business all over the world.
Earlier this month the two-night WWE WrestleMania 39 event in Los Angeles had more than 500 million online views and 11 million hours of online video views over the two days, and generated a live gate of more than $21.6m, breaking the previous record by 27 percent, with 161,892 in attendance at SoFi Stadium over the two nights.
"Wrestling is the greatest form of live entertainment spectacle," said Ethan.
"It's theatre and also sport and also movies...it's absolutely massive and entertainment from start to finish.
"We are very inspired by the WWE because they are very successful, so why wouldn't you be inspired by them?"
The main event of War on the Shore 2023 sees OPW champion Ryan Hunter defend his title against the popular former professional boxer, RP Davies (pictured below).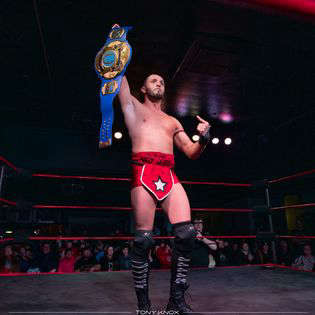 For ticket details see the Odyssey Pro Wrestling website.