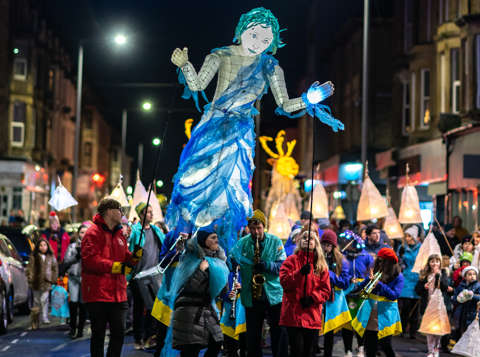 An annual magical parade of lanterns will return to start the festive season in the West End of Morecambe on a high.
The West End Winter Lantern Festival takes place on Saturday December 2, starting at More Music on Devonshire Road at 6pm.
The free festival has been held locally for the past 20 years and has become an uplifting community celebration for the West End.
The parade will feature music from Baybeat streetband who will be reworking festive classics into beat-filled stompers.
The shimmering lantern procession will weave its way through the residential streets and shopping areas of the West End accompanied by the giant Spirit of the Sea puppet.
Festival favourites and climate change activists Cacophany Arkestra will join the procession, in spectacular costumes, with their own interpretations of carnival classics.
There will be a free workshop on November 25 at More Music on Devonshire Road from 10am until 4pm where you can make your own beautiful lantern to carry in the parade.
Book a place through the More Music website or just drop in, but remember that a lantern takes up to four hours to make!
Also, Creative West End's Festive Market will be outside More Music on Saturday December 2 from 4pm to 9pm.
There will be a wide selection of local art works and crafts available to buy, a tiny cinema, and plenty of interactive stalls and workshops to get involved in.
And More Music is inviting people to come inside their Devonshire Road base and warm up with the Baked A La Ska Christmas show.
Baked A La Ska serves up good party vibes, vintage ska sounds and an eccentric platter of covers.
Tickets are from £5 and are available from the More Music website.