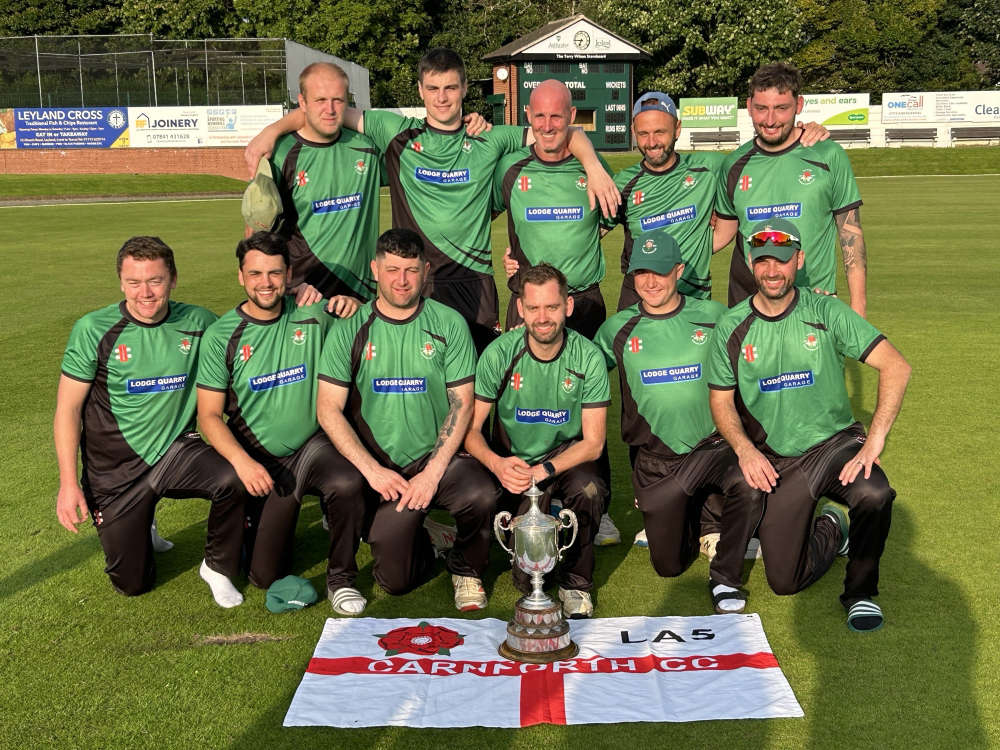 Carnforth Cricket Club won the Moore and Smalley Palace Shield Meyler Cup for the first time in their history this weekend.
Their first team comfortably beat Preston side Vernon Carus on Sunday afternoon (August 20) in a high-scoring game at Leyland Cricket Club's Stanning Menorial Ground.
It's the first time the club have won the competition and only the second time they've competed in the Meyler Cup final, losing to Penrith in their first in 2021.
Carnforth, supported by a lively and vocal following of around 200, won the toss and elected to bat first.
Their innings ended with a score of 250 for 5, which left Vernon Carus with a mountain to climb.
Their first twenty or so overs were particularly impressive, with only one batsman out for the majority of their innings.
Ryan Nelson had an incredible performance, winning man of the match after making 109 runs and helping Carnforth record a very fast start to proceedings.
Overseas amateur Tom Le Lievre also had a strong game, scoring 68 runs from 94 balls.
Vernon Carus put in a decent display but it was always going to be tough to get anything close to Carnforth's score.
They scored 120 runs in 26.2 overs before play finished. The game ended with only nine Vernon Carus batsmen out, as Carus lost a player due to injury.
Carnforth had some fantastic performances in the fielding too as Brad Hoyle caught out three players, and Dylan Conroy bowled three players out.
It is another impressive achievement for the team, following back to back promotions from the Westmorland Cricket League Division One and the Palace Shield Division 1A in 2021 and 2022 respectively.
Brad Hoyle spoke to Beyond Radio after the game.
"The fact that we've gone one better than we did two years ago is amazing, the lads played out of their skins today," he said.
"The way Ryan [Nelson] set it up with the bat is tremendous and to win it with ten of your mates is brilliant.
"Batting first was a huge advantage for us, if you get runs on the board you've got so much more control in the game.
"We've had a really successful last couple of years, we've just got to keep building and keep getting stronger. Our junior section is doing really well at the moment so we need to get those juniors through, push on and hopefully one day become a Northern Premier Cricket League side."
It looks likely that they will finish this league season in a positive position too. They are currently fourth in the Palace Shield Premier Division with four games remaining, and Brad Hoyle told Beyond Radio last week that the team set themselves the goal of finishing in the top four.
Carnforth are eight points behind the division's top two – Euxton, the clear favourite for the title, and Mawdesley – with Lancaster in third.
The top two have the opportunity to get promoted to the Northern Premier Cricket League, so there could be further success at Carnforth this year if they have a strong end to the season and catch Lancaster and Mawdesley.
Carnforth's firsts' final four games of the season are at home to Preston (August 26), away to Kirkham & Wesham (September 2), a big game at home to Lancaster (September 9) and away to Penwortham (September 16).