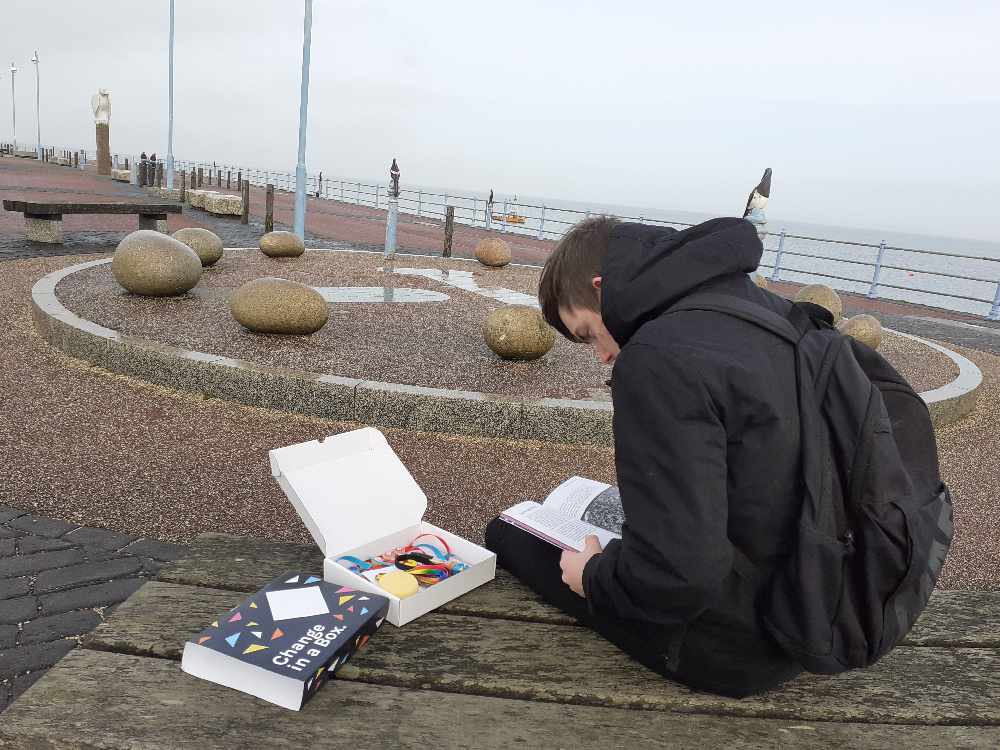 Lancashire Youth Challenge member, Ross Curwen, making use of Change in a Box
A very special box which could change lives has been delivered to young people in North Lancashire. Change in a Box is a technology-free resource offering a combination of stories, arts and crafts to encourage and enable positive social change.
It is one of four projects to be completed by young people as part of the Our Place In The World cultural and creative education programme run by Lancashire Youth Challenge(LYC), Lancaster District Cultural Education Partnership(Culture Co-op), Lancaster University and Curious Minds.
The project was led by Joseph Rynhart of Lancashire-based Theatre In The Rough with input from six 13 to 19-year-old young people in the Lancaster district.
The teenagers decided on the look of the box and chose the subjects covered in the magazine inside which included Marcus Rashford's food poverty campaign, Black Lives Matter, climate change, the Suffragettes and the role of the LGBTQ community during the 1984 Miners Strike.
The magazine was then written and edited by education experts, teachers, and professional writers.
It's hoped that after reading the stories, young people might want to do good in their community so the magazine includes advice and tips on speaking out and learning more too.
The box also contains instructions for five creative activities designed to stimulate the imagination.
Essentially, all the activities and stories can be enjoyed without the need of technology which can be a barrier for some young people.
More than a hundred boxes have been distributed and Lancaster University commissioned a further 200 magazines to go to libraries, community centres and schools. The stories can also be heard by visiting changebox.me/listen.
Lancaster University's Development Manager (Schools), Nik Marsdin said: "This project offers a unique opportunity to showcase some of the incredible work that young people have designed and taken part in during the Coronavirus lockdown 1. The booklet highlights many of the new skills and activities that children and young people have learnt and taken part in.
We hope this project will shine light on the resilience and adaptability shown by children and young people, focussing on the varied ways in which they learn rather than the perceived learning losses so often talked about."
The project was supported by Curious Minds with funding from Arts Council England and the Crafts Council as part of a wider national venture - #LetsCreate – which delivered more than 60,000 activity packs to vulnerable young people during 2020.