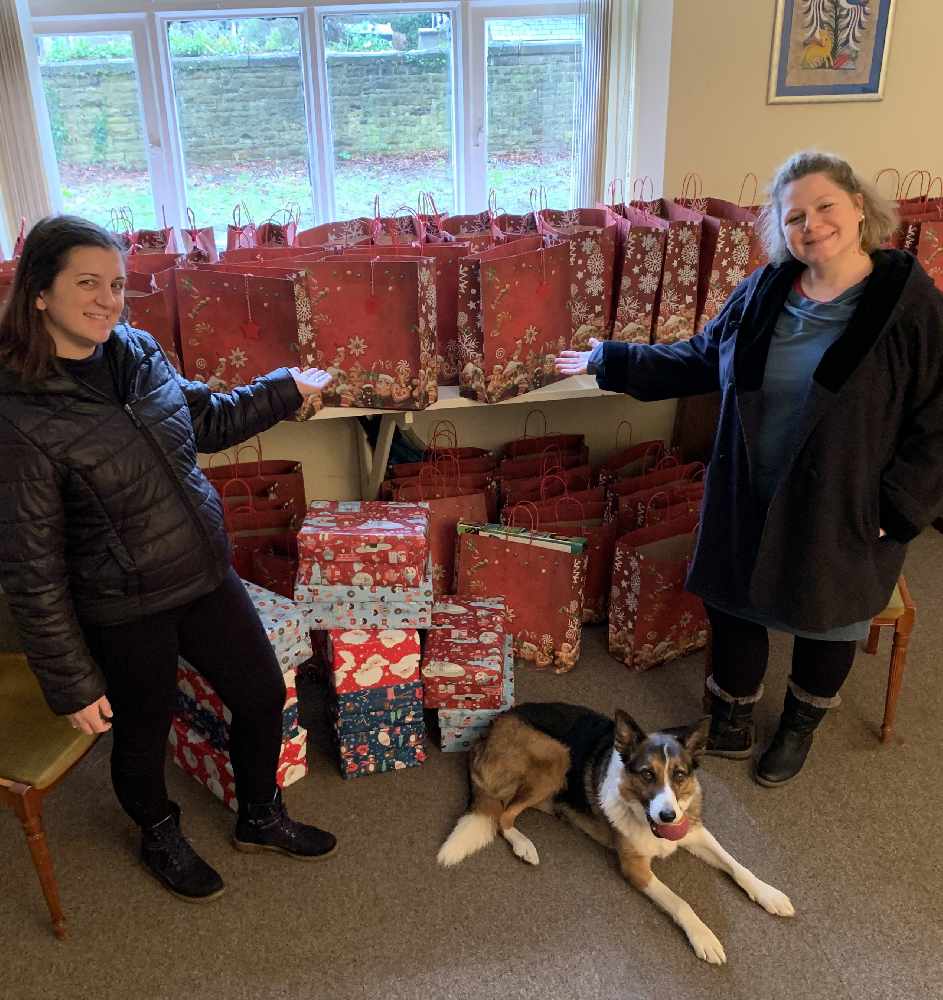 St Joseph's outreach co-ordinator, Zsuzanna Brenner-Daly, right, and Laura Gatti with some of the Christmas shoe boxes and gifts which have been donated
Hundreds of people's lives will be filled with festive cheer thanks to the new Skerton Christmas project.
It's Skerton Community Network's first Christmas and all involved want to make it extra special after a difficult year overshadowed by the COVID-19 pandemic.
Formed in April by Zsuzsanna Brenner-Daly, St Joseph's RC Church's outreach co-ordinator, the Network includes St Joseph's, the Friends of Ryelands Park and Lune Bank Gardens and volunteers working together for the benefit of the residents of Skerton, one of the country's most deprived areas.
Among their festive initiatives are a Christmas Trail and Christmas card making project.
Residents of the Aldrens Lane, Halton Road, Green Lane and Slyne Road areas are being invited to decorate their homes, windows or gardens which will be featured in trail maps along with St Joseph's.
"We hope the Christmas Trail will be a magical and fun COVID safe festive event for the community," said Zsuzsanna.
The Network is also encouraging residents and pupils from St Joseph's and Ryelands Primary Schools and Our Lady's Catholic College to make Christmas cards from recycled materials for those neighbours who might live alone, be vulnerable or having difficulties.
St Joseph's Christmas shoe box campaign to support needy families, children, older and homeless people has received a welcome boost this year too - a £1,000 Lancaster Community Fund grant with a further £860 donated by parishioners who've also contributed gifts.
Clothes have been donated by the church's clothes service, Little Joe's; health and social care students from Lancaster & Morecambe College have contributed boxes of gifts, and volunteers have made knitted hearts for the boxes.
In 2019, more than 70 shoe boxes were delivered to Melbourne Pub Food Club members and their children and this year the plan is to fill 300 boxes and distribute them through schools and nurseries too.
Boxes for adults include sweet festive treats and toiletries and children receive a range of small toys, books and colouring sets.
St Joseph's choir is busy preparing carols and festive music for local nursing homes which the church hopes to share more widely, and is also hosting an Advent Meditation by Candlelight on December 18 at 7pm which will be on the parish Facebook page.
Initiatives which St Joseph's began during the first lockdown also continue. Emergency food bags for those in urgent need are provided at the back of the church from 11am-6pm every day except Mondays and the parish's Guardian Angels run errands and offer friendly phone calls and prayers.
Last year, St Joseph's received National Lottery funding to restore the church and, as part of that initiative, has been reaching out to the wider community in new ways.