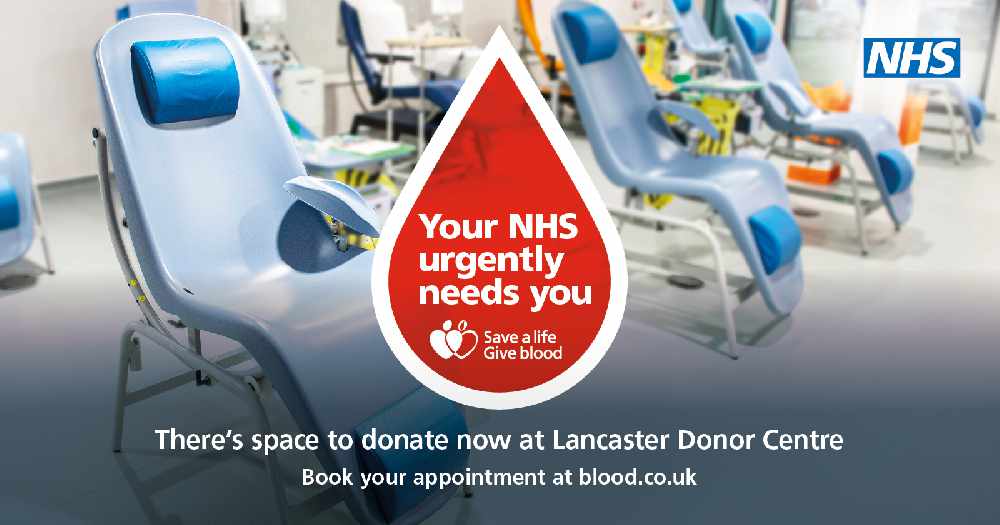 Blood donors in Lancaster are urged to help patient care and make and keep an appointment over the festive period, as NHS Blood and Transplant reveals one in four appointments are currently unfilled between Christmas and New Year.
NHS Blood and Transplant is urging donors in the Lancaster & surrounding district to make an appointment to donate over Christmas and New Year if they don't already have one. They're also asking people to keep their appointment if they've made one, to help build blood stocks ahead of a potentially challenging winter period.
The only two days of the year that blood donations are not collected is Christmas Day and New Year's Day, with appointments available on Christmas Eve and Boxing Day.
An extra 1,500 units of blood is currently needed every week and extra appointments have been added across the country to help meet this need. As well as existing donors, in Lancaster there is a need for nearly two hundred people who have registered to give blood to make their first appointment this winter.
Rachel Adams, Lancaster's Clinical Donor Centre Manager, said: We'd really like to thank everyone who donates at Lancaster Donor Centre. This has been a challenging year and we appreciate that the experience of donating blood has changed slightly, with extra safety measures on session. Despite everything our loyal donors have remained dedicated and have kept giving throughout the pandemic – thank you."
This winter, NHS Blood and Transplant needs donors who are fit and healthy to help it keep blood stocks strong to support hospitals through a second wave of covid-19 as well as seasonal pressures. At this time of year however, colds, flu and severe weather can make it hard for donors to attend, while this winter could be particularly challenging with the extra impact of covid-19 infections.
Giving blood is exempt from Covid-19 travel restrictions, even during a full lockdown.
Jon Latham, Assistant Director of Donor Relationship Services at NHS Blood and Transplant, said: "We know that giving blood can slip off the to-do lists over Christmas and new year. But we need our loyal donors in Lancaster more than ever right now so we can keep hospitals supplied with lifesaving blood.
"The demand for blood has reached near pre-pandemic levels, yet we have extra winter challenges this year with the added pressure of covid-19. In the summer months there was less demand from hospitals for blood, but this winter could be particularly challenging for us because that is no longer the case, and we now have donors spaced out and fewer beds in use as well as the usual winter pressures like colds, flu and bad weather.
"We need anyone who is fit and healthy and who can donate to please book and make an appointment. Lancaster donor centre is open as usual with extra safety measures in place and extra appointments have been added to help us meet these winter demands."
Demand for lifesaving blood doesn't stop for Christmas. Many children and adults will still need transfusions over the festive period as treatment for a blood condition or cancer, or due to surgery, childbirth or an accident.
Extra safety measures are in place across all blood donation sessions. Donors are triaged with a temperature check on arrival. Hand gels and hand washing facilities are available, donors are spaced apart and staff are doing extra cleaning. Staff and donors wear face coverings.
Donors are reminded to follow all relevant Government transport guidance when making a journey to give blood.
Each donation can save or improve up to three lives.
Book appointments and check the latest guidance on Covid-19 and giving blood by calling 0300 123 23 23, downloading the NHS Give Blood app, or visiting the website blood.co.uk:
Lancaster blood donor centre, Royal Lancaster Infirmary (within Medical Unit 1), Ashton Road, Lancaster, LA1 4RP
If you are fit and healthy please make an appointment to donate. If you need to cancel please give at least three days' notice so the place can be offered to another donor.