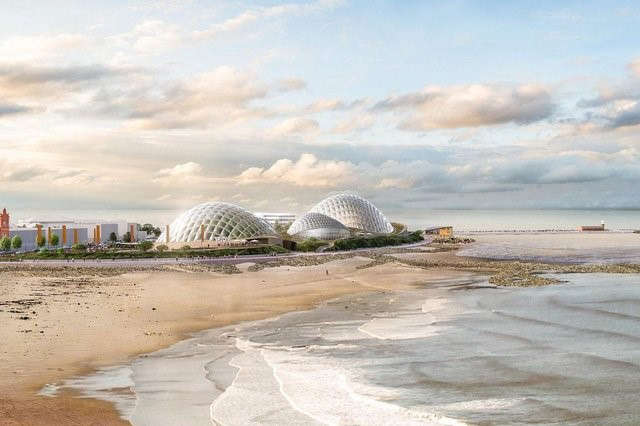 The Eden Project North is coming to Morecambe after £50m of government cash was confirmed paving the way for the attraction to now be built.
The news was revealed on Wednesday much to the delight of supporters of the long-awaited scheme, which has been described as a "game-changer" for Morecambe and the surrounding area.
Eden is one of more than 100 projects in total to have been awarded a share of £2.1bn from round two of the government's flagship Levelling Up fund.
The announcement from the Department of Levelling Up comes almost 12 months to the day since planning permission for the project was granted.
The Eden Project will receive £50m to transform a derelict site on Morecambe's seafront into a world class visitor attraction. 
The scheme will also kick-start regeneration more widely in Morecambe, creating jobs, supporting tourism and encouraging investment in the seaside town. 
The government contribution of £50m forms half of the projected £100m cost of building the eco-attraction on the central Promenade, with the remainder of the funds coming from private and philanthropic sources.
It means that work can now start, expected to be later this year.
Beyond Radio understands that a meeting has been called with senior government officials and local businesses in Morecambe tomorrow (Thursday January 19) where further details will be unveiled.
Here is how the inside of the Eden Project North might look.
Rob Chatwin, Group CEO of the Eden Project, welcomed today's news.
He said: "This is a historic moment for the town of Morecambe and the surrounding area and for the Eden Project and our partners.
"We are delighted that Eden Project Morecambe has been recognised as part of the Levelling Up Fund and we are incredibly grateful to the Government, our partners, David Morris MP and the unique community of Morecambe for their wholehearted support. This is a ringing endorsement of the teamwork that has brought Eden Project Morecambe to this point. We will now continue to work hard with our partners to make this vision a reality."
David Morris, MP for Morecambe and Lunesdale, said: "Thursday 19th January is now a red letter day in Morecambe's history and I couldn't be more delighted the hard work has paid off and Eden Project Morecambe is now a reality.
''And everyone in Morecambe will be celebrating tonight and can be immensely proud of what we have achieved for our community.''
Full interview with David Morris here.
The landmark funding will breathe new life into the scheme on Morecambe promenade, which was reliant on the grant being confirmed.
Today's announcement had been delayed twice and will come as a relief to backers of the project.
The proposed Eden Project North is earmarked for 4.8 hectares of land on the central promenade in Morecambe, near the Midland hotel.
The mixed-use complex will be housed in four shell-like domes and will combine indoor and outdoor attractions, themed around Morecambe Bay.
The facility is set to include plants, art and interactive exhibits, a concert area for live music events, three cafe/restaurants and a visitor centre.
It has been estimated that the Eden Project North would pull 740,000 visitors to Morecambe annually, as well as providing around 300 high-quality green jobs, plus more than 1,000 additional new jobs supported in the region.
The existing UK Eden Project visitor attraction in Cornwall has transformed the region's economy since opening in 2000.
The Eden Project North site is pictured below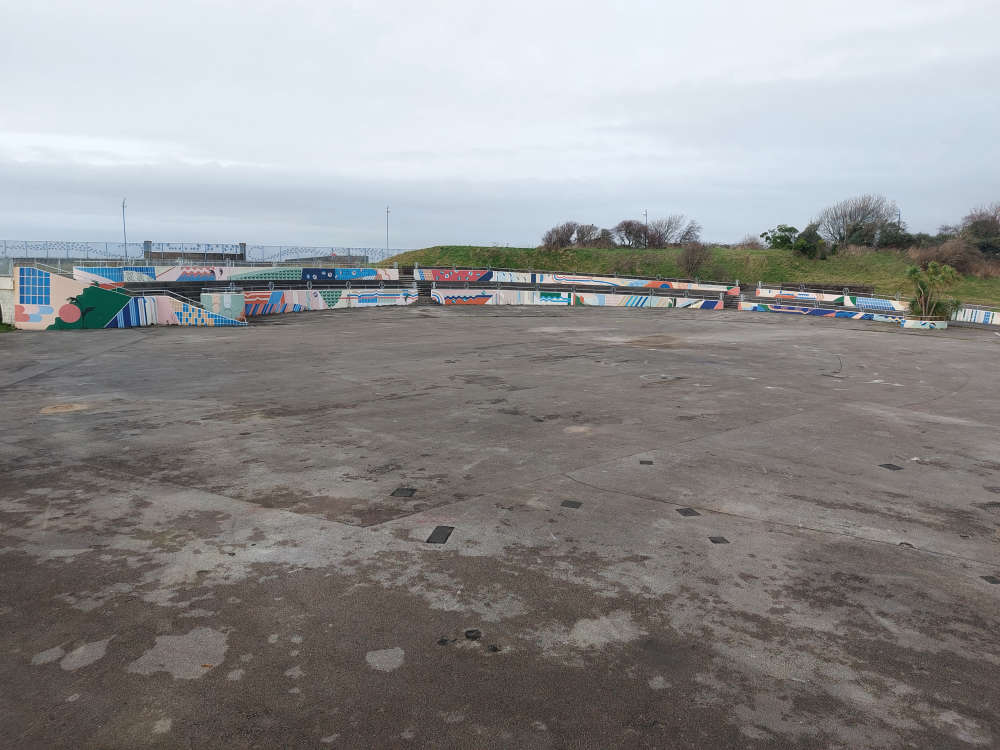 More reaction
The Prime Minister Rishi Sunak also commented on the decision.
"Through greater investment in local areas, we can grow the economy, create good jobs and spread opportunity everywhere," said Mr Sunak.
"That's why we are backing more than 100 projects with new transformational funding to level up local communities across the United Kingdom.
"By reaching even more parts of the country than before, we will build a future of optimism and pride in people's lives and the places they call home."
Levelling Up Secretary Michael Gove said: "We are firing the starting gun on more than a hundred transformational projects in every corner of the UK that will revitalise communities that have historically been overlooked but are bursting with potential. 
"This new funding will create jobs, drive economic growth, and help to restore local pride. We are delivering on the people's priorities, levelling up across the UK to ensure that no matter where you are from, you can go as far as your talents will take you."
The partners working with the Eden Project on Eden Project North are Lancashire County Council, the Lancashire Enterprise Partnership, Lancaster University and Lancaster City Council.
Councillor Caroline Jackson, leader of Lancaster City Council, told Beyond Radio she felt like "dancing in the streets" at the announcement,
County Councillor Phillippa Williamson, leader of Lancashire County Council, said: "This exciting transformational project will bring a huge boost to Morecambe and its economy, supporting the work we are collectively doing towards Levelling Up and supporting our future ambitions for the county.
"Lancashire continues to be recognised as a great place to invest, especially in sustainable, ambitious and innovative schemes. We are very proud to be able to support this project to take its next steps to become a reality for our residents and businesses and are confident it will be a massive success."
Debbie Francis OBE, Chair of the Lancashire Enterprise Partnership, which contributed £1.2m from its Growth Deal Programme to help develop the project, said: "This funding is fantastic news for Morecambe and Lancashire as a whole. Eden Project Morecambe is a truly transformational scheme that embodies the ethos of Levelling-Up and shows what can be achieved through partnership working.
"The project will have an immense economic, social and environmental impact on the county. Eden is an international brand which will not only attract visitors to the area, but will create significant job opportunities directly and indirectly in our local supply chains, stimulating growth in some of our key sectors, as well as enhancing our already significant environmental research expertise.
"The LEP looks forward to continuing to work with all partners as the project progresses to the next stage."
Sarah Kemp, Lancaster University Pro Vice-Chancellor for Engagement, said: "As an anchor institution we are deeply invested in the health and vitality of our regional economy and the University has long championed the idea of Eden coming to the North of England.
"We are delighted to see that idea taking a step closer to becoming a reality and look forward to building on our partnerships, bringing the full strength of Lancaster University's research expertise in environment, sustainability and enterprise power to the table for the benefit of our region."
Here is an artist's impression of how the Eden Project North might look from above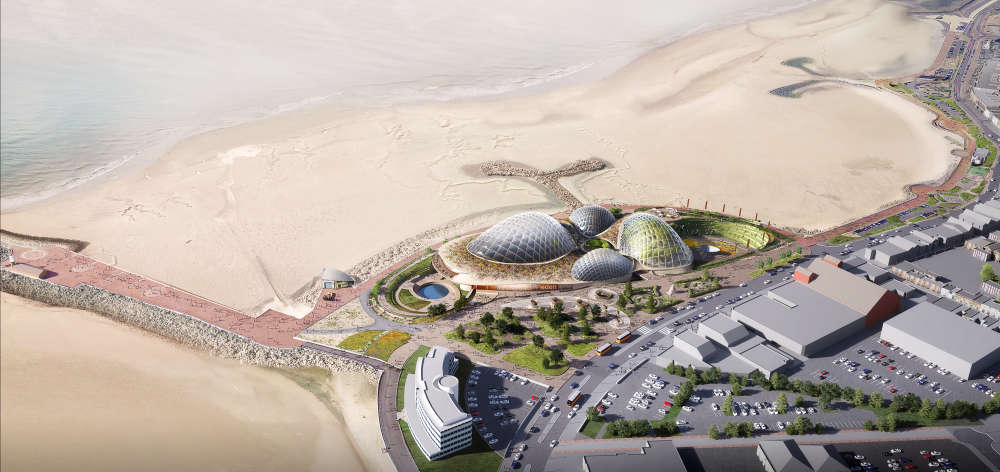 A long time in the planning
Planning permission for the project was granted back in January 2022.
Planning permission was granted after the Lancaster City Council planning committee - made up of a cross-party group of elected councillors - voted unanimously in favour of the proposals.
Council officers Mark Cassidy and Jen Rehman explained why planners recommended the scheme for approval.
Mr Cassidy said the project provides "an outstanding opportunity to reinvent Morecambe for the 21st century".
He said this had been "an extensive planning process" and that the Eden team had "worked proactively for the best part of two-and-a-half years" with the council on the plans.
Councillors said the proposals were "outstanding".
Submitting the bid
The crucial bid for £50m of government cash to make the Eden Project North a reality in Morecambe was submitted in the summer, when the government opened up round 2 of their Levelling Up Fund.
Speaking to Beyond Radio at the time, Sir Tim Smit KBE, co-founder of the Eden Project in Cornwall, said: "I'm very excited about it, we are very confident it's all going to go ahead. Everything that I'm seeing is really optimistic.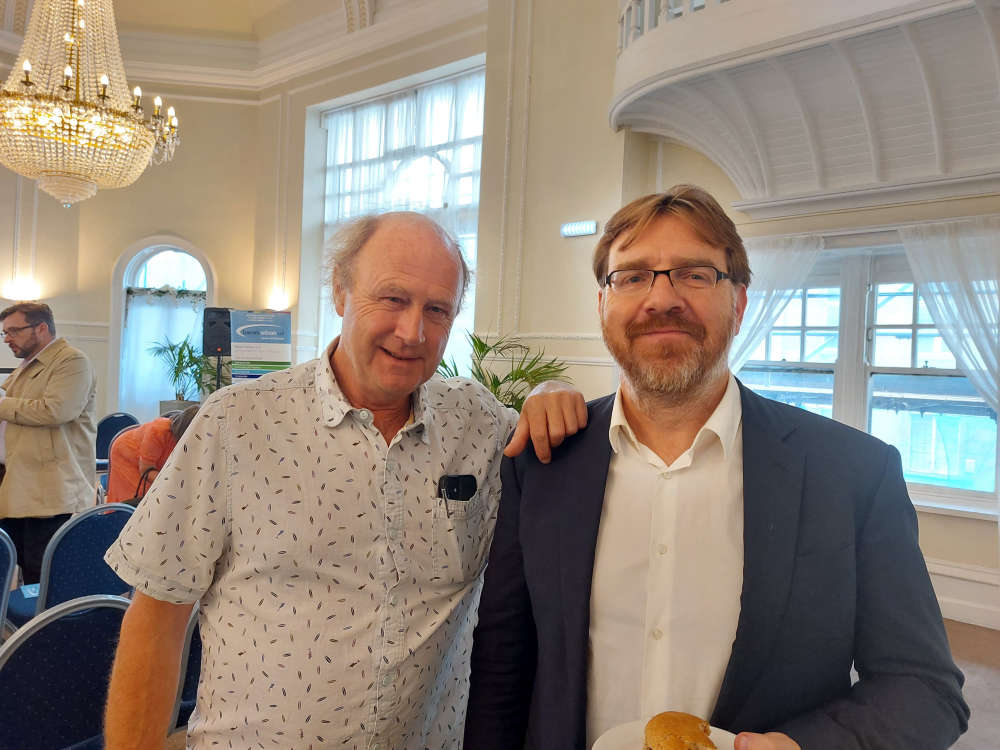 "If we don't get the bid (money), I want to see the ones that did!"
"We got to where we are today by believing in a number of things, and one of them is 'last person standing'.''
"If people suddenly realise that you're not going away, they will eventually pay you lots of money to keep you well occupied!"
Decision delays
A decision on funding bids was due in the Autumn, but in October it was announced by the then Levelling Up Minister, Simon Clarke MP, that the winning bids would be revealed by the end of 2022.
There then came changes in office, with Michael Gove MP now in the post. Just before Christmas, it was reported that the Department for Levelling Up, Housing and Communities sent a letter to MPs on Monday evening confirming that phase 2 of the fund, totalling £2.1bn, would be announced by the end of January.
Other successful Levelling Up Round 2 bids
A total of 111 areas have been awarded funding from the second of the government's flagship Levelling Up Fund, providing greater investment in communities that will create new jobs, drive economic growth, help restore people's pride in the places where they live, and spread opportunity more equally.
Here are some of the other projects to receive money from the government today.
Cardiff Crossrail has been allocated £50m from the fund to improve the journey to and from the city and raise the economic performance of the wider region.  
Blackpool Council and Wyre Council will receive £40m to deliver a new Multiversity, a carbon-neutral, education campus in Blackpool's Talbot Gateway Central Business District. This historic funding allows Blackpool and The Fylde College to replace their ageing and unsuitable out-of-town centre facilities with world-class state-of-the-art ones in the heart of the town centre. The Multiversity will promote higher-level skills, including automation and artificial intelligence, helping young people secure jobs of the future.
Nearly £27m has been guaranteed for a new roll-on, roll-off ferry for Fair Isle in the Shetland Islands. The service is a lifeline for the island, supporting its residents, visitors and supply chains, and without its replacement the community will become further isolated.
A total of £20m is going towards the regeneration of Gateshead Quays and the Sage, which will include a new arena, exhibition centre, hotels, and other hospitality. The development will attract nearly 800,000 visitors a year and will create more than 1,150 new jobs.
A £50m grant will help create a new direct train service, linking four of Cornwall's largest urban areas: Newquay, St Austell, Truro, and Falmouth/Penryn. The government says this will level up access to jobs, skills, education, and amenities in one of the most economically disadvantaged areas in the UK.
Beyond Radio will bring you more reaction to the news of the successful funding bid, throughout the day (Thursday January 19), both on air and online.