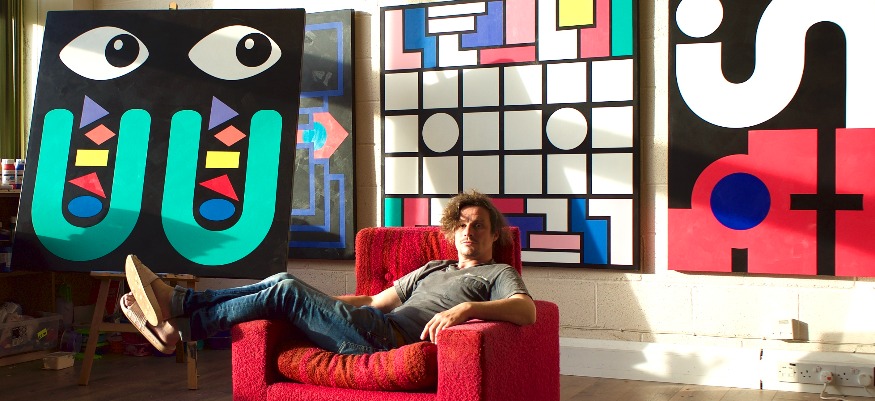 A Morecambe gallery is awash with paintings that should brighten even the dullest of days.
Plans for The White Elephant Gallery in Euston Road to re-open were postponed when the second national lockdown was announced but bold, multi-coloured creations by Alex Giles (pictured) can still be enjoyed through the windows.
The gallery has also organised a meet the artist Zoom/webinar event with Alex on Thursday, November 12 at 7.30pm and a film about the Eyehurters exhibition will be available online.
Eyehurters is the first exhibition by the Manchester-based fine artist who dusted off his brushes to start painting again during the first lockdown when his work as an art director was curtailed.
Alex says the motivation behind his work is to amuse and entertain and his latest paintings seem to have caught the eye of a Parisian dealer and a Far Eastern collector who saw his work online and are in discussion about taking the entire collection.
So Eyehurters could be the only chance to see all the visually stimulating work together before it is packed and dispatched to the other side of the globe.
The White Elephant Gallery is run by Paul Kondras and Neil Wilson who've now been joined by three fine art graduates from Lancaster University.
Kasia Tatys, Georgina Harris and Nuria Rovira have been developing the gallery's social media presence while learning how it operates from behind the scenes.
Their ambition is to be practising artists and they currently work from the GAP Studio in Morecambe's Arndale Centre. The White Elephant Gallery plans to host an exhibition of their work in the New Year.
If lockdown restrictions are lifted on December 2, the gallery will re-open from Thursday-Saturday, 10am-4pm. Admission is free. To meet COVID-19 restrictions, a one-way system is in place and visitors will be limited to four people at a time. For more information about Eyehurters and the gallery, visit whiteelephantgallery.co.uk and check Instagram.