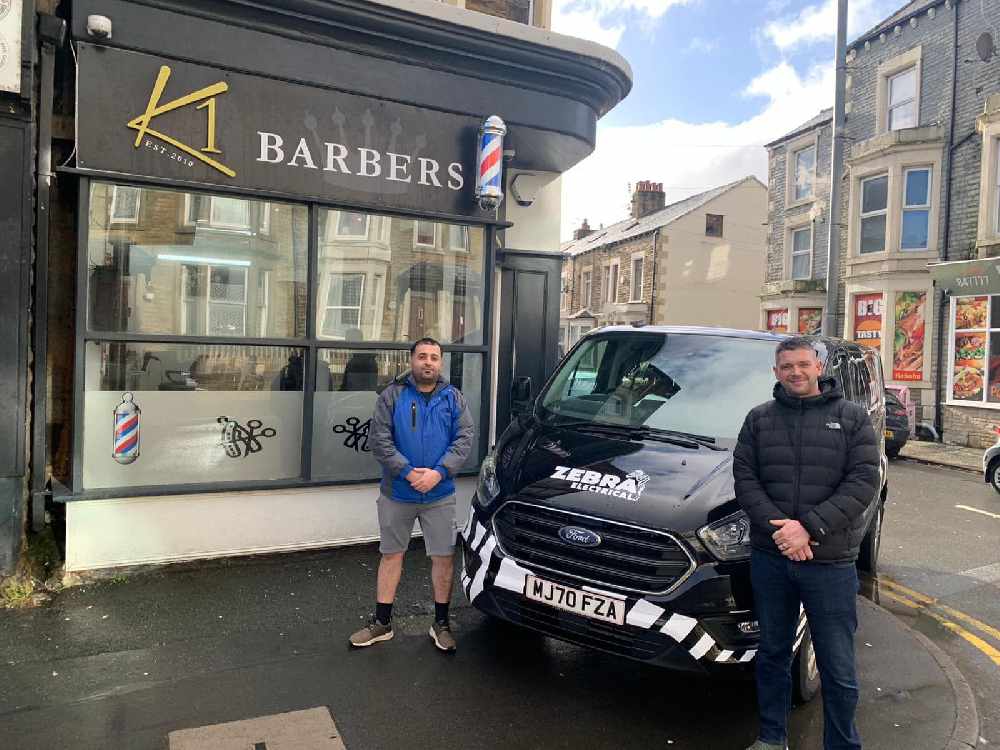 A Morecambe barber has thanked a big-hearted local tradesman for a fantastic gesture during devastating times for his business. Kywan Mohammadi of K1 Barbers got some free help from electrician Jacob Hughes from Zebra Electrical.
Jacob has been a customer at Kywan's Station Road hairdressers for 10 years and wanted to help him after his business was forced to close due to the coronavirus pandemic.

So Jacob upgraded all the lighting in the shop and even fitted a new moving illuminated barber pole outside for his friend - completely free of charge - saving the barber up to £1,000.

K1 Barbers, like other hairdressers around the country, has been badly hit by the lockdown laws.

Kywan's shop has been closed under the latest restrictions since December 29, and was also closed for months in 2020.
Jacob said: "I've been getting my hair cut by Kywan for 10 years, and he's a great guy and a friend, who gets involved with the community.
"I've seen him have to close due to the lockdown, which has affected his business and upset him personally, and he wanted to use the time to get some work done.

"We've done it for him for free because as a business, we've been lucky and been able to trade during the lockdowns, and we thought it would be good to give back to a fellow business during this time of need.

"We've upgraded all the lighting in the shop and fitted him a new moving illuminated barber pole outside to attract more attention for him."
Kywan said he was incredibly grateful and said Jacob was "a good man".

"I appreciate it, fair play to him, and if I can help him in return I will," said Kywan.

"This is a difficult time at the moment, but now thanks to Jacob my shop is in sunshine!"
For more on Zebra Electrical go to https://zebraelectrical.co.uk/
Zebra Electrical is based at Yealand Conyers, Carnforth.