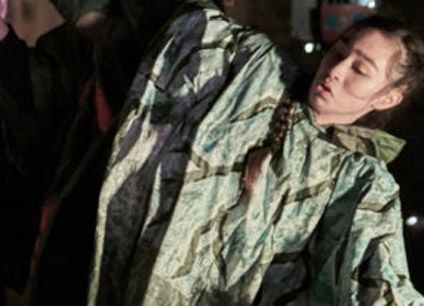 Lancaster & Morecambe College (LMC) has launched a new, arts-based Traineeship programme in partnership with Ludus Dance to enable young people to access high quality, creative learning experiences.
Over the last 12 months, a number of new traineeships have been developed to support local young people to gain key skills in real work environments, but the Borderlines Creative Traineeship is unique as it offers participants the opportunity to take part in dance, choreography and theatrical design, as part of the 7-week course.
Based at The Gregson Community Centre in Lancaster, the programme is designed for 16-24-year-olds who may be unsure of their future direction, and is delivered by a team of experienced artists and tutors keen to encourage hidden creative talent alongside developing key employability skills.
Rachel Deadman, Ludus Programme Director, told us about the positive impact a similar Traineeship had on young people who took part in the programme, explaining how each learner developed in confidence and character throughout the 7 weeks:
Self-perception plays a large part on how a person behaves and the team saw a transformation in each young person who took part in the project. At the start of the process there was little eye contact, minimal social interaction and a closed persona from many of the participants; by the end of the project each head was lifted that little bit higher, smiles were spread across the faces of each young person and pride was visibly noticeable.
The programme mirrors the working day of a performing arts professional devising a new piece of public art. Activities include; developing practical fitness, choreographic and/or dance performance skills, visits to watch and review art in the public domain, visits from guest speakers and master classes with guest choreographers, artists & creatives.
On successful completion of the course, learners will receive a Level 1 Bronze Arts Award or a Level 2 Silver Arts Award, dependent on the depth of engagement mapped against a set of criteria. All trainees are supported in how to evidence their learning through bespoke Maths, English & Digital tutoring.
Kelly Lightfoot, from the Employer Engagement Team at LMC believes this new Traineeship will offer young people a real opportunity to progress within the arts.
We have a huge range of Traineeships & Apprenticeships available at LMC but this is the only one with a such a strong focus on creativity, so it will really appeal to anyone who wants to try something different. You don't have to have a dance or creative arts background; you just need to be willing to get involved and learn some new skills. This is a fantastic opportunity to find out about the work Ludus does within our schools and local community – and you will gain some useful qualifications at the same time.
Working alongside professionals from Ludus Dance, the students will have the opportunity to explore the range of careers options available across the arts, whilst gaining key skills and qualifications. Kate was a member of Ludus Youth Dance Company for 3 years, prior to studying for her degree. She found the continued support and advice of Ludus Dance staff invaluable;
They opened my eyes to all the possibilities dance can be … supporting me throughout my degree course, offering me volunteer opportunities and shadowing experiences.
The course aims to develop emotional resilience and support learners to step outside of their comfort zone and will hopefully lead to some of the young people continuing to be involved with Ludus Dance upon completion by:
Joining the open access dance programme
Volunteering on productions
Working through internships and Apprenticeship schemes
Furthering their Arts Award attainment
Learners may also choose to move onto further studies at LMC by progressing onto one of their creative Full Time courses such as Art & Design Level 2 or i-Media Level 2.
For more information, advice or guidance, please phone Ludus Dance on 01524 35936 or email Rachel Deadman. To learn more and apply for the course, go to Borderlines Creative Traineeship.