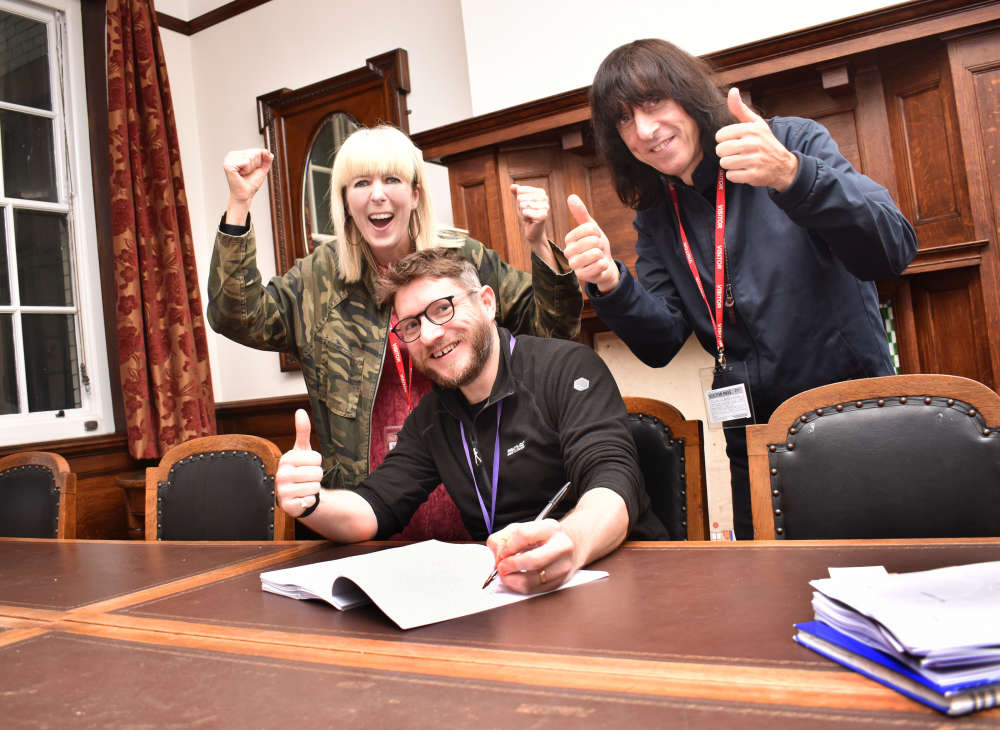 The future of a vital home for local musicians in Lancaster looks secure after the signing of a 100-year lease on the building.
After 20 years of campaigning, Lancaster Musicians' Co-Op signed the crucial lease and funding agreement with Lancaster City Council on Monday.
The Music Co-Op, based on Lodge Street in the city centre, has provided a safe, accessible and affordable space for musicians, from beginners to professionals, to rehearse and record since 1985.
But the building has deteriorated to the point where the cost of major structural repairs rendered it unusable and it was forced to temporarily close.
The signing of the lease is an important step forward in getting the Co-Op back up and running, said committee members.
"This is a totally momentous occasion for Lancaster Music Co-op and for future generations of musicians in the city," said Holly Blackwell from Lancaster Music Co-Op Steering Group, also one half of music duo The Lovely Eggs.
"We've been trying to get a long-term lease on the building for more than 20 years, so today we're all absolutely joyous that finally we've secured the future of the Music Co-op for years to come.
"We've all worked so hard to bring this about and it just feels amazing to be able to finally start work on repairs to the building and getting it back up and running for all the bands and musicians across the Lancaster district and beyond, now and in the future.
"We've still got lot of hard work ahead of us. But we're up for it. Bring it on!"
Councillor Nick Wilkinson, Lancaster City Council cabinet member with responsibility for regeneration, skills and digital innovation, said: "For over 30 years Lancaster Music Co-op has been a vital resource for the city's musicians.
"The signing of the lease agreement has been a long time coming and helps to ensure the future of the Co-op, placing the organisation on a secure footing so it can continue to play its important role in our cultural offer."
Countless musicians have used the Co-Op including well-known local bands such as Massive Wagons, The Lovely Eggs, The Heartbreaks and many more.
In 2018 Lancaster's creative community rallied together and fought hard to save the Co-Op after an eviction notice was served by Lancaster City Council.
Following public pressure, councillors voted unanimously to save the Co-op, repair the building, issue a long-term lease and protect its future.
Earlier this year, the Music Co-Op was granted £250,000 of funding from the government's community ownership fund and £50,000 of project management funding to help it get back on its feet after several years of closure.
Read more: INTERVIEW: Lancaster Music Co-Op gets £300K funding boost for reopening - Beyond Radio