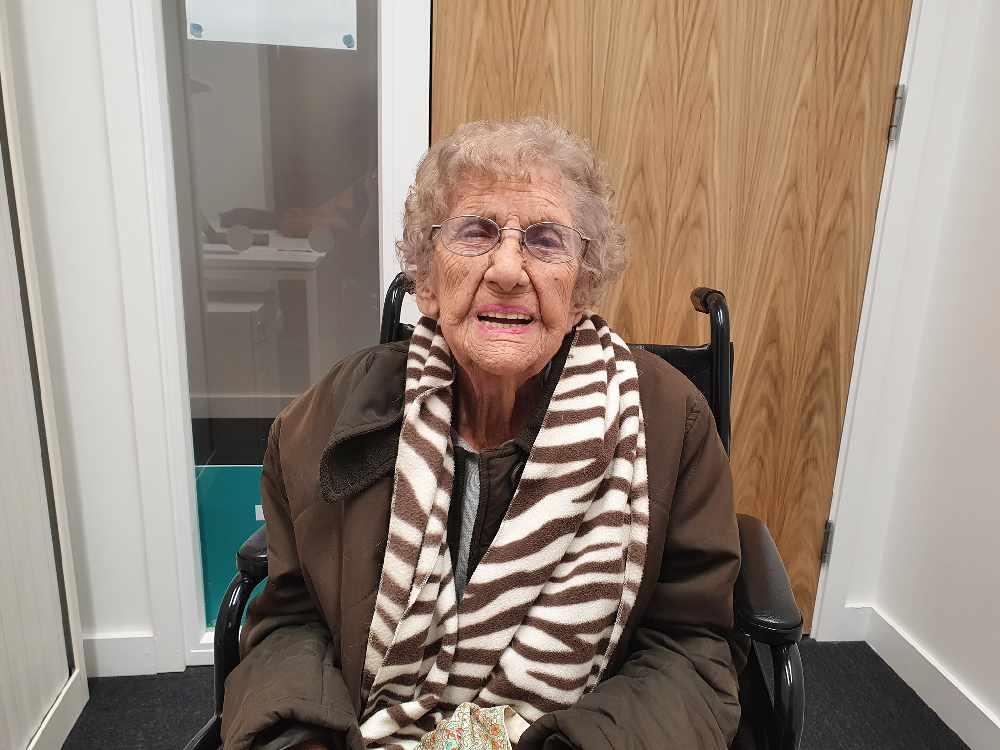 Margaret Baldwin
The first local vaccination services run by GPs have started this week, as the roll out of the biggest vaccination programme in NHS history gains further momentum.
The latest phase of the vaccine roll-out is being delivered by the GP-led primary care network in Lancaster this week, the first clinics started on Wednesday 16 December.
The PfizerBioNTech vaccine, which is being administered to patients over the age of 80, is being delivered at a health and education setting in Lancaster. The patients who were identified as priority groups for the life-saving vaccine have been contacted by their GP surgery to book an appointment.
Margaret Baldwin, 104, from Caton had her vaccination on Tuesday (December 16). She said: "It's worth having the COVID vaccination and I would very much recommend others getting it as soon as they get the chance."
Mrs Baldwin who lives on her own has occasionally found herself feeling quite lonely during the pandemic as she hasn't been able to have as many visitors. She said: "I do my best to keep myself entertained, and it helps that I have three cats who are quite playful. My son and his wife are brilliant as they bring me meals and fill up my fridge – they make sure I don't go hungry."
Mrs Baldwin who during World War Two worked in a factory in Heysham producing fuel for airplanes has lived in Caton since 1950. She said: "I live on a cul-de-sac and it's a lovely little community. I am missing my neighbour, Norma, who went over to visit family in Canada in January and hasn't been able to come back yet. We write to each other though which is nice. Hopefully, it won't be long until I see her again."
Primary care teams have been working rapidly to redesign sites and put in place safe processes to meet the tough logistical challenges of offering the vaccination.
Kirsty Hagan, local GP and Clinical Director of the Lancaster Primary Care Network (PCN) said: "Lancaster PCN consists of two GP surgeries, Lancaster Medical Practice and Queen Square Medical Practice and throughout the COVID-19 pandemic we have worked together closely.
"I'm happy to say that the delivery of the vaccine has gone really well and our patients who have received it have been very appreciative. Providing the vaccine to this generation of people right before Christmas gives them hope that soon they'll be able to hug their loved ones."
The NHS will let people know when it's their turn to have the vaccine. It's important not to contact the NHS for a vaccination before then.