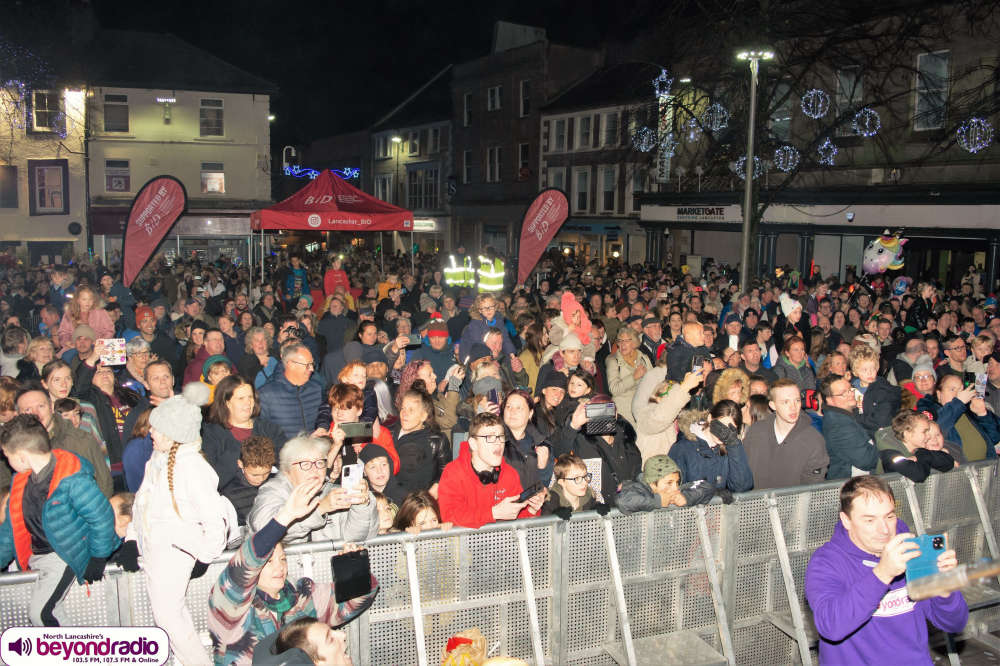 The 2022 Lancaster Christmas Lights Switch On was the busiest in the event's history, it has been announced.
Organisers Lancaster BID (Lancaster Business Improvement District) said that at the time the lights were switched on at around 5.10pm on Sunday, footfall in the city centre was an amazing 69.8 per cent higher than last year and 14 per cent higher than the previous best year in 2015.
The crowds filled Market Square on Sunday afternoon and overflowed down Market Street almost down to Horseshoe Corner.
The atmosphere was fantastic as people sang along to the festive songs and joined in with their favourite hits from headliners, popular folk act the Lancashire Hotpots.
Falling on Lancashire Day, the main stage was hosted by Beyond Radio and was used to showcase local talent including recent star of ITV's The Voice - Olivia-Mae Mulqueeney (pictured below), bands The Fourth Colour and The Howling Clowns, as well as singers from Roses & Thorns and The Bobby Pin-Ups, youngsters from performing arts school The Performance Studios and the Laura Sandham School of Dance, and the cast of the Christmas shows at Lancaster theatres the Grand and the Dukes.
Related Story: ''An absolute privilege'' - Lancashire Hotpots speak to Beyond Radio after headlining Lancaster Switch On - Beyond Radio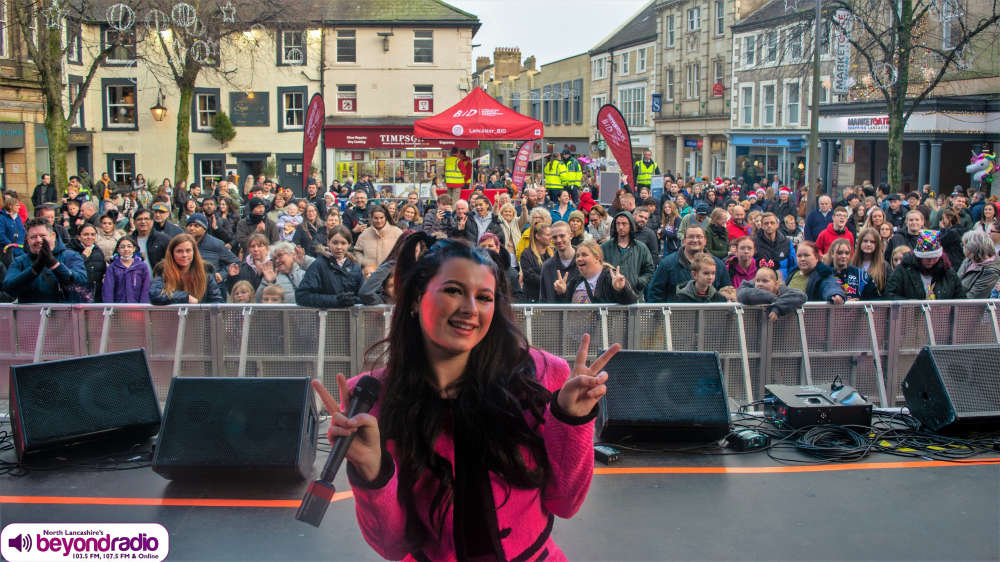 There was also an appearance by Father Christmas and the mayor of Lancaster, Councillor Joyce Pritchard, who read a Lancashire Day proclamation.
The line-up proved popular and certainly drew the crowds into Lancaster city centre, on an afternoon which began with the traditional Santa Dash fun run to raise money for CancerCare (see below, photo by Andy Slack).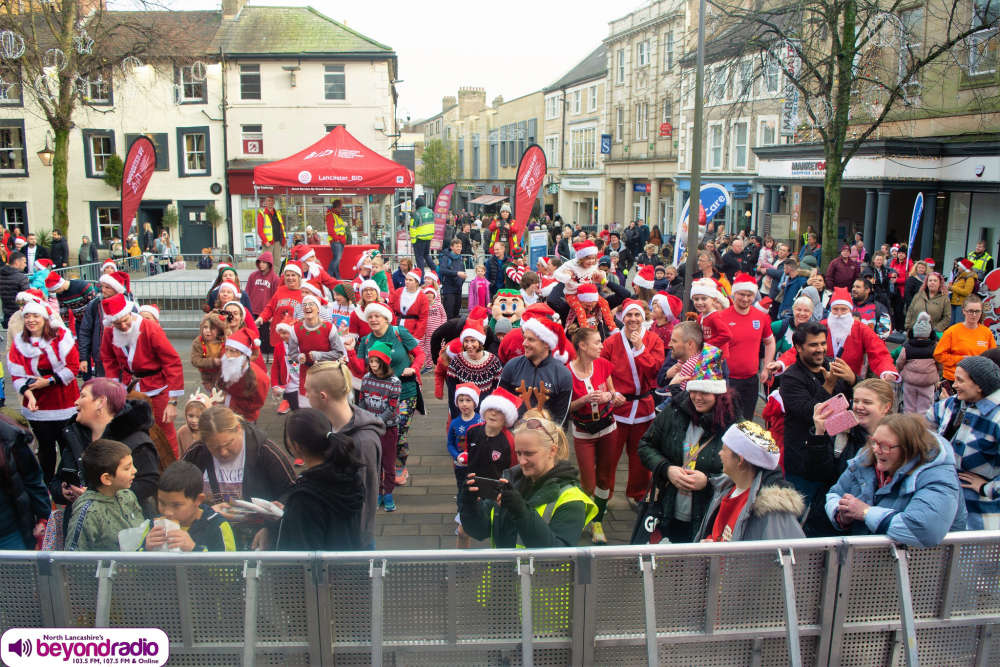 "We were delighted to use this opportunity to showcase some amazing local talent," said Tony Johnson, Lancaster BID manager.
"After the last few years, it was fantastic to see so many people back out in Lancaster city centre. With the festive season now officially underway, we want to encourage everyone to continue supporting our local businesses. Don't forget to Love Local, Love Lancaster this Christmas."
There is still plenty for the whole family to do in Lancaster city centre in the run up to Christmas. Next Sunday – December 4 – sees the popular Cairngorm reindeer in St Nicholas Arcades for Reindeer Day.
You can also follow the Reindeer Trail searching for 12 reindeer hidden in the windows of businesses throughout the city centre – each beautifully decorated by children from local primary schools.
Lancaster On Ice has also returned and is open through until January 8 transforming Dalton Square into a magical winter wonderland. There is a choice of family shows with a traditional Cinderella pantomime at The Grand and The Dukes offering Robin Hood for their annual festive family treat.
There will be late night shopping in the city centre on Thursday evenings in December and throughout Christmas week. Free parking is available on all Lancaster City Council car parks all day Sunday and Thursday evenings from 5pm until Christmas.
Here are some more photos and videos from the Lancaster Christmas Lights Switch On 2022. Images by Andy Slack, Roy Ward, Vanessa Ramsden and Greg Lambert. Videos are of Olivia-Mae Mulqueeney and The Performance Studios.