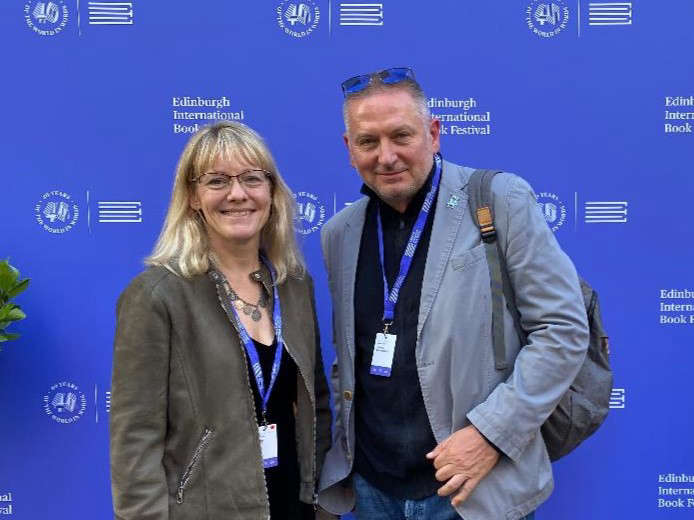 The 2023 International Booker Prize winner will appear at Litfest's Autumn Weekend.
Local and international award winning writers will share the bill in a series of talks, events and workshops, both in person at The Dukes and The Storey, and online, all of which are free, between October 5 and 10.
The event includes two online events featuring Georgi Gospodinov and his translator Angela Rodel, who together won this year's International Booker Prize with the outstanding novel Time Shelter.
Angela Rodel will join the Litfest International Fiction Book Club to discuss Time Shelter, while the following day Georgi Gospodinov will give the prestigious 2023 Lancaster International Fiction Lecture – Litfest's third such joint venture with Lancaster University.
Click here to listen to our chat with Litfest's Dr Natalie Sorrell Charlesworth:
Kicking off with a gala reading on October 5 to celebrate National Poetry Day, Litfest has invited prize-winning poet Caroline Bird to MC a selection of original poems on this year's thought-provoking theme of 'Refuge'.
On October 7 poets and prose writers, Polly Atkin and Kim Moore will discuss the difficult subjects thrown up by their latest books: a memoir of living with pain and the challenge of confronting everyday sexism.
And one of the Autumn Weekend's most exciting events for emerging poets is a session with Lancaster University creative writing tutor Eoghan Walls who will MC readings and a discussion on getting a pamphlet published.
The weekend also explores the best of contemporary fiction and non-fiction: two vitally important new non-fiction books will be featured: former Guardian Environmental Editor John Vidal's gripping Fevered Planet links the climate crisis, pandemics and the loss of nature, while Lancaster University historian Nicholas Radburn's Traders in Men presents a new history of the Slave Trade showing how widespread involvement was at every level of British society.
Fiction from the Northwest includes a Sunday afternoon session with best-selling crime writer MW Craven, as he launches his new character Ben Koenig ('a man who does not feel fear'), followed by two acclaimed and prize-winning Lancashire-based writers: James Clarke on his new novel, Sanderson's Isle, set in '60s London and the Lake District, and Jo Baker on her new novel, The Midnight News, set in London during The Blitz.