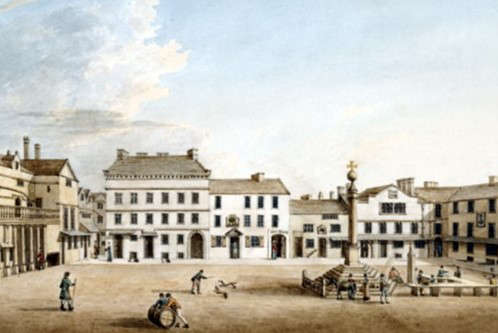 A special plaque will be unveiled to mark the fascinating history of a Lancaster book club on its 200th anniversary.
On November 11, 1823, the first meeting of The Lancaster Medical Book Club was held in the Royal Oak public house in Market Square, Lancaster - now the TK Maxx building. Four physicians and four surgeon-apothecaries attended this meeting.
To mark the occasion of the Book Club reaching its bicentenary a Heritage Commemorative Plaque has been commissioned, with Lancaster Civic Vision, to be unveiled on the current building at 4:30pm on Saturday November 11, the exact date two hundred years on from the original meeting.
Lancaster & Morecambe Medical Book Club (L&MMBC) - as it is now known - is one of the oldest surviving provincial medical literature societies in England, second only to the Medical Reading Society of Bristol (founded in 1807).
As well as the formation of Lancaster Medical Book Club in 1823 the year is also notable for the first publication of the Lancet, the peer-reviewed general medical journal.
In all its 200 year existence, only one Book Club member has had his records expunged from the records of the society - Dr. Buck Ruxton, notorious GP and double murderer, and one of the historical books in the Book Clubs remaining collection describes the forensic evidence used to convict him.
Recent research has revealed that the Book Club became involved with the dissection of murderers in 1826 and that Book Club funds were used to provide for public order during three dissections in 1826 and 1827 (see www.mbmj.co.uk April 2023 for more information)
The unveiling of the Heritage Plaque will be followed by the Book Club's 'David Campell Bi-Centenary Lecture', given by Professor Gareth Williams, one of the UK's leading medical historians, on the subject of Edward Jenner: The Man Who Changed the Face of the World, at 5:30pm in The Storey, Meeting House Lane, Lancaster, tickets available via Eventbrite.
The day's celebrations will culminate with the Book Club's Dinner at The Royal Kings Arms Hotel, Lancaster at 7.30 pm.
A spokesperson for Lancaster Civic Vision said: ''We are delighted to help celebrate this auspicious event with Lancaster & Morecambe Medical Book Club as a fine example of the magnificent history and heritage that abounds in the Lancaster and Morecambe District.''
Lancaster Civic Vision (LCV) is the operating name for Lancaster Civic Society, and its sub-group Lancaster Vision.
Lancaster Civic Society was founded in 1967 and in the over fifty years since that time has overseen the preservation of the heritage of the Lancaster and Morecambe district, its outstanding natural beauty, whilst assisting in its future development.