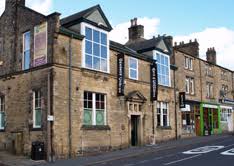 The Gregson in Lancaster is set to reopen its doors as a community-led venue and is calling on local people to help make it happen by raising £20,000
The charity has already secured £10,000 in match funding, meaning all donations received will have double the impact.
The Gregson Community Arts Centre is an iconic institution that's played a significant role in the creative and cultural life of Lancaster for more than thirty years. When the Gregson reopens it will be run entirely as a charity by a board of trustees meaning all profits will be reinvested back into the community to enrich the cultural life of the city.
However, at this exciting time in the organisation's history, it is also facing its biggest ever challenge. Covid-19 forced the venue to close its doors last March leaving it with no income for over a year. Since then a team of volunteers and trustees have been busy renovating the building, and are now asking local people to help them get the Gregson back open as soon as possible, and support its exciting plans to be at the heart of the local community
The growing team of volunteers are committed to working with Lancaster residents to offer activities that meet the needs of their community in creative, fun and inclusive ways. The beloved café-pub and food offer will also be re-opened as a place to socialise and relax.
'It's an exciting new beginning for the Gregson that's been a bit scary at times. There has been so much love and support shown for the Gregson which has really helped along the way. The building is also looking great and we can't wait to reopen and share it with everyone' (Billy Pye, Chair of the Gregson Community Association)
To realise this ambition however, the Gregson requires financial support. They have secured £10,000 match funding from Power to Change if they can raise £10,000 themselves from at least 100 individual donors. To support the appeal visit the Crowdfunder site here. The team at the Gregson also encourages you to spread the word about this campaign through social media using the links: Facebook: https://www.facebook.com/gregsoncentre Twitter: https://twitter.com/gregsoncentre