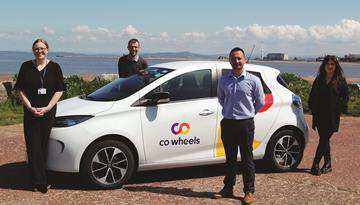 Lancaster City Council has teamed up with national car share scheme Co-Wheels to launch an all-electric car share club.
Fully electric vehicles will be available to hire in Lancaster city centre and Morecambe town centre (close to the promenade) from as little as £5.50 an hour.
Insurance, cleaning, servicing and refuelling are also included in the cost. Cars are equipped with charge cards and charging guides to assist users in trying out this green mode of transport.
Jonathan Collinson, Business Development Manager of Co-Wheels, said: "There's a lot of great work going on to reduce carbon emissions in the Lancaster district which we are pleased to support with the launch of this new car club. We're making it more accessible for people to have the option to hire a car when they need it rather than having to own a vehicle – it's far cheaper and better for the environment this way."
"To celebrate the launch, we're offering people in the Lancaster district £1 memberships and £40 credit to try our service."
When booking a car, a handy location map on the Co-Wheels app or website shows where the nearest one is. Keys aren't needed as members are provided with a smartcard to access the car. Members can also book cars in any of the Co-Wheels locations around the UK.
For more information and to sign up to the £1 membership and £40 credit offer CLICK HERE.