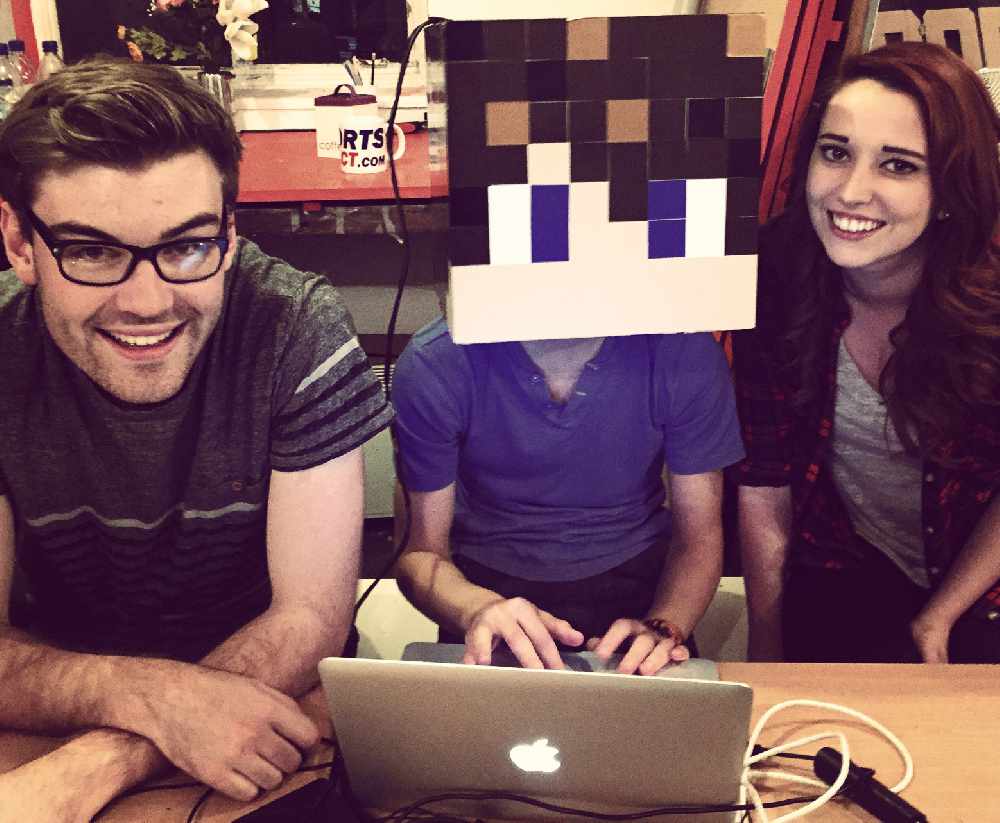 Joe Palmer and Megan Leckie from BlockBuilders
Children seeking support at a local charity will soon be able to combat COVID isolation with a stroll down a virtual Morecambe Prom with their friends thanks to an innovative new digital project.
Lancaster-based charity CancerCare, has begun work to create a new digital Youth Hub within the videogame Minecraft, which will enable young people who are referred for support to interact and share their experiences with youth workers and therapists in a completely unique, engaging and creative way.
The project was inspired by the difficulties the charity faced trying to stay in touch with its young people's peer support group during lockdown, and it was keen to explore innovative ways of using technology while retaining the creativity and spontaneity of weekly face-to-face sessions which were made impossible due to the pandemic.
Minecraft is one of the most popular games ever created and is played by hundreds of millions of people around the globe. Often described as "digital Lego" it allows players to explore an almost limitless 3D digital "sandbox" world and create their own buildings, landscapes and cities.
CancerCare received special funding for the project from Catalyst and it will be developed by BlockBuilders, a Brighton-based digital youth engagement agency which specialises in using Minecraft as a tool to work with young people in a variety of settings including schools and youth clubs.
The charity has centres in Lancaster, Kendal and Barrow and initial plans for the CancerCare "world" includes recreating iconic features in the towns such as virtual versions of Morecambe Promenade, Kendal Castle and a submarine piloting game set in Barrow docks. Other ideas include an outdoor activity centre featuring quad biking and archery, story-sharing spaces and an "anger wall," where the children can let off steam either through words, images or TNT!
BlockBuilders co-Director Joe Palmer said: "We are delighted to be working with CancerCare to help bring a youth club in Minecraft to life. This will be the perfect place for the young people to connect with their friends and youth workers from a distance.
"COVID has transitioned vital youth work into a digital space, and with this project we aim to create a safe and fun environment that will enable young people to still benefit from being a part of a youth club. We want this Minecraft youth club to be the next best thing to in person sessions and look forward to creating this unique space."
CancerCare Chief Executive Alison Stainthorpe said: "This is a hugely exciting development for CancerCare and will be a wonderful addition to the fantastic work our youth workers already do supporting the young people who, like many of us, have been impacted by the isolation caused by the successive lockdowns.
"We have all adapted to using technology to stay connected over the last year and its potential uses as a medium for helping children affected by cancer and bereavement are almost limitless. The project also includes the provision of laptops or tablets to the young people, so it will be inclusive to those without access to devices."
The Minecraft project is expected to be complete by the end of April.
CancerCare's Children and Young People's Service (CYPS) was established 15 years ago and it provides face-to-face counselling, play therapy and a weekly peer support group which offers fun and friendship for young people in similar situations.
Young people are referred to the charity from a range of sources including schools and formal health care providers such as Child & Adult Mental Health Services (CAMHS). Over the last two years it has received funding from Children in Need and Global's Make Some Noise, F C Scott, Tesco and St James's Place funds which has allowed it to extend its services across north Lancashire and south Cumbria.
For more information about the range of services provided by CancerCare visit www.cancercare.org.uk